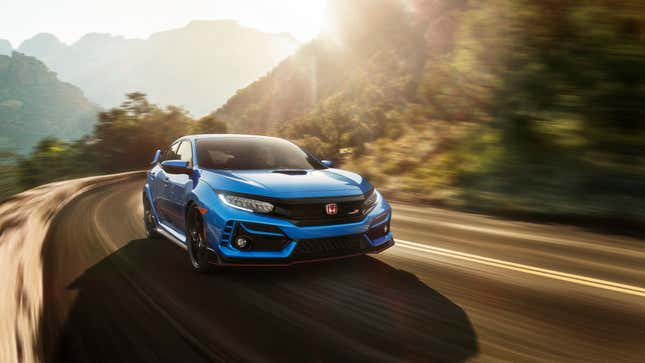 If you asked any automotive enthusiast their favorite part about a vehicle, their answer wouldn't be something trivial like a "manual transmission." It'd definitely be fed-in engine noise, which also happens to be a new feature on the 2020 Honda Civic Type R. Just kidding about that first part. But the latter is unfortunately true.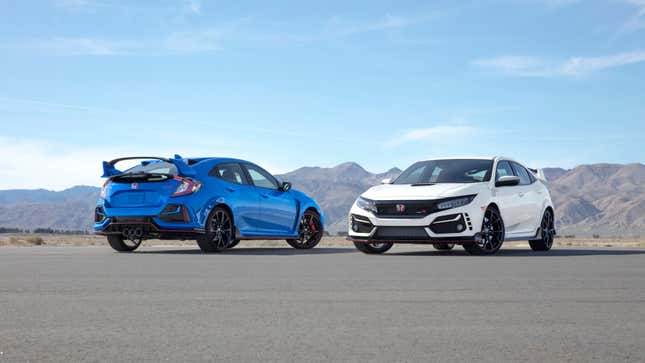 Honda debuted the 2020 version of the Civic's top performance trim this week at the Tokyo Auto Salon, saying, like the new mid-grade Civic Si performance model, that it would get a few updates for the new model year.
Those include styling, performance and aerodynamic tweaks, the Honda Sensing safety suite as standard, and "active sound control," which Honda describes as "modif[ying] interior sound in concert with chosen drive mode." That means that just like in the Si trim, the CTR's engine will get some degree of help from the interior speakers in terms of making noise—a practice that's become more common in the industry in recent years.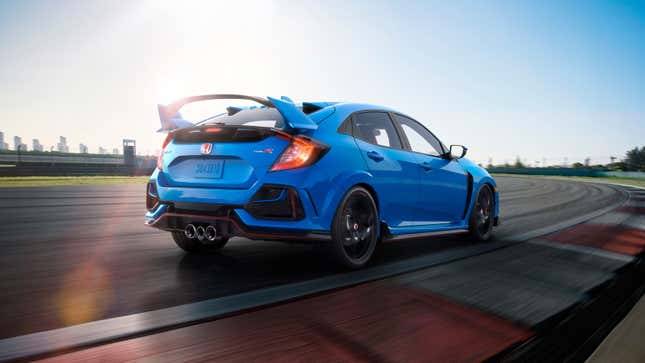 The Type R will keep its same basic specs from prior model years, which are a 2.0-liter, turbocharged four-cylinder engine that makes 306 horsepower and 295 lb-ft of torque. The new car is, at least, getting a new exterior color that's exclusive to the Type R, which Honda's calling Boost Blue.
Honda didn't get into pricing or any other specifics, but said the 2020 Type R for the U.S. will launch later this winter. Perhaps by then, we'll have warmed up to this whole "active sound control" idea.
....Nah.