If you, an enterprising American billionaire (or millionaire, I don't discriminate), were looking forward to parading your brand-new, 2019 McLaren Speedtail up and down Main Street, then I have some bad news for you: The car isn't street legal in the U.S. Foop.
One of the coolest things about the McLaren F1 successor is that it maintains the three-seat setup that was so unique to the first car. Indeed, that's usually one of the second or third things people bring up in any McLaren F1 conversation. Unfortunately, they are part of what makes the Speedtail unable to meet our tyrannical safety standards, according to MotorAuthority:
The largest issue is the central driving position flanked by two side-mounted passenger seats. A McLaren spokeswoman told Motor Authority the three-plus-one layout doesn't allow for the necessary side-mounted airbags. Aside from the airbag issue, the Speedtail features retractable digital rear-view cameras instead of mirrors, which also aren't street-legal in the U.S.
Who needs side-mounted airbags anyway? If you own a Speedtail, you are already living your best life and dying in it would only be fitting. These safety standards are RESTRICTIVE, UN-AMERICAN and they are KILLING OUR JOBS.
Additionally:
Like the F1, only 106 examples of the Speedtail are headed to production—yes, each and every one of them is sold—and McLaren decided it wasn't worth engineering the limited-run car around the safety standards necessary to federalize it for street-use in the U.S.
G/O Media may get a commission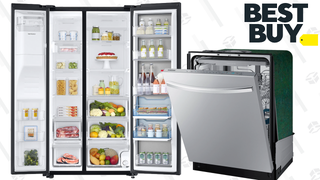 Up to 50% off
Best Buy - Samsung Major Appliance Sale
Now, this is just straight-up hilarious. McLaren was like, "Yeah, we're gonna build and sell this car for $2.2 million but FUCK IT we're not going to make it legal in the U.S. Those idiots can figure it out for themselves."

Well, also probably because there are probably plenty of people outside of our fair shores that can scrounge up $2.2 million with no problem. Also, if you can afford a $2.2 million car, you can probably afford to purchase a plane ticket. Just fly wherever, and drive it there.
McLaren's spokeswoman went on to tell the publication that about a third of the cars were sold to U.S. buyers. So, about 35 were bought by Americans, who can bring their cars here under the "Show or Display" law, which exempts certain cars from NHTSA's safety standards if they are deemed to be "historically or technologically significant.". They wouldn't have to wait 25 years before importing.
Under this law, which went into effect on Aug. 13, 1999, you aren't allowed to drive your car for more than 2,500 miles in a 12-month period. NHTSA's site elaborates:
NHTSA approval of limited on-road use is to allow the vehicle to be driven to and from nearby displays of similar automobiles. Another reason permission is granted is to maintain the vehicle's engine, braking, lighting, and other dynamic systems in good working order. The vehicle is still required to meet EPA requirements.
MotorAuthority notes that McLaren won't help its buyers with importing or registering their cars in the U.S. But! Once the first Speedtail is approved here, the process will become much easier for the rest of them, since the law is based on year, make and model.
Of course, the American buyers can also just choose to keep their cars abroad. As someone who also owns multiple pieces of real estate overseas, I can confirm that's the way to do it.