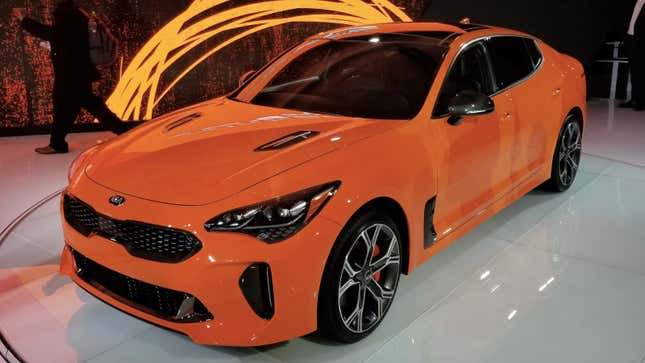 If you have been wondering when there'd be an enthusiast-spec special edition Kia Stinger, the answer is "now." The world will get 800 2019 Kia Stinger GTSs decorated with carbon fiber, a fun color option, and some interesting upgrades to its all-wheel drive system.

During its short time on the market, the Stinger has established itself as a true competitor in the sport sedan segment with performance figures strong enough to embarrass its German rivals.
Kia's statement, copied straight from the press release because I just love seeing car companies smack talk each other. "Embarrass!" Fighting words, Kia. Stir that pot; this is good stuff.
You can already order a 365 horsepower Kia Stinger GT with rear or all-wheel drive, but the GTS version kind of closes the gap between the two with an available variable all-wheel drive system Kia calls Dynamic All-Wheel-Drive.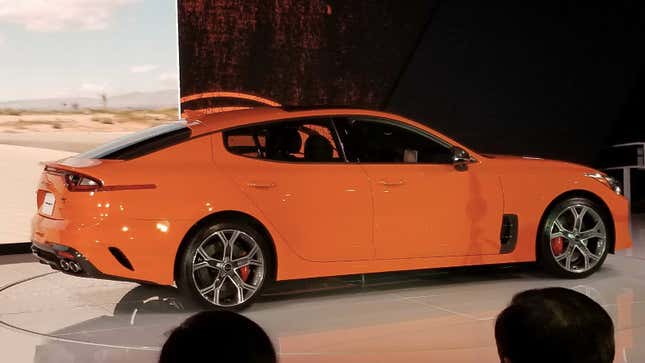 You can also have the Stinger GTS with rear-wheel drive, but then you'll miss out on the D-AWD's system's adjustability. Kia explains that it has three main modes:

Comfort mode: 60 percent of power to the rear for feeling of stability
Sport mode: 80 percent of power to the rear for more spirited driving
Drift mode: up to 100 percent of power to the rear wheels and holds gears without upshifting
Kia Stinger GTSs will also get a mechanical limited slip rear differential to help find even more traction between the rear wheels.

More driver assistance aids like Kia's Slip Control, Counter Steer Detection optimization of the Transmission Shift Pattern and Stability Control will also be features.

The Stinger GTS will have the same 3.3-liter twin turbo V6 making a factory-claimed 365 horsepower and 376 lb-ft of torque, hooked up to an eight-speed automatic. So it's hard to say if the car will be appreciably faster than any other Stinger GT.
Other accessories that make a GTS a GTS, besides the D-AWD modes, include a carbon fiber and Alcantara decorative bits that are pretty much prerequisites for a Sporty Version of anything at this point. The headliner is apparently wrapped in a "suede-like" material called Chamude which I'd never heard of, though. (It's a synthetic soft material made by a company called Kolon Industries, which sounds like something from a Saturday Night Live parody of a supervillain's corporation.)
Kia says it is only planning to make 800 Stinger GTSs, listing them at $44,000 for RWD and "around $46,500 for D-AWD." Seems pretty reasonable, that's not even more money than the most loaded-up Stinger you can order already.
I don't really understand the logic behind limited production on a car like this. maybe Kia is hoping dealers will leverage the exclusivity factor to entice people into the store? I guess if you want a Kia that can toggle between rear-drive and all-wheel drive, this is your jam.