The 2019 GMC Sierra is, as ever, an upscale variant of the 2019 Chevrolet Silverado. Today GM announced what's in the latest version, and more interestingly, how it's different from its Chevy counterpart. Actually, it's got one thing that makes it different from every other pickup ever.

The most impressive spec out of the gate seems to be the cargo box (truck bed) made of carbon fiber, which GMC has dubbed "CarbonPro". This will apparently be available in the top-spec Sierra Denali. Per the company's press release:
"The 2019 Sierra Denali will offer, later in the model year, an available GMC exclusive and industry-first carbon fiber box — the CarbonPro — developed to increase durability, efficiency and functionality of the truck. It replaces the standard steel inner panels and floor with a lightweight, purpose-designed carbon fiber composite that offers best-in-class dent, scratch and corrosion resistance, making it the most durable pickup box in the segment."
Cool!

GMC claims the carbon fiber bed saves 62 pounds over the steel version in the standard Sierra and Silverado, adding up to a total of 360 pounds weight savings over the outgoing Sierra.
G/O Media may get a commission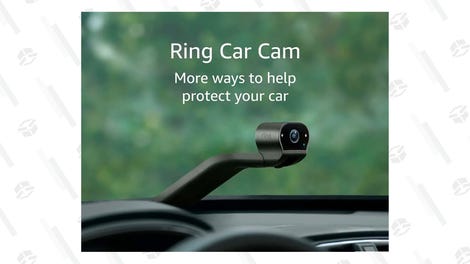 The bed actually gets even more interesting once you open the tailgate, which can sit in six separate positions for doing different tasks. What GMC calls its "MutliPro Tailgate" can open normally (and with a remote), it has a little flap that pops up to hold long things better, it flips in half so you can get closer to the cargo box, it converts to a step so you geezers can get into the box more easily and you can flip out the inner part of the tailgate to make a little bench.

If that was hard to follow, here, somebody's already uploaded GMC's presentation on the thing:
As you probably can't help but notice, the outside of the truck is swathed in chrome and decorative LEDs as is GMC's way. As usual, I prefer the look of this to the Silverado version but I'll let you make your own judgements there.
Anyway, besides the tailgate and optional carbon fiber cargo box (which, still, ...whoa) the inside of the new Sierra is getting some new fancy high-tech features.
A 3-by-7-inch head-up display will be another half-ton truck first, and GMC promises it will project "key vehicle information" onto the windshield. So, expect it to include vehicle speed and navigation information at least.

GMC is also bragging that the Sierra's infotainment system is new and improved with faster response and a "smartphone-like... intuitive interface" which I'm looking forward to seeing and maybe swearing at.
But perhaps the most interesting thing in the new Sierra's cab is the rear camera mirror, which supposedly offers tilt and zoom functions on top of simply being able to "show you what's behind you."

Now, I used one of GM's screen-replacing-the-rearview-mirror in the Cadillac XT5 and decided back then it's more than a gimmick. It really does give you a wider range of view behind you. In a pickup truck, the benefits are even bigger. Now you could load your bed to the roofline or fit a camper shell and still be able to see backwards with your windshield-mounted rearview mirror.
Like the 2019 Silverado, the 2019 Sierra will be available with a 5.3-liter gas V8, a 6.2-liter V8 or a new 3.0-liter inline six-cylinder Duramax diesel. The latter two will come with GM's 10-speed automatic, and of course we can expect both 2WD and 4WD versions of pretty much every configuration.