To all the Americans who were excited—nay, thrilled—for the 2019 Ford Ranger Raptor, I have some truly bad news: The truck is probably not going to come here. Sorry.
Ford currently has "no plans to bring it to the United States" reports Autoblog, which spoke to Hermann Salenbauch, the Ford Performance vehicle line director today. From the story:
Though he didn't specifically mention it, one of the big issues would probably be the Ranger Raptor's powertrain, a twin-turbo 2.0-liter diesel four-cylinder not offered here. He also noted that the Ranger Raptor was really developed for locations where the F-150 isn't available or popular, so that all regions could have a Raptor. Here in America, the F-150 is, obviously, really popular and there's loads of demand for the F-150 Raptor. During today's GT announcement, Ford executives noted that the F-150 Raptor only stays on dealer lots for an average of 20 days.
Autoblog also thinks that the Ranger Raptor would be priced too similarly to the F-150 Raptor, which would deter people from buying the bigger truck.
I am so skeptical over this, folks. Ford is currently selling trucks in unprecedented numbers and not bringing a truck that people would absolutely lose their shit over doesn't seem like a logical move at all. Furthermore, just because the diesel powertrain isn't offered here doesn't mean that Ford can't just drop a different engine into the Ranger Raptor.
G/O Media may get a commission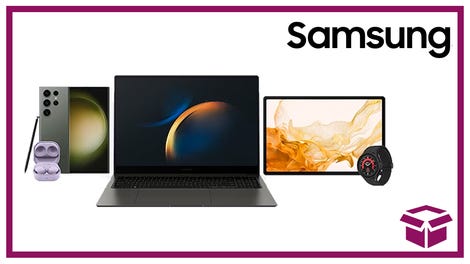 24 hour deals
Discover Samsung - Daily Deal
So Ford told Autoblog that there are no plans to bring the leap-happy pickup stateside. Maybe that'll change.
We've reached out to Ford for comment and will update if we hear back.
UPDATE: We need to note that we were very specific in saying that the 2019 Ranger Raptor isn't coming to the U.S. That doesn't preclude a Ranger Raptor ever reaching our golden shores, however. The Ranger we'll be getting shortly has been around in other countries for a few years now, and it's likely there will be a whole new one re-engineered from the ground up in a couple of years. A source with knowledge of the company's operations hinted at the possibility of a big future for the Ranger, saying that "performance is a priority for Ford," and that future off-roady offerings will have super-fast options baked into their platform DNA from the beginning.
They didn't add much more beyond that, but my own personal theory is that we should all hold onto our butts a little here. Okay, so no Ranger Raptor this year, but we'll live. If Ford is going to build a proper Ranger Raptor for America, they'll probably want to start with a Ranger that's engineered from the very beginning for Americans. We'll hopefully see a new Ranger Raptor as shortly after we see not the new Ranger, but the new-NEW Ranger. In 2022, or whatever. Maybe.