Lately in the world of fast Chevrolets, it's the long-awaited but still mysterious mid-engine Corvette that's captured everyone's attention. While there's still a ton we don't know, it's slated to be the true exotic-killer the 'Vette was always meant to be. But where does that leave the current king of front-engine Corvettes—the supercharged, 755 horsepower 2019 Chevrolet Corvette ZR1?
Well, I can tell you the ZR1 doesn't have the elegance or grace of the six-figure supercars it can compete against, but it is seriously fast. After a few hot laps around the Circuit Of The Americas, I think it deserves some respect. I just wish the cockpit lived up to the example set by the engine.
(Full Disclosure: Jalopnik did not get invited to the ZR1 launch event way back when, but Kurt's friend here went ahead and bought one. And let him thrash it at COTA. How kind.)
G/O Media may get a commission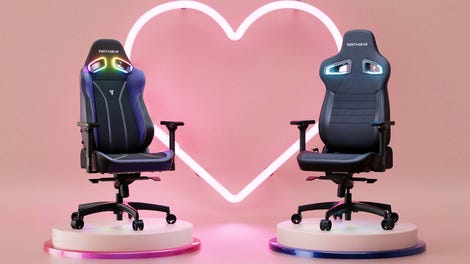 Up to $150 off
Vertagear Gaming Chairs
What Is It?
The Corvette ZR1 has been around since the 1969 C3 generation, where it served as a much more stealthy go-fast package, but the 2019 C7 model is the most extreme version yet.
The ZR1 variants pack way more power than the standard Corvette, optimized for the enthusiast who's more concerned with lap times than the retiree who likes cruising some Georgia boulevard on a Saturday night. Chevrolet gave the supercharged V8 way more power over a standard Stingray or even the lesser Z06, added a full suite of wild aerodynamic enhancements all around, beefed up the brakes, and stiffened the suspension.
Numbers That Matter
The Corvette ZR1 is mostly an upgrade over the also-supercharged C7 Z06, with several performance additions to that already great car which had a stout 640-HP supercharged V8, stiff chassis, and beefy brakes that can take a beating around a race track.
The ZR1's 6.2-liter supercharged V8 packs a factory-claimed 755 HP and 715 lb-ft of torque, and much of that punch is thanks to the Eaton supercharger that's got a bigger displacement—2.6 liters to be exact—than some passenger car engines.
Even though the ZR1 is the baddest 'Vette you can currently buy, it's still heavier than the Z06—Chevy says it tips scales at 3,560 pounds—because of all the added fluids and cooling needs. When you want to stomp the go pedal, Chevrolet claims the ZR1 will go from 0-60 mph in 2.85 seconds on its way to a 211 mph top track speed.
Those are crazy numbers, because the car is crazy fast.
The base MSRP for the ZR1 is $118,900, and this ZR1 I tested rang up an MSRP of $142,480, loaded with several options including 3ZR premium equipment (memory seats, power lumbar and bolster seat adjustments, Napa leather-covered heated and ventilated seats, splashes of leather touches around the interior, and additional carbon fiber on the steering wheel and instrument cluster), track performance package (Michelin Pilot Sport Cup 2 tires, upgraded track-focused suspension, a massive rear wing spoiler, and front splitter end caps), and competition carbon fiber sport seats.
Around The Track
If you buy a ZR1 and don't take it to the track, you're wasting your money.
My friends in the Edge Addicts Track Rats group let me tag along around the Circuit of The Americas, a track I'm fortunate enough to be familiar with, and I made exceptional use of the time provided on an unseasonably pleasant December day.
The Corvette ZR1 boasts a bunch of track-focused improvements over the Z06 including doubling the number of fuel injectors, much more aerodynamic grip, and because plenty of C7 Z06 owners griped about heat soaking issues, Chevrolet added even more fluid and cooling parts than they did in the Z06's revision.
Shoving a whopping 13 psi of supercharged boost down the LT5's throat, the big V8 and massive blower and immediately command attention as you employ your right foot down a stretch of empty track.
Between COTA's turns 11 and 12, down the three-quarter-mile back straight, a brave driver will hit 160 mph before standing on the brakes. The ZR1 gobbles up any straight portion of tarmac before testing the limits of your abilities once you need to mash the brakes and turn into a corner.
Once you do need to scrub off speed, massive Brembo six-piston front calipers squeeze down upon 394-mm carbon brake rotors, and four-piston rear calipers chomp on 390-mm rear discs. Feedback was perfectly balanced and consistent throughout my session. The brakes took lap after lap of being jumped on from speeds over 140 mph to 40 mph into COTA's turn 1 and easily over 150 before braking for turn 12.
You do have to muscle the ZR1 around, though. I found myself putting more upper body work into the steering wheel of this car than in anything else I've driven around a track in the last couple years. That big wing out back certainly seemed to help keep the back end planted through any fast sweeper, but it pretty much consumes whatever semblance of rear visibility the Corvette may have had.
GM doubling the fuel injector size sure helps you go faster, but holy shit, this car is thirsty when you run it hard. I was easily dropping a third of the ZR1's 18.5-gallon tank during each 25-minute session I spent on track. EPA estimates state the ZR1 gets 13/19/15 MPG in the city, highway, and combined, respectively, but when you're doing a track day, you're sinking deep into single-digit territory.
For track nuts like myself, the Performance Data Recorder comes standard on the ZR1 (also available on Cadillac V models), and provides dozens of data points regarding your lap times, steering angle, throttle and brake input, G loads, gear selection, and speed. If you download the Cosworth companion app, you can get a data and analysis to review on your personal computer.


Pleasant Surprises

Turn-in and steering feel is remarkably easy and predictable. The massive 285/30/19 front and 335/25/20 rear Michelin Pilot Sport Cup 2s definitely help the ZR1 get grip and bite in the turns, and Chevrolet definitely got the updated magnetic ride suspension dialed in. I was fully expecting the ZR1 to be a bit disrupted around Circuit of The America's bumps, but the car managed its weight well even when the road got a little rough.
Anything that gets around COTA in the mid- to low-2:20 range is quick, and the ZR1 easily finds itself in that grouping. The ZR1 is as fast as a McLaren 675LT here, and a couple seconds faster than a 911 GT3 RS, which is impressive for a car that costs much, much less and comes from the brand that also brings us the Trax.
Because there's so much power under the hood, it's not hard for an average driver to get a decent lap time around a track. If you're not trying to seek your personal best lap record it's remarkably easy to drive the ZR1 fast. GM has made this car simple to drive reasonably fast, but you do have to have some skills to get the most out of it.
Supercharged V8s should sound badass, and the ZR1's LT5 is no exception. The blower whines as boost builds, and the rumbling exhaust note out back is more American than a slice of apple pie with a Kraft single on top. Paired with a PBR.
What's Weak
Even as it's made huge leaps in quality since the bailouts, Chevrolet still isn't exactly known for having the greatest fit and finish. But in a $140,000 car, I expected more here. You get the same sort of switches, buttons, and trim you get in a Malibu or Traverse and I can't listen to anyone make excuses for that in a halo car. Even with the 3ZR trim option ticked, the interior appointments aren't much to brag about.
The base Corvette Stingray has a starting price under $60,000, and you can tell Chevrolet packs loads of performance into that price tag. I wish it would do something to distinguish the ZR1 from your basic 'Vette inside, aside from some trim pieces. Compared to a new Mercedes-AMG or Porsche, which you can definitely get in this price point, the GM cockpit feels a bit bland.
I tip the scales at 190 pounds, and am 5-feet 11-inches. The competition seats may look sporty and be light, but they seem to be designed for heftier drivers. I was having to brace myself with the wheel and my left food pinned to the dead pedal to keep in place through harder turns. Harnesses are needed if you really want to stay still in these seats during a track day.
The paint finish isn't great, and in good light I noticed the hood seems to be a different shade of black than the rest of the body panels. The owner of this car noticed it too. Making sure we weren't crazy, we looked at a fellow ZR1 owner's yellow car in the COTA paddock, and its hood was a lighter shade too. I get that Chevy gave the ZR1 a carbon fiber hood, but the paint shouldn't look that different from panel to panel.
The hood is also much taller than the Z06's, and blocks any visibility over the front right fender. You better hope you know any right-hand apex around a track, because there's no way you can see it out of the windshield.
Verdict
Sales of the Vette have been dropping, and the price is somehow going up for 2019. A ZR1 will set you back damn near $150,000, and that neighborhood is occupied by the Porsche 911 GT3, Acura NSX, Mercedes-AMG GT for only a little more cash.
With those competitors, you may not get the balls-out performance and low lap times you get from the ZR1, but you definitely get cars that are easier to live with when it comes to fit and finish, long-term enjoyment, and enjoyment both on and off track.

The ZR1 is fast as hell in any condition, and every bit a blast around a racetrack. But it still feels like Chevrolet has fallen short of making an elite halo car here. The mid-engined Corvette we keep hearing about will have to be a much more complete package to compete with other supercars on every level.
I imagine plenty of hard-working Americans at the plant in Bowling Green, Kentucky will hate me for this, but I'd spend my $150,000 elsewhere.
[Correction: this post was incorrectly edited to say that the ZR1's fuel injectors doubled in size, when in fact they doubled in quantity as was originally written. The ZR1 has both direct injection and secondary port injectors, the latter of which add extra fuel under heavy load.]
2019 Chevrolet Corvette 2dr Stingray Cpe w/1LT Specs