We now live in a world where 700 horsepower is the norm for supercars. Hell, even 700 horsepower sedans, station wagons, and Jeeps aren't hard to find. Sports cars with 500 HP pop up every second Tuesday. The whole thing is getting out of control.

But realistically anything more than 500 HP is unusable in the real world. I understand the need for headline-grabbing horsepower these days. It's a cheap and easy way to compensate for the extra weight gained from all the creature comforts and safety equipment modern consumers demand.
So I'm all for bragging rights as much as the next guy, but what happened to just pure sports cars?
But the French have other ideas. Instead of adding power and weight, they've dialed down on the horsepower because the car itself doesn't weigh as much as a cruise ship.
Welcome to what is the best modern sports car: the Alpine A110.

(Full Disclosure: Alpine in Japan loaned us one of these with a full tank of fuel for a few days.)
What Is It?
For starters it's an Alpine, not a Renault. Alpine started out in 1955 with a close relationship to Renault, but both were separate companies until 1973 when Renault bought them outright. The origins of the A110 can be traced back to the early '60s, also using Renault engines mounted in the back. Fast forward to the '70s when the A110 we all know and love started dominating international rally series.
Even with just a 1.8-liter engine, it inspired the first rally "supercars" such as the Lancia Stratos.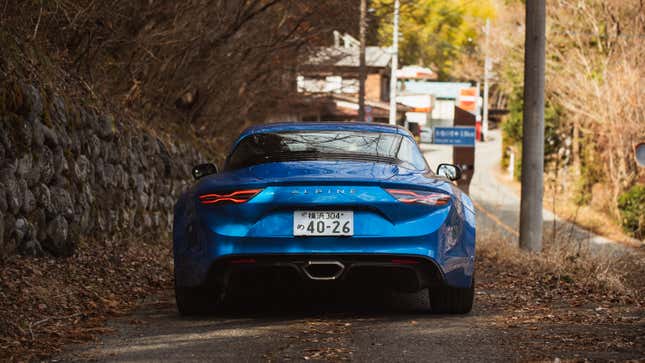 The car you see in the photos here is the modern reboot. It's that old Hollywood movie remastered with better CGI for today's audiences. As for its layout, it stays true to the original's recipe: a powerful 1.8-liter engine behind the driver (mid-engine not rear-engine), two-door coupe (because we have to make that distinction now) with a lightweight body.
The styling is a retro-modern nod to the original car and it works. To my eyes this is one of the prettiest cars on sale right now. To come around full circle, the new A110s are made in the same factory in Dieppe, France as the original.
Specs That Matter
It has a humble 252 HP 1.8-liter four-cylinder turbo motor in the middle, a seven-speed dual-clutch Getrag transmission, rear-wheel drive and that's about it. It's refreshingly simple and minimalist.
The A110 can get from 0-62 mph in 4.5 seconds according to Alpine. Top speed is a claimed 155 mph, which is plenty. It's also more than enough to have fun in a car weighing only 2,381 pounds, with a 44:56 weight distribution. The low weight is thanks to the 96 percent aluminium construction of the body. The benefits of having a car this light is endless. There's agility, better performance, and of course fuel economy.

During my time with the A110 with city, motorway, and mountain road driving, I managed an average of 23.5 mpg. For a sports car, that's quite good and I wasn't even trying to drive economically. A full tank, about 11.9 gallons, is good for around 280 miles.
How Does It Drive?
To find out just how great the A110 drives I brought to a road called Motosu-Machi. Located right next to Lake Motosu, one of the Five Fuji Lakes, it seemed like a promising road with plenty of tight and twisty corners. A darty sports car would be needed here. Nothing too wide or heavy, but it'd need to perform well should I need to outrun clouds to get a glimpse of Mount Fuji. This was the obvious choice to test a revived French sports car.
It's here where the A110 really comes to life. Select either Sport or Track mode, take manual control of the seven-speed box via the column mounted paddles, and be prepared to have a massive smile on your face. With no weight over the nose, the front hooks on to the apex while the rest of the car hula hoops around you. There wasn't a time when it felt out of control, its limit of grip could be reached and exploited with ease. Even if you do overstep the limit, it never snaps or bites. It's all so controllable and brilliant. Who knew a French car would feel so at home on Japanese mountain roads?

Weight is the crucial factor in the A110's brilliance. It's so refreshing to see a modern car not chasing mega horsepower and fully laden with high-tech wizardry. The A110 is only as big and as heavy as it needs to be, there's no wasteful excess. The result is an astonishing sports car that's as much fun to throw around as it is easy. The A110 just stitched each corner to the next.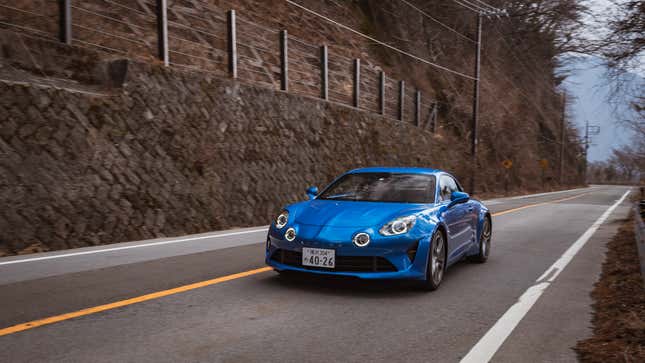 The A110 is positive, communicative and direct with exceptional feel. You always have a sense of exactly where the car is going and what it's doing. The steering goes lock to lock in just a little over two turns, which was a godsend for taking on the tight hairpins and s-bends on Motosu-Machi. This side of a McLaren, the A110's steering is without equal.
Being in a mountainous region there was no shortage of tunnels, it would've been rude not to let this little French car sing. For a 1.8-liter four-cylinder turbo the A110 sounds exceptional, exotic even. Rather than just a loud noise, there's drama in the way it wails through the rev range up to crescendo. Pull down on the left paddle and it rewards you with the right amount of pops and crackles. Not so much that it seems obnoxious and artificial, but not so little to make it sound pedestrian. Dare I say it, it might be the best sounding modern four-pot right now. Certainly, compared to this the 718 Cayman sounds utterly dreadful.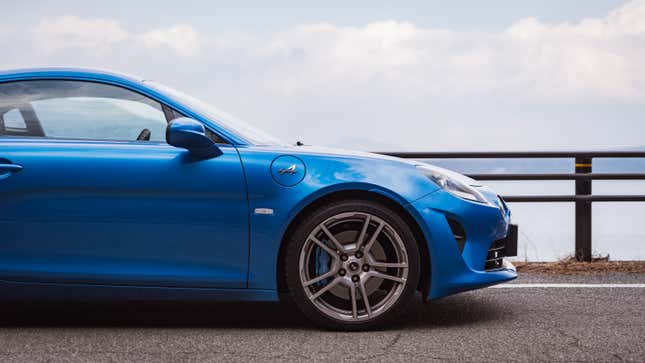 I'd say it's the definitive modern day sports car. It all felt very pure. Could it have done with a manual? Sure, but I didn't have any less fun in it because it was a dual-clutch. The mid-200 power figure might not sound like a lot but it was more than enough to have fun on a road like this. In the real world, especially on roads like this, any more power would've been too much of a handful. The A110 rewards you by being effortless yet rewarding to drive. You feel like you're part of the equation, it feels like you're actually driving the car. The driver aids are there to lend you a helping hand rather than taking full control of the driving experience.
The best way I can describe the A110 is it's what the MX-5 would be if it was mid-engined and turbocharged.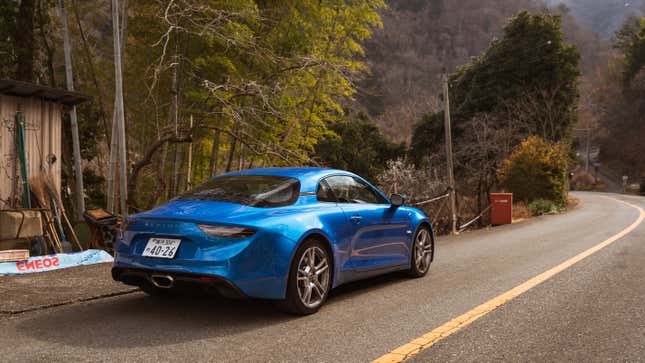 What's Great
For a sports car it was pretty damn comfortable. I was genuinely surprised at how civilized it could be cruising down the motorway. There were some noticeable road noise and it had the usual over-the-shoulder blindspot so common in this type of car but otherwise it was perfectly acceptable.
The interior of the A110 just felt special. Not special for a car of this price but special full stop. It's a great place to spend time, full of little details you notice each time you get in it. From the body-colored trim on the top of the door panel to the little French flag, the retro-style diamond stitching and to the "floating bridge" centre console reminiscent of a Ferrari or McLaren, it just oozes style and there's clearly been some thought put into this interior. Only the French would give the passenger an aluminum kick plate solely because it looks nice.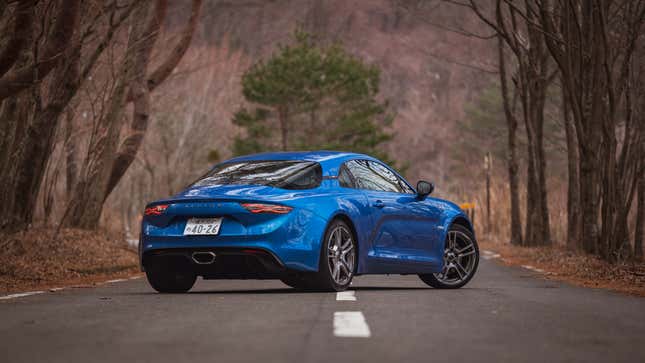 It's also the perfect size. It's a small car no wider than a Toyota 86 and as long as a city car. On a road like Motosu-Machi you would've struggled to go 10/10ths in a wider sports car, and don't even think about brining something like Lambo here. I still can't get over how great it handled.
What's Weak
Not much is wrong with it. Seriously, as much as I tried I couldn't find any major flaws with it. There were minor inconveniences such as the infotainment which seemed to go at its own pace. The lack of Apple CarPlay or Android Auto option was disappointing and surprising in a modern car.
There wasn't much storage space inside the cabin either. Instead of a glovebox you got a leather wrapped bin in-between the seats, which was nice but quite awkward to reach. It does have two boots, which sounds nice but each one is pretty small.

But that's nothing compared to the dreadful Renault parts from the '90s. I don't mind parts sharing, I understand it's a necessity but come on Renault/Alpine, you could've updated the volume buttons which were taken straight from a 1998 Renault Clio.

The key is also laughably ancient. It's a key card style that's made of the worst plastic I've seen and looks more like it'd open a garage door than a $70,000 sports car. Annoyingly, to start the car up you don't just push the starter button. Instead you have to reach over to where the glovebox would be, brushing up against your passenger's legs and stick the key card into a hole. Only then can you push the starter button. Oh, and you can't access the engine without literally taking the entire rear of the car apart.

(Update: A rep from Renault reached out to tell me the key is unique to Japanese-market homologation, where the signal emitted by the keyless entry and start being forbidden under regulations. In other markets it's trimmed in leather and only needs to be on your person to start the car or open doors. So that's good.)
But other than those minor inconveniences, perfect car.
Value
Prices for the A110 start from ¥7.9 million (around $70,000) in Japan, or a much more reasonable £46,905 (around $61,000) in the UK. That puts it squarely up against the likes of the Porsche 718, Alfa Romeo 4C, BMW M2, Toyota Supra, Audi TT, and the sort. But if you think of it as being a car with McLaren level of steering feel for a third of the price, then it makes great financial sense.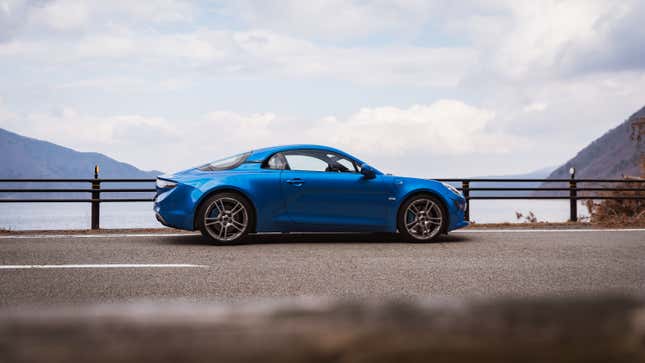 A BMW M2 might be a better all-rounder but the A110 feels more special every single time you get in it. From those gorgeous looks to the quilted leather seats and the floating bridge, it just tickles you in all the right places. You can't put a price on that. Well, Alpine has, and it's about $70,000.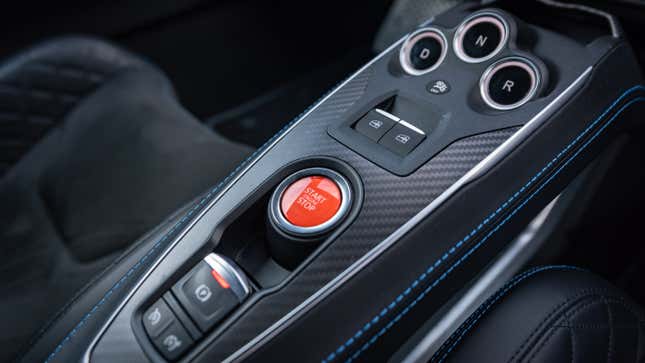 They must doing something right though because since production started in late 2017 some 5,000 A110s have left the factory. That's not bad for a small sports car manufacturer.

Verdict
The final drive back up the Motosu-Machi to explore the lake more and try and sneak a peak at Mount Fuji confirmed it for me: I love the A110. It's a car that feels special because it is special, able to put a bigger smile on your face as cars costing three times.
You might judge a car on its on-paper stats but in a fun and emotional sense, the A110 is one of the best cars on the market right now. Well, except in North America where it's not available.
But this car is so good it might make you consider moving somewhere where it is.