The all-new 2018 Volkswagen Tiguan is an attractive, spacious crossover, compact in name only, with a wide range of options and, thankfully, at least one fun color choice. That's pretty much where the car's personality ends, but I still found a lot to like about this thing.
It's here to address a lot of the criticisms of the last Tiguan—particularly that it was too small. Now there's three rows of seats, so if you absolutely loved your last Tiguan and have added a few kids in the years since, VW is here for you.
For everyone else—have you heard of this thing called the GTI?
(Full Disclosure: Volkswagen wanted me to drive the all-new 2018 Tiguan so bad they flew me out to Colorado for one night, fed me, offered me a hotel room with an amazing shower head, and then put me back on a plane as soon as I brought the car back. I can't blame them.)
What's New
You may remember the old Tiguan—or not—as Volkswagen's compact crossover, something that slotted in above a Golf but way below the expensive Touareg. Problem was the Tiguan was a little too small compared to its competitors, and generally more expensive, easily crossing $34,000 or more when loaded.
G/O Media may get a commission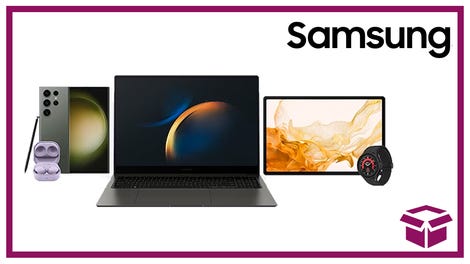 24 hour deals
Discover Samsung - Daily Deal
What should have been a runaway sales hit for VW, as small crossovers tend to be these days, was a thoroughly meh also-ran.
So this time it's not so compact. Overall, the Tiguan has stretched nearly 10.6 inches longer than the outgoing model, and VW claims you get "up to 58 percent more cargo room" (which is eaten up if you need the third-row seating).

Power from the updated 2.0-liter four-cylinder engine is now down—yes, down—from 200 horsepower to just 184 on all trims. That even includes the upcoming R-Line model, but torque has been bumped up to 221 lb-ft.
Not mind-blowing numbers, I know. But the new Tiguan is a smart-looking, well-equipped and perfectly capable "compact" crossover arriving just in time to ride the SUV wave.
Just How Fresh Is This New Tiguan?
To be frank, it's a fine package, but "interesting" just isn't an operative word. The craziest feature available on the new Tiguan is the Habanero Orange launch color you can opt for, and I highly suggest you do. It's probably the only aspect of the car your kids will grow up to remember. That, and the optional massive sunroof.

Practically speaking, the new Tiguan's greatest highlight is its deep catalog of available features. All trims come with a rear-view camera and post-collision braking as standard. Yes, post-collision, in which the Tiguan arrests itself from careening into traffic after it's hit or damaged.
On top of that goodness you get the option to add autonomous emergency braking (pre-collision), blind spot monitoring, adaptive cruise control, an overhead view camera, a panoramic sunroof and Volkswagen's cool virtual cockpit driver display.

In a quest to bump up fuel economy, or perhaps just to lull passengers into a sense of slow safety, the new engine really kills the otherwise pleasant mood offered by the new Tiguan.
You have to be patient for the power, with a few seconds of delay while you're frustratedly beating the gas pedal into submission before the engine starts making noise and pretending to do something.
After a few good Mississippi seconds, you look down a realize you haven't hit 60 mph yet. Even in sport mode, while the steering-feel does tighten and there are more noises, you're still going to be riding the highway on-ramp to the rumble strips.
If the power cut was for fuel economy, it wasn't really worth it. In our driving experience, we were averaging about 20 MPG to 22 MPG in both the all-wheel drive SEL trim and the front-wheel drive SE trim, which is still not great!
The FWD Tiguan is officially rated as 22 city, 27 highway while the AWD is almost identical with 21 city and 27 highway. The new eight-speed automatic is almost unnoticeable, but that's probably because the dismal acceleration allots it plenty of time for it to make decisions.

The 4Motion AWD system is based on the Mk 7 Golf R's setup, so it has a strong FWD bias. Torque is automatically shifted to each wheel individually, with a center differential divvying up power between the front and rear axles, where electronic differentials control individual wheel spin. In practice, the stability control can be pretty invasive (and jittery) using AWD under braking and in turns if you're running at a quick pace on a gravel road. Turn it "off" and it is still pretty quick to jump in and calm things down.

The Tiguan is an otherwise lovely place to be. All trims have comfortable seating with surprisingly strong bolstering, there are soft-touch materials sporadically strewn across with some hard, cheap plastics reserved for the footwells and, unfortunately, the back seating area.
The dashboard layout is nice and simple, with nice physical buttons and USB ports on every trim level and a handy spot to throw a phone. Also, the button feel on the controls isn't anything I'd call "mind-blowing," for those of you who care about that stuff.
All FWD models come with the third-row seating as standard, and it is a $500 option on AWD models.
It's a little tight on head room, but your youngest kids will be perfectly fine back there into their early teenage years, unless your family is freakishly tall.

Every Tiguan has Apple CarPlay, Android Auto and Mirrorlink connectivity, and will also come with a six month trial for VW's Car Net safety subscription service.
If you splurge and go for the navigation system with the virtual cockpit, the maps are clear and the information is laid out logically, either on the available 12.3-inch super-bright screen or in a customizable position directly in front of the driver.
The best part of the deal is definitely Volkswagen's new "America's Best" six-year or 72,000 mile bumper-to-bumper warranty, which is transferable if you're buying used.
You Wanted To Know...
The Tiguan is in one of the most competitive segments, and that often means that it's the little things that end up driving a decision—so here are some random answers to some of your random questions about the car.
The 2018 Tiguan has a towing capacity of 1,500 pounds, a roof rack weight capacity of 150 pounds, just 12 cubic feet of cargo space if you have to use the third row seating, and no full-size spare wheel, but there is a space-saver available. The "pre-production" models we were testing this week did have amber turn signals in the front, but not in the back. All Tiguans come with LED taillights standard, with the fancy headlights available only on the SEL Premium trim.
Ground clearance was claimed to be 7.9 inches, but it wasn't clear which trim that was on as each level comes with a range of 17-inch to 20-inch wheels. Last but not least, there doesn't seem to be any interest by VW to develop any sort of off-road or active trim level, and I wouldn't hold out any hope for any more power on any future Tiguan, either.
How Much Is This Thing Going To Cost Me?
The Tiguan has always been slightly more expensive than some of the competition, and now that it's slightly bigger with a slew of new features (and is more popular), that hasn't really changed.
The 2018 Tiguan is available in four trims with the $1,300 option of AWD available across the range. The S trim starts at $25,345, the SE is $29,080, The SEL is $32,550 and the SEL Premium is $36,250. The R-Line package is available on the SEL (an additional $1,795) and SEL Premium (an additional $1,495) trims, as well. Third row seating is a $500 option on AWD models, the Driver Assistance Package with the additional safety features is a $800 option, and the panoramic sunroof is a $1,200 option.
What Works
The ride quality is floaty and comfortable, the road noise is decently quiet (which may vary if you opt for bigger wheels), visibility is good, especially with the additional safety gizmos, and its looks inside and out are attractively simple, if a bit clinical. The storm grey interior is particularly nice. That six-year, 72,000 mile warranty should also be hard to pass up.
Like I said, I really dig the Habanero Orange, and there's also a nice Dark Moss Green Metallic. Please don't get grey or silver. Please.
What Needs Work
I must warn you that there will more than likely be multiple occasions where you will want for more power, as the 184 horsepower from this tweaked 2.0-liter engine is abruptly disappointing, particularly on the heavier AWD models. And then there's the troublesome gas mileage to worry about.
The Tiguan also clearly isn't a rock-crawler or a rally car, but you shouldn't expect it to be. The AWD will get you through a rain storm or a muddy patch just fine, but the stability control might freak out on you on a gravel road. It's more serviceable than entertaining, so I wouldn't suggest you try having too much fun with it.
Early Verdict
The 2018 Volkswagen Tiguan looks good, rides well, is comfortable to be in, and can be configured pretty much any way you want. It may not be very compact anymore, but that's for the better, offering a spacious, simple and stylish interior that's just a nice place to be.
It's a little compromised on fuel economy, towing, and power when up against smaller competitors like the Honda CR-V, Mazda CX-5 and Ford Escape.
It's not exciting to drive and the AWD feels like more of a passive convenience than a standout feature, but that won't bother you as long as you accept the Tiguan's designation as a daily driver and family hauler. You can now lug around seven humans in a smart package and a bright orange paint job for less than $26,000.
Whatever issues most mainstream buyers had with the last Tiguan should be gone now. Time for VW to kick back and watch the money pile up.
---
Engine: 2.0-liter turbocharged four-cylinder

Power: 184 HP at 4,400 RPM / 221 lb-ft at 1,600 RPM
Transmissions: 8-speed automatic
Weight: 3,777 lbs (FWD), 3,858 lbs (AWD)
Drivetrain: Front-wheel drive or all-wheel drive
Seating: Five or seven
MPG: EPA claimed 22 city, 27 highway, 24 combined (FWD), 21, city, 27 highway, 23 combined (AWD)
MSRP: $25,345 base (S FWD), $39,600 as tested (SEL Premium AWD with sunroof and Driver Assistance Package)
2018 Volkswagen Tiguan 2.0T S FWD Specs
Engine type
Intercooled Turbo Regular Unleaded I-4
Transmission/Drive
Automatic w/OD