The 2018 Jaguar XE is a fine-looking, super comfortable and well-priced luxury sports sedan that steers into a corner the same way a Wüsthof knife carves its way through a medium rare steak. On paper, it seems like it could be the fiercest assassin of the ubiquitous BMW 3 Series yet, even more so than tough contenders like the Alfa Romeo Giulia Sport, Cadillac ATS 2.0T and Lexus IS 200T.
But as good of a car as it is, I was left with a lukewarm feeling when I handed over the keys. There's still something missing for the XE 25T to be the perfect baby sports sedan. And I believe I've pinpointed what it is.
(Full disclosure: Jaguar Land Rover Canada wanted me to drive the XE 25T AWD so badly, it had one shipped down from Toronto to Montréal clean and with a full tank of gas so I could drive it for a week.)
What Is It?
G/O Media may get a commission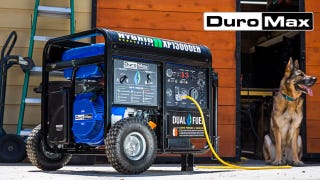 Black Friday Sale
DuroMax Generator Sale
Introduced in 2015, the Jaguar XE is one of the most important cars to have come out of England in quite some time. It's also Jaguar's first real attempt at taking on the highly lucrative entry level luxury sports sedan segment. Please don't bring up the X-Type; it may not have been as bad as everyone thinks it is, but there are reasons it didn't survive long.
The XE is a much stronger effort than the X-Type. It's fitted with innovative technology that has never been seen in this segment. For instance, the XE's entire monocoque structure is a large bonded and riveted aluminum shell, similar to what you get in some high-end sports cars.
For power, the XE gets three all-new engines, one of them being a diesel, perhaps on the hopes that some buyers haven't Googled the word "Volkswagen" in a few years.
The car you see here is the bread-and-butter 25t. And no, this is not a 2.5-liter turbo. I guess if you're trying to beat the Germans at their own game, the first thing you do is slap ridiculously confusing nomenclatures on your cars, and Jaguar is doing it right.
The 25t is actually a 2.0-liter turbo. It's part of Jaguar Land Rover's new Ingenium lineup of engines, which also includes a more potent, 296-horsepower version, as well as a 3.0-liter V6. Jaguar says the tiny four-pot is good for 247 horsepower, and 269 lb-ft of torque.
In the U.S., all XE's can be ordered with rear or all-wheel-drive. Canada gets AWD only, hence my tester. Europe gets a stick option, but here in North America, an eight-speed, ZF-sourced automatic is the only way to roll.
Why Does It Matter?
If you're a luxury carmaker, you need an entry level executive sedan in your lineup. It's the "get them in the showroom" vehicle, the gateway drug, if you will, that, according to product planners and marketing experts, secures young consumers to a brand in hopes that they will remain loyal and slowly climb the lineup ladder as they age.
And these things sell well. Even with the current crossover boom, in an average year, BMW still sells more 3 Series in North America than it does X3s. The 3 Series is one of those cars that will always do well, even if a zombie virus wipes out 75 percent of the populace. Everyone wants a piece of that.
Which is why the XE's crosshairs are set directly at the current trio of bicep-flexing German sports sedans. The goal here is to offer similar driving dynamics and luxury as the Germans, but encapsulate it in a distinctively British package sold at a lower selling price.
It's So Pretty
The XE is a tremendously well designed automobile. Simply by looking at this thing's proportions, stance, and overall flowing lines, your eye immediately tells you: "Yes, I like this. Please, get me closer to it."

And that's the kind of reaction I got wherever I went with my Fuji White XE. People looked, gave me the approval nod, the traditional thumbs up, and asked questions at the pump.
I never got that kind of attention in an A4, or any mainstream Bimmer for that matter.
All Surface Progress Control
But the real standout feature in this 25t AWD, for me at least, is a neat thing called All Surface Progress Control (ASPC). It's a kind of cruise control with a traction specialty, that allows the car to maintain speed no matter on which surface you're driving it on, which also improves traction upon takeoff.
Here's a little Jaguar press video that explains it better than I do:
If, like me, you live in places where winter weather often resembles an end-of-the-world apocalypse, you'll appreciate this bit of tech.
Disappointments
The XE is great, but it has flaws. And those flaws really stand out.
For starters, the transmission isn't what you would call the best opus of our current automotive industry. It's a ZF, the same kind of gearbox you get in a 3 Series and many other cars.
Normally that's great. But here, perhaps because of tuning, this gearbox is laggy. Stomp the accelerator in automatic mode, and you can literally count the seconds in your head before the damn thing decides to downshift. When it does, it will sometimes fumble a gear, almost as if it were telling you: "Oops, sorry man, I meant to give you this cog instead." It then downshifts again without giving you a warning . Useless.
You can set the system to S mode to speed things up, but doing so will just let the thing hold on to revs longer instead of actually downshifting quicker. And manual mode is just as slow.
Finally, this car sounds totally lame. I get that it's a four-cylinder turbo built to be as efficient as possible, but there's nothing exciting here. Not even a throaty exhaust note.
All you get in the 25t are weird whistling and wooshing turbo noises that sound like a jogging android.
This is a Jag, you expect it to sing and growl, like any F-Type does. Sadly, the XE doesn't.

Casual Driving
Yet it gets comfort right. This is a great car to spend some time in. I'd know, because I took the XE out for a drive up to Québec's Saguenay region for a future Jalopnik story. That's a five hour drive when you leave from Montréal, and the XE was a peach the entire way.
The front seats are immensely supportive and comfortable. The ride is smooth and compliant. The interior is as beautifully styled as its exterior, especially with the blue duotone seats and blue stitching. Material quality is good, but not stellar; a Lexus walks all over this.
But I love the way the entire dashboard envelops you in one, large, concave trim cocoon that extends all the way to the doors, look:
The infotainment system not only looks solid, it's also easy to use and quick to react, and the entire habitacle is as quiet as a mime. Rear seat room is a tad cramped however, but not more so than in a Lexus IS.

Where the XE 25t really impressed me, for daily driving, was in fuel economy. Jaguar claims roughly 26 combined mpg for all-wheel-drive four-cylinder XE's.
I pulled off better numbers than that, hanging around the 29 mpg range. On the highway, in Eco mode, I got up to 39 mpg!
For an all-wheel-drive car. That's some impressive shit.

Hard Driving
If you've driven the current generation BMW 3 Series and wonder where its steering response went over the last generation car, that's because Jaguar stole it.
The XE steers like an older BMW, the steering wheel is well weighted, the car turns in quickly, and that wheel doesn't feel too light nor lifeless like these electrically assisted systems tend to feel. (Spoiler: the Guilia's steering is even better.)
Then there's the impeccable balance of body control as you push the car hard in a bend. Sure, the brakes are a little smooshy—there's a weird dead zone at the top of the pedal—but overall handling is solid. There's like, no body-roll, the car just takes it in while remaining smooth and composed. And even if this is a heavier, all-wheel-drive version, understeer is still kept at a minimum.
I did find the stock all-season tires to lack grip when pushing the car hard, which led to some unwanted forward plow. But the chassis and suspension calibration aren't to blame here, actually, I had the adaptive dampers, which definitely helped at keeping the car's composure on point. I suggest you tick off that option too.
Jaguar claims a 0-60 mph time for the XE 25t AWD of 5.8 seconds. That's fine enough, but also second slower than an Audi A4, Alfa Romeo Giulia Sport and BMW 330i xDrive.
So the baby all-wheel-drive XE isn't the quickest entry level sports sedan out there, but at least it drives as well, if not better than some of its competitors.
Value
In the U.S., a rear-wheel-drive XE 25T kicks off at $35,725. That's cheaper than all the entry level rear transaxle luxury sedans out there. All-wheel-drive models start at $38,225 ($43,900 CAN), or about $2,000 less than an all-wheel-drive Giulia.
My tester was pretty much fully loaded, as press cars tend to be, with the adaptive suspension, optional 19-inch wheels, a panoramic roof, the R-Sport trim, which adds more aggressive bumpers, a rear spoiler and sports seats, as well as the Technology Package which includes a kickass Meridian sound system and a heads-up display, among other things. That one stickers for $54,420 ($60,750 CAN).
By comparison, a BMW 330i xDrive fires up at $39,745. Equip it with similar features as the Jag, and you're over $55,000.
But you still won't get an aluminum construction, nor a fancy all-weather cruise control system. If you're looking for something a little different, then I'd say the Jag is a good value.
Verdict
The 2018 Jaguar XE 25T AWD may not steal the German torch as far as performance is involved, but it offers distinctive features that allow it to shine through as a unique product and a competent player.
The XE handles well, is fun to drive, looks stunning, and is competitively priced. Most importantly, this car is new, fresh, and original.
As a first effort from Jaguar, this is excellent. But there's still room for improvement here. The day Jaguar will sell us one with a stick and an exhaust note that sounds like an actual purring cat, then the XE, even in its most basic form, will be exciting enough to be dubbed the perfect sports sedan. A better gearbox and a little more oomph would all go a long way here, too.
Until then, the XE 25T sits in the shadows of more established and over-achieving contenders which, alas, remain German. For now.
---
William Clavey is an automotive journalist from Montréal, Québec, Canada. He runs claveyscorner.com.
Correction: This post has been updated to include accurate 0-60 mph times for U.S. models.
2018 Jaguar XE 25t RWD Specs
Engine type
Intercooled Turbo Premium Unleaded I-4
Transmission/Drive
Automatic w/OD