There's a reason the Maserati GranTurismo has looked the same for the past decade: because when you have a design that sexy, you don't screw with it. Jaguar's F-Type is in the same boat with its gorgeous profile, gaping wide grille and sleek headlights. But Jaguar has updated it for 2018, also with a more powerful engine. Luckily, they didn't screw up.
And the reason Jaguar's refresh doesn't screw up the car is because, frankly, it's hardly a refresh at all. In fact, aside from some new LED headlights and revised lower front bumpers, you won't find much of a difference between the '18 and the current model.
Aside from the slight styling tweaks, the 2018 "New F-Type Range" really isn't much different from what's currently available. There's the one-model year-only 400 Sport launch edition, which is powered by a new 400-horsepower version of the supercharged V6 in current base and S F-Types. The 400 Sport also gets bigger brakes, Configurable Dynamics (which lets you set up the car for different driving conditions), and a bunch of yellow and dark satin badging all over.
Will the 400-horsepower model trickle down onto the more sparingly-equipped V6s, previously with 340 and 380 horsepower, respectively? Probably. This is a car company, after all.
G/O Media may get a commission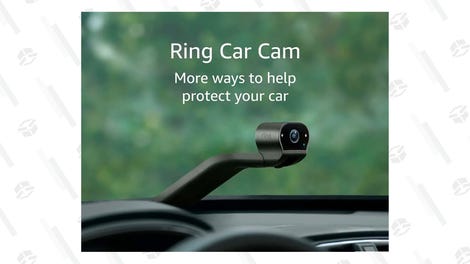 There's also a new "Touch Pro" infotainment system and an app the company calls "ReRun," which basically lets you record your drive with overlapping vehicle parameters like G-force, gear position, and throttle position on the same screen.
Jaguar says their little Go Pro-based app is a "world first," but Cadillac's got something very similar in its V-models— so maybe it's a world-first because it uses a Go-Pro and not a built-in camera? Who knows, but it's really not too exciting.
There's also a new "R-Dynamic" model, which can be had with either the 340 or 380 horsepower supercharged 3.0-liter V6s found in current base and S models, and that has a bunch of gloss black finish on the splitter, hood vents, side sills, and rear diffuser.
There are also new "slimline" lightweight seats and a new automated parallel park-assist feature, but what you really need to know is this: the F-Type is still really, really sexy: