In just a few short days of test driving, the 2018 Hyundai Sonata started to feel like one of my best friends. This comfortable little car is idiot proof in a way that's not all in your face about it, making it a positively pleasant everyday vehicle.

(Full disclosure: Hyundai had an immaculate Sonata Limited waiting for me at LAX airport when I got home from a trip, with a full tank of fuel, and collected the car from my apartment a few days later.) 
What Is It?
The Sonata is a modest Alabama assembled four-door front-drive mid-sized sedan. In other words, a quintessential "car" comparable to a Honda Accord or Toyota Camry. As of last month, the Sonata was Hyundai's fourth-best selling vehicle behind two little SUVs and the super cheap Elantra.

Specs That Matter
G/O Media may get a commission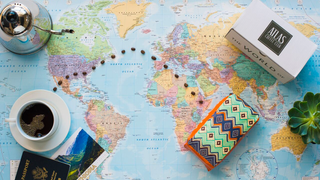 First Bag Free
Atlas Coffee Club - Free Coffee
Explore global coffee
With each bag, Atlas includes details on the coffee's tasting notes and a postcard about the region and its coffee history. And when you subscribe, you have options to tailor frequency, grind size, and roast preference of your beans, so you'll always be brewing the perfect cup.
A basic Sonata starts at just over $22,000, which defaults to a 2.4-liter four-cylinder engine rated to 185 horsepower and 178 lb-ft of torque, which is the engine I put a few hundred miles on for this review. A 1.6-liter turbo and a 2.0-liter turbo are also in the catalogue.
The entry spec SE gets blind spot detection and a seven-inch infotainment screen, but the $27,000 Limited trim we tested adds cooled and heated front seats, LED lighting, a nice big sunroof, fake pinstriped wood interior pieces that look like a suit somebody might wear in the movie Casino or in an actual casino. There's also nice leather wrapping on the steering wheel.

The EPA claims this car should be able to get 35 mpg on the highway, 25 in town and 28 in mixed driving. According to my Sonata's trip computer, I landed at about 33 mpg average over a mostly-highway trip with some very slow traffic sections and one big climb from sea level to almost 7,000 feet in the sky.
My tester was a Limited optioned up to $31,310 with the "Ultimate Package" that includes auto emergency braking, lane keeping, adaptive cruise control, rear parking sensors, an 8-inch infotainment screen, a heated steering wheel, and a fantastic Infinity sound system.
What's Great
There is absolutely no learning curve to getting comfortable with the Hyundai Sonata. Buttons are clearly labeled and intuitively placed. Every piece of information in the displays is extremely legible and obvious. The resolution on the gauge screen and main center stack screen, which is tucked into the dash instead of lazily slapped on top of it, is exceptional.

As soon as I was inserted in the driver's seat, I felt like I'd been driving the car for years. And I think that says a lot coming from somebody who drives and rides in a bunch of different cars every month.
Sitting in the seat brings me to my second favorite Sonata feature: the leather and headrests are La-Z-Boy soft. Hyundai clearly subscribes to the old American car school of thought when it comes to seat comfort: that car seats should have a little squishiness to them, with which I firmly (heh) agree.
The Sonata's seats are gloriously plush. And as I was admiring how coddled my back and butt were, I made one more positive observation about the car: build quality on the door pulls, buttons and turn signal stalks seems very solid.
What's Weak 
At night time, the Sonata beams a little ambient light into the cabin with a roof-mounted LED pointing downwards. I hate it, though I guess disabling it would only be a fuse or a piece of tape away. But I could not, for the life of me, figure out how to deactivate it otherwise. And given the Sonata's general ease of use, I think that means it's not something you're supposed to be able to turn off.

Otherwise, the car was altogether inoffensive if a little on the slow side.
Casual Driving
If you live in a population center and don't spend weekend days off-road or on a race track, you probably spend most of your time driving between 5 and 65 mph on occasionally pocked but generally flat pavement. This is where the Sonata shines.

As long as you're not in "Eco" mode, which we'll talk about shortly, the Sonata accelerates from a stop to the speed limit smartly, absorbs imperfections in the road competently and comes back to a halt as soon as you need it to.
In other words, the driving experience is altogether fine, which is exactly what many people want in a commuter car.
The Sonata's driver aids are effective but not intrusive. Steering feels light and sufficiently accurate; the whole car seems surefooted. The gauges and screens are so easy to interpret and flip through that you'll have a confident mastery of them without even thinking about cracking open the owner's manual or YouTubing tutorials.
Between the soft seat and the whole car's ease of use, the Sonata makes driving very comfortable. Painless, even. Which, again, is a big plus if you're just trying to get from A to B as easily as you can. The robustness of the car's touch points make it feel solid, too. Like the thing might actually survive past its impressively long warranty.
Aggressive Driving
I didn't bother driving the Sonata hard and neither should you. But I will say that the car's responsiveness, at least in terms of acceleration, did seem markedly different in between the "Eco," "Comfort" and "Sport" modes.

Eco almost felt like the car was dragging an anchor, Sport was noticeably more enthusiastic and Comfort was the Goldilocks setting which felt fine pretty much all the time.
So there's really no point in changing out of Comfort if you're a disciplined driver, but I guess Eco can be helpful if you've got a heavy foot and need a chaperone to keep you from giving the car too much gas. Wouldn't want that fierce 2.4 liter getting away from you–is a sentence I couldn't write with a straight face.
Value
The 2018 Toyota Camry starts at $23,495, the 2018 Honda Accord starts at a few bucks more, making both starting MSRPs about $1,500 higher than the basic Sonata. Mazda tries to game the base price comparison by offering a $21,950 Mazda 6 with a manual transmission, but few people will want that and even fewer will probably be able to find one on dealer lots. The automatic Mazda 6 starts at $23,000 like the rest of the segment.

But unless you're running a car rental company, you're probably going to try and get something above the base model. The nicest Sonata, the Limited with a panoramic sunroof(!) and a 245 HP turbocharged engine, rings up at about $32,000. A top-of-the-line Limited Accord with its upgrade 2.0-liter engine option is more like $36,000 and the XSE Camry with a V6 is over $35,000. The Mazda6 Grand Touring is cheap, like the Sonata, at about $32,000 also.
These cars are all close enough in price that I think your experience and spend will vary depending on what kind of incentives your local dealer's running. I personally would probably go somewhere in the middle and get a 2.0-liter turbo Accord manual, because shifting is life, but if my main goal was purely to get around? I'd take the Hyundai, even over the Mazda 6, despite the car's status as a perennial Jalopnik favorite.
Comfort counts for a lot in this segment, and so does a welcoming infotainment system.
Verdict
Hyundais have been nice for long enough now that it's passé to say "they ain't as bad as they used to be," but I have to admit the Sonata Limited really was still nicer than I expected it to be.

That seat was just so dang comfortable I can't get over it. But like I've been saying throughout this review: the Sonata's real value proposition is easy of use and elegance of ergonomics.

Well, not "elegance" so much as plain old intuitiveness. The Mazda 6's interior is elegant. The Sonata's is just as simple as a Cozy Coupe and in a time where every car is coming bristling with connectivity and tech, I think user friendliness is a solid selling point.
I probably don't have to disclose that I'm a driving enthusiast, and that I'm attracted to cars that make driving an exciting experience. The Hyundai Sonata doesn't do that, at all, but I still enjoyed getting around in it because the car made me feel good and comfortable. The Sonata's so pleasant to sit in that I almost forgot to inspect it from the outside. And you know what, the Sonata is pretty nice looking too. At least if you like your cars looking like fish.