The 2018 Honda Fit kind of fits everywhere and everything seems to fit in it. Hmm... is that in the brochure? It's not a particularly arousing car, aesthetically or architecturally, but it is intuitive. It's efficient, too. And get a load of that high-mounted cupholder!

(Full Disclosure: Honda brought a fully-fueled Fit all the way to from Boston to New Hampshire so I could buzz around New England in it for a week.)

Hang on, stay with me, we can find more to talk about here than the beverage storage situation.
The Fit may not be fit to carve canyons or blaze a path off-road. But it does feel refreshingly light. And as far as daily short-range transportation, it's a nice passive raft ride on the river of least resistance.
G/O Media may get a commission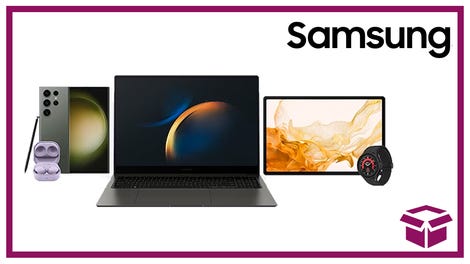 24 hour deals
Discover Samsung - Daily Deal
The Fit is easy to drive, easy to see out of and easy to like even if it's not necessarily special enough to make you fall in love.
What Is It?
At about 161 inches long and 67 inches wide, the Fit is a four-door compact car that's about the size of a 20-year-old Civic hatchback. No, really, go ahead and look it up. The Fit is a dead-simple old school economy car that just happens to make exceptionally efficient usage of its modest footprint. It's also a scant 2,600-odd pounds in its fattest trim, which is about the payload rating of a nice modern pickup.

Lightness is good. Lightness adds efficiency, and helps breath a little life into an otherwise unexceptional driving experience.
The Fit is pitched as a daily driving shuttle for urban young people (what isn't these days?) but it'd be viable transportation for a frugal family if the dog is small enough to sit in the rear-center seat.
While a manual transmission is available, the top-trim EX-L I tested is saddled with a CVT that is mercifully inoffensive if a little droll. Rowing your own gears might give you more to do, but the CVT helps the Fit extract a ton of mileage out of its modest fuel tank and is well mated to the car's calm personality.
Why Does It Matter?
We spend a lot of time celebrating characterful cars here, but most of the automobile-owning public just wants to get around cheaply and conveniently. And while a basic hatchback used to be the go-to for such a purpose, pseudo-SUV crossovers have dominated the "default car" space with vague promises of capability. All that AWD and extra ground clearance comes with a bloat tax too, though. And "bloat" is one thing the Fit is delightfully devoid of.
This is a good car on its own, and in many ways a better alternative to small crossovers by virtue of its mpgs and ease of parking. And more than that: The Fit is a callback to the compact cars we grew up riding to school in, except it's a lot safer and even more efficient.
If you wish somebody still made a simple, small getaroundmobile... wish no more, you're looking at it.
Standout Features
Besides an adequate abundance of beverage holsters, the Fit's most appealing feature is probably its surprisingly useful quantity of cargo space. The doors and rear hatch open wide, swallowing a week's worth of cargo or an ambitious IKEA haul without risking too many scratches.
Most of the big surfaces on the Fit are actually quite nice. The rubberized dashpad has a high-quality feel to it, and the turn signal stalks and and center console-positioned shifter also provide a pleasant sense of robustness. There are paddle shifters too, yes, with the CVT, but I wouldn't waste your time poking them. They just make the car a little louder.
Higher-spec EX-L trims can be had with Honda's lane-keeping assistant and automated cruise control, which bumps the car back into its lane if you start to doze off and prevents you from plowing into whoever you're following, respectively. Both systems seem to work, but I'm going to have to insist you don't rely on them.
But perhaps most impressively, the car's trip computer reported fuel economy in the low 40s after a couple hundred miles of highway driving. Yes, in the right lane, but at a humane cruising speed.
Disappointments
More than a couple consecutive hours of driving the Fit gets tiresome. While the material covering the seats seemed decent in the EX-L, the seats themselves are a little springy and cheap-feeling which starts to make for a sore backside halfway through a long haul.

You probably won't be surprised to hear that the Fit never wants to be in a hurry. And road noise is bearable but a little bothersome over a significant distance. Otherwise, there's really not much to complain about in this car that makes no attempt to oversell its sportiness or abilities.
Casual Driving
Driving the Fit is generally banal, though its just a little more satisfying to flick through traffic than an SUV by virtue of its low center of gravity and low curb weight. The car complies nicely with a slow roll into the gas pedal, and as long as you don't stomp too hard you can convince yourself it's reasonably responsive.

The brakes have a legitimately strong bite that's confidence-inspiring, should you somehow miss an obstacle in your path through the Fit's massive windshield.
The weight of the steering wheel is easy to turn, but provides enough feedback to keep you from inadvertently wandering across lanes.
The car's ergonomics are friendly and although the seat feels a little bouncy, the shape is fine for short rides.

Aggressive Driving
No. People have tried to convince me that the Fit is fun to drive. I'm willing to admit it feels "awake," but it falls well short of exciting.
With the CVT, the Fit is capable of buzzing to a highway canter and back down when it's time for your exit, but the buzz becomes a drone and an irritated sigh from the engine and transmission as soon as you start ripping this thing beyond what's polite in everyday driving.
I have no doubt the manual-shift version, which does still exist, would be a little more rewarding to wind out. But generally speaking, the Fit feels just as sedate when it's being flogged and frazzled as when you're doing the speed limit. So there's really no point in pushing the pedals too hard.
Who's it for?
The Fit is ideal for any one to four people with a weekend's worth of luggage who want to get from one place to another place that's no more than 200 miles away.

You can expect a low cost of ownership and very easy vehicular operation here. As long as you're not expecting an adrenaline rush, the Fit could fit into anyone's life just fine.
Value
The Fit is cheap. Starting at a paltry $16,000, even the maximum-option spec EX-L rings up at around $22,000. The EPA rates its fuel economy at 36 mpg on the highway, but my test car reported north of 40 after just a couple hours of soaring downhill on I-89. My overall average after over 500 miles of hustling all over New England and Boston was just a hair under 39.

Assuming the Fit lives up to Honda's reputation for reliability, this seems like a cheap and solid tool for basic transportation. Which, of course, is its main mission designation.
Verdict
The practical compact car is alive and well, of that the Honda Fit is a shining example. But more than that, it's an impressively efficient utilization of space which makes it aptly named.

While it's difficult to muster much emotional enthusiasm behind the wheel of this thing, it's easy to see out of and operate. And if that's what you're looking for in a four-wheeled personal conveyance craft, this is a solid option.

2018 Honda Fit LX Manual Specs
Engine type
Regular Unleaded I-4
Transmission/Drive
Manual w/OD