The new 2018 Ford Mustang is the first big update for the model that launched three years ago, and it brings with it a big jump in power, a new automatic transmission, and some minor changes to the exterior like the headlights, which people that post in car forums have said remind them of a turtle. (Or did I say that at some point? Maybe. It's not a criticism.) Anyway, it's a good car and also, at times, a beast.
More than that, with a V8 engine now boasting 460 horsepower, the updated Mustang—and its closest direct competitor, the similarly powerful Chevrolet Camaro—represent a democratization of power the likes of which we've never seen. Maybe the robots are coming for our keys soon. Until they do, we're able to go faster for cheaper than we've ever dreamed possible.
(Full Disclosure: Ford bought me a plane ticket, put me up at cool ranch in Malibu and fed me for a couple days, like a few dozen other journalists, to convince us to write about the Mustang. It worked.) 
What Is It?
It's a Mustang! You know what this is.
The legendary pony car began life in 1963, then was brilliant for about 15 years, then was bad for the next 25 or so years, and then became good again with the fifth generation in 2004 and became even better with the sixth generation, which debuted in 2015. (Whew.) The 2018 model represents the first real update on that generation since its initial debut.
G/O Media may get a commission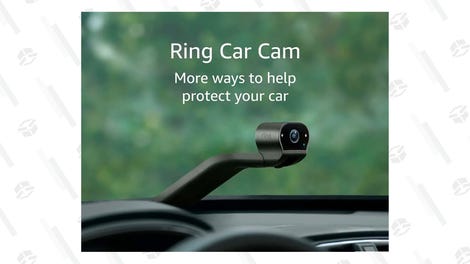 The new Mustang starts at $25,585 for the turbocharged four-cylinder version, rising to a still-reasonable base price of $35,095 for the V8 GT. It can get plenty more expensive after that, with various performance packs and options that can take the cost well past $50,000, meaning that the gulf between the top Mustangs and the barebones four cylinders is very wide.

None of which really bothers Ford so much, since it's happy to have a Mustang for every occasion, and every potential buyer. Are you a enthusiast? Here's a manual GT Premium with Performance Pack 2. Or maybe you're just someone who wants to own a Mustang for the looks and the name. An automatic EcoBoost might be just fine.
Whatever you're getting, you're getting a car that is incredibly powerful, as horsepower numbers in the Mustang have exploded in recent years. In 2010, the Mustang V8s cranked out just 315 HP, but this year's produces a claimed 460, or as much as a damn Corvette Stingray. And that comes in a car that's $20,000 cheaper.
The EcoBoost is no slouch either, for a four-cylinder—it has power ratings you'd normally see on an exotic car 20 years ago. Mustangs are made to fulfill your affordable speed dreams.
Specs That Matter
The GT, which is the car you probably most want to hear about, gets a 25 HP boost from last year out of its 5.0-liter V8. The EcoBoost four cylinder gets no such horsepower bump, coming in at 310 HP, but does get a small boost in torque, turned up to 350 lb.-ft., or 30 more than last year's.
Every GT is supposedly capable of going from zero to 60 in under four seconds; the four cylinder can do the stunt in under five. Both are fastest with Ford's new 10-speed automatic, which it stepped on the scene in the F-150 Raptor but has made its way into the Mustang and 2018 Expedition.
A manual transmission is also still available, and Ford says that about half of all GTs sold are manual, while just roughly 10 percent of the four cylinders are.
Curb weight is a claimed 3,532 pounds for the EcoBoost and 3,705 for the V8, though both numbers climb as the cars are saddled with options and the cup holders are loaded. The convertible versions add 110 and 147 pounds to the EcoBoost and GT models, respectively.
Every Mustang comes with decent disc brakes, though you can get six-piston Brembos with the Performance Pack 1, which costs an extra $5,000. That also has the option of Ford's MagneRide damping system, which can change the stiffness of the suspension through, yes, magnets, depending on what mode you're driving in. Wheels are 19 inches, wrapped in specially-designed Michelin tires which are 255 millimeters wide up front and 275 millimeters wide in the back. With the Performance Pack 2, for an additional $1,500, you get even wider tires, and stiffer everything.
The new Mustang is 188 inches long, or almost the exact same length as a Camaro. And almost double the length of a Ford Fiesta, in case your were wondering.
What's Good
On our shakedown cruise through the Malibu canyons, the roads wind and curve with a few breaths for strong straightaways. In other words, the perfect terrain to let the Mustang stretch its legs.
Both EcoBoost and GT models hugged turns impressively, feeling reliably grippy and planted; I never felt like I was in danger of rolling. The interior cabin doesn't feel cramped, and the visibility, for a car like this, was more than enough. Most notably: better than a Camaro's. Though of course, the backup camera doesn't hurt.
Like most modern cars the Mustang boasts several driving settings, including specialized modes for the drag strip, "sport" driving, wet weather driving, "normal" driving, and so on. Each mode makes incremental changes to the car's steering, suspension, and transmission. You can also mix and match some of those settings meaning that, for example, you can put it in "normal" driving mode while setting the steering to "Sport+" mode and so forth.
All of which are good things, since the automatic transmission seemed a little less frantic in normal mode, but I much preferred the tighter steering the Sport+ mode had to offer. I suspect a lot of buyers will make similar decisions.
The coolest mode is probably the drag strip mode, which a Ford engineer told me was able to shave a half-second off the car's zero to 60 time just by tweaking how it shifts from first to second gear, lurching the car forward instead of momentarily halting acceleration.
More good things: the 12-inch screen that displays your RPMs and speed, which is very active in a non-distracting way and, a Ford engineer said, extremely complicated
What's Weak
Let's talk about that transmission again, because while I loved how you could adapt it to your needs, I didn't love as much how, sometimes, it didn't really seem to know what speed it wanted to be in. Acceleration wasn't exactly the problem, since when you put your foot to the floor the transmission knew exactly how to respond.
But with a lot of speeding up and slowing down, the transmission sometimes just seemed a little confused. Ten gears is a lot of gears to select from! And maybe too many for a car that you will want to change speed pretty smoothly if need be.
(The transmission made much more sense in the context of the new 2018 Ford Expedition, which I also drove on the same trip. There, all those gears really did equal a smoother and, I'm assuming, a more fuel-efficient ride in the Expedition, probably, I suspect, because I never asked it to do much of anything.)

Another problem with transmission, from my perspective, is that to actually hear the engine, hear the exhaust, you pretty much have to use the paddle shifters. Otherwise, the 10-speed wants to shift up quickly and doesn't give you much of a bark on downshifts, either. Which is fine for polite driving. But on the GTs especially, with the naturally-aspirated V8, engine sound is a big value proposition, here. Let that baby sing.
The EcoBoost
The EcoBoost, as you might've guessed, is noticeably lighter on its feet than the big V8, and as soon as you turn it on, ready to dance. The car's claimed curb weight is only 150 pounds under the GT versions, but, for whatever reason, this feels like all the difference in the world.
It almost even makes you forget about the fact that you don't have a V8 under the hood, since the EcoBoost is plenty peppy on its own, even at 150 HP shy of its big brother.
It's plenty fast though, and I suspect for most people this engine will be more than enough. I also think the new automatic transmission makes much more sense in the EcoBoost, since what you want with it is what you get: a car that doesn't make you think too much and still looks pretty cool to boot, a car that you just step into and drive, a car to give yourself an occasional thrill on the highway without becoming an instantaneous terror.
The gas mileage is also easier on your wallet, getting about 21 mpg in the city and 31 mpg on the highway, versus 15 mpg in the city and 25 mpg on the highway for the GT.

The GT
If you are serious about going with the EcoBoost, though, I recommend you don't even think about taking the GT for a spin, because the delta between them is vast. If the EcoBoost drives like it wants to dance, the V8 drives like a heavyweight boxer fights: a little lumbering at first, before it eventually reveals its devastating potential.
The GT roars, where the EcoBoost whines. Driving the manual GT, in particular, is a special experience, since you sit at the controls of a machine with power feels infinite. The manual is six gears, but unless you're on the track, you're not going to go past fourth running hard, which is comfortable to ride in at speeds upwards of 80 mph.
The thought of winding sixth gear all the way out actually terrifies me a little bit; the fact that I never got there left me with the sense that the GT's power might, in fact, be endless. What I'm trying to say is that riding in the GT will ruin any other Mustang for you, short of the more insane GT350 models. Do your best to avoid it.
Early Verdict
These are well-made cars and, despite my specific gripes about the transmission, I think Ford has made some impressive improvements to a car that we already liked a lot. Not all mid-cycle refreshes are worthy ones. Ford did right here, and did enough to keep the Camaro vs. Mustang horsepower wars going.

This feels like a car built to last, or at least one that's meant to be kept and enjoyed for a long time. It's also a car that I suspect will age well; the styling outside is sleek and the headlights and rear lights are nice variations on the Mustang's usual motifs.
Just think about getting it in manual. You'll stretch out that enjoyment even more.
Want more stories like this? Get Jalopnik's top articles delivered to your inbox.
2018 Ford Mustang EcoBoost Fastback Specs
Engine type
Intercooled Turbo Premium Unleaded I-4
Transmission/Drive
Manual w/OD