It wasn't so long ago that a Mercedes AMG was a subtle but purposeful personal transport. Especially the E-Class, which has always been the most correct size a car can be. Well those days are over. The new E63 AMG sits on 10-inch-wide tires and does zero to 60 in the same time as a Dodge freaking Viper.

Today Mercedes introduced the 2017 Mercedes E63 AMG and even hairier E63 AMG S sedans with snarly faces, mother flipping drift mode and performance claims so far beyond the usage requirements of mid-size Mercedes sedan owners it's almost like the company wants our nation's geriatrics to have a good time driving.
Before I get into the laundry list of race car features that are way too cool for your dentist to have, here are the baseline numbers:

Biturbo V8 which you already know will sound like God going bowling. 563 horsepower. 553 lb-ft of torque. Nine-speed sport transmission. 3.4 second zero to 60 sprint and a 155 MPH top speed. AMG-dialed all-wheel drive. Oh and that's just the regular-ass AMG.
G/O Media may get a commission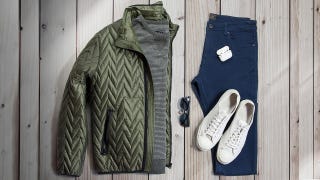 60% off
Jachs NY Fall Sale 60% Off
The S uses the same biturbo 4.0-liter V8 bumped up to 603 hp and 627 lb-ft of torque for an extra tenth of a second off the 0-60 time and a top speed of 186 MPH. That car's AWD drivetrain has Drift Mode and Race Mode which we'll get into shortly.
The wheels are 9.5 inches wide in the front, 10 inches in the back and 19 inches tall. Forget subtle, this is an ignorant-ass hot rod to enable the highest degree of bad behavior.
Speaking of which...
Drift Mode
The E63 and E63 S are both all-wheel-drive all the time. Torque distribution is fully variable, and the car supposedly switches between rear-wheel-drive and all-wheel-drive without the driver noticing. Well, you'll notice that going too fast is way too easy. But since this might be your last car before the kids take your keys away and put you into a nursing home, might as well charge to those doctor's appointments like you're chasing Nico.

But yeah– "drift mode." Mercedes' press release says "It is still possible to drift thanks to fully variable torque distribution." Still possible. Thank goodness. I'm sure Mercedes salesmen are really sick of answering that question.
Anyway Drift Mode is real on the AMG S, and is activated by putting the car in Race Mode, manual (paddle-shift) transmission mode, and turning stability control off. At that point it's really just rear-wheel drive without traction control but Drift Mode sounds way cooler.
Race Mode
Both AMG cars can be cycled through various modes that adjust throttle response and the transmission's shift schedule for comfort or aggression, but the AMG S has Race Mode. As Mercedes details, Race Mode unlocks "highly dynamic driving on closed race circuits."

"Dynamic" of course means "variable" but in the context of a press release it means nothing at all. We'll have to wait until we get the opportunity to drive this car to figure out how it feels, meanwhile I think we're supposed to figure Race Mode means hardest shifts, snappiest throttle response.
Launch Control
What Mercedes calls RACESTART has been tweaked for 2017. Now all the driver has to do to get their E63 AMG off a line in an obnoxiously aggressive hurry is put it in Sport, Sport Plus or Race mode, mash the brake, mash the gas, let go of the brake, and hold on for dear life.

This is how you get that genuinely batshit 3.3-second 0 to 60 time.
Locking Rear Differential
It's not just for trucks anymore! The E63 has a mechanical rear differential lock and the E63 S has an electronic one. Both maximize traction, especially under hard acceleration. It's not locked all the time of course; the rear wheels are only bound together when it helps keep the car going the way the driver wants.

"Track Pace" Smartphone app
Mercedes reports "customers can use it to analyze and improve their track driving style and to share this with other AMG drivers via Facebook, Vimeo, YouTube or the AMG Private Lounge." Street racers are encouraged to share their lap times around Manhattan with local police.

The app beams vehicle data like "speed, gear, steering angle, time, position and temperature" to your phone over WiFi or Bluetooth and yes, it can loop in your GoPro.
Of course the E63 AMG and E63 AMG S have features their actual owners will appreciate every day– the air suspension is supposed to be as good at smoothing out rough roads as keeping you flat under aggressive cornering. The variable-ratio steering system would make the car really easy to control at any speed.

The transmission's ability to "coast" along with the engine's start-stop technology will save you at least a dollar worth of premium gasoline at some point.
And those optional gargantuan 15.8-inch brake discs will be great for those times you look up from your phone and realize you're three inches off somebody's back bumper.
But what sort of psychopath uses a Mercedes E-Class to go 0 to 60 in 3 seconds? Don't get me wrong– I'm sure the company will find plenty of E63 AMG buyers. It just kind of cracks me up to think about how few of them will ever scroll past "Comfort Mode" with this level of engineering at their fingertips.