The 2017 Mazda CX-5 has a simple mission: get your ass around without putting it to sleep. In the modern crossover market, that's actually a noble enterprise. This year the car's being relaunched as fancier, quieter and more mature—so now we get to figure out if it's got any soul left.

(Full Disclosure: Mazda brought me down to San Diego, put me up in a fabulous hotel and fed me fine food for two days just so I could drive the CX-5 and Miata RF. Guys, there was a ramen bar.)
The redesigned CX-5 has a lot to live up to. Remember the praise heaped on its predecessor? Long one of our immediate go-to recommendations for normal people seeking a quality, affordable, practical crossover, the high-riding hatchback was nothing less than a shining light of artistry in a banal segment of the automotive industry.
A lot of times, the crossover is the car you buy because you need practicality and everything else, like driving, comes second; you buy it because you've given up. The CX-5 was supposed to be proof that you didn't have to.
G/O Media may get a commission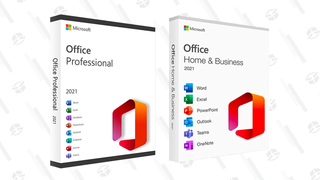 89% off
Microsoft Office Professional 2021 Lifetime License
Mazda doesn't want you to forget that, either. The company introduced the new CX-5 last week with a two-hour lecture explaining how Mazda was the true car lover's car company. It even conducted a whole design study on how to make the most ergonomic door handles for this thing. By the time Mazda got through trying to sell me on hyperbole about "the car and driver, moving as one" I expected the CX-5 to grab me by the shoulders, scream in my face, French kiss me, and then put me on the back of its motorcycle so we could speed off and start a new and better life, together. They made this shit sound that good.
The reality of the drive turned out to be a little more mundane. The CX-5 is nice. But it's just "nice" like a good conversation with an intelligent person. Not, niiice, like that night you snuck into a party and stole the keg. In this segment, that may be more than enough.
What Is It?
The CX-5 is a smallish-medium crossover, roundabout the size and price of a Toyota RAV4 or Honda CR-V. It's ostensibly a bit stiffer, more responsive and a little more elegant-looking than those Japanese rivals while objectively being a whole lot cheaper than the luxury crossovers made by BMW, Audi, Mercedes-Benz and Lexus.

Note that while the CX-5 is a new car for 2017, it uses a modified version of its predecessor, and has been heavily updated inside and out. Then again, the old car worked, so there wasn't a ton that needed fixing.
The Specs That Matter
A 2017 CX-5 costs between $25,000 and $32,000 depending on how heavily decorated it is, but all variants run a 2.5-liter four-cylinder engine with 187 horsepower and a six-speed automatic transmission. With all-wheel-drive, Mazda claims the crossover weighs 3,655 pounds.
That should make it pretty clear that the CX-5 is not going to be the car to blast adrenaline into your heart Pulp Fiction-style at every on-ramp.
But Mazdas are not about straight-line speed. The brand's big sell is more of an intangible driving pleasure you're supposed to associate with "responsiveness." The CX-5 can FLASH! BANG! POP! like the pictures in an oversaturated comic book where your dorky CR-Vs and RAV4s are the greyscale illustrations in an SAT test booklet. At least that's what Mazda seems to be trying to sell through design and the CX-5's handling characteristics.
The new critical element to making that happen is G-Vectoring Control, Mazda's proprietary traction assistance technology that's now standard on the CX-5.

When you come whipping into a corner, you want the weight of the car on the front wheels since they're doing the steering. You can accomplish this in your car by grabbing some brakes as you turn in.
But the CX-5's trickier: it actually changes the engine timing as you make a turn, using the engine's backpressure to slow the car, front-loading the vehicle's weight to make a tighter turn easier to do.
Think of it like the sensation you get while downshifting. Engine speed rises, the car slows, the vehicle's weight moves forward and you can more easily maintain control. That's essentially what's happening with G-Vectoring, it's just happening so subtly that the driver only interprets it as sharper steering.

In practice, a distinct directness is absolutely noticeable and, yeah, it actually does add a splash of satisfaction to carving California roads. I felt well below the threshold of grip on the twisty routes outside San Diego, even taking a few turns a hair hotter than I'd expect the average owner to try.
The relationship between the front wheels and the steering wheel feels decidedly linear, making the CX-5's handling predictable and affording you the kind of confidence that makes you want to toss the thing around. The CX-5's responsiveness to turns is immediate and the car's whole attitude is lively. Steering feels straightforward and consistent, inviting you to take the long way home.
Where It Shines
It's a stretch to call the CX-5 "fun" in comparison to cars built purely for pleasure, even modest ones like the Miata. Still, sweeping through directional changes in the CX-5 is much more satisfying than it is in a larger SUV or a minivan. Make no mistake, that's a solid accomplishment for a car this heavy and light on power.

But the CX-5's competence around corners isn't so arousing that you're going to sneak out at night to slice up the streets with it. Anyway, you know most CX-5s will spend their days hanging out around the speed limit on long highway rides or trolling through town traffic.
For daily-driver duty the 2017 model has two appreciable improvements over the old car: improved aerodynamics and cabin-sealing for a quieter ride, and radar cruise control that actually works.
The door seals you into the CX-5's cockpit with a tight snook and shuts out quite a bit of outside noise, even on a busy city block. At highway speeds, the old CX-5 was supposed to be as loud as a hairdryer. The 2017 car seemed calm enough for easy conversation between the front and back seats.

The CX-5's radar cruise control is great, too. It's activated with a button on the steering wheel like everything else you've driven in the last decade. What makes Mazda's system so impressive is its ability to keep pace with a car ahead at the following distance you prescribe, all the way down to a stop, then pick right back up to highway speed as traffic allows.
Our CX-5 tailed a big rig from about 60 mph to a stop, to a crawl, to another stop, to a slow roll through a border patrol checkpoint and all the way back to highway speed without me having to touch either pedal.
What's Weak
The CX-5 is swift enough around turns, but it's not "fast." At all.

Mash the throttle up an onramp and the engine produces more noise, but very little sensation of speed. "Sport Mode," activated by a cool toggle switch on the center console, doesn't seem to do anything besides make the engine moan a little more.
The car really suffers over rough terrain, too. The suspension and steering that makes the CX-5 so sharp over smooth pavement is a major penalty once you hit pot holes or a rutty dirt road. Mazda claims it softened the CX-5's suspension for 2017, but there's just not enough room for the car's wheels to travel vertically over an uneven surface.
There's also no Apple CarPlay or Android Auto functionality, so those of you who can't bear to have your eyes off of a screen will be stuck rocking one of those windshield suction-cup holders like an Uber driver.

What To Watch For
Mazda is clinging to the promise that it will offer a diesel engine in this car, in the U.S., but has not committed to a launch date. I'm not really holding my breath. But the gas engine it's launching with is supposed to be far better at keeping its internal parts lubed than its predecessor, so we'll try to check in on longevity as 2017 CX-5s get older. In the meantime, I'd just like to get a few more hours in the seats of this thing to really test its viability for a longer road trip.
It would also be interesting to see how the performance of the front-wheel drive version compares to the all-wheel drive car we tested last week. I'm extremely curious about how the CX-5's handling personality changes with the other driveline option.
Early Verdict
The 2017 CX-5 is pleasant to drive. Satisfying, even. And the slick-but-minimalist interior makes the whole experience of being in this car downright enjoyable.

If you get caught up in the hype that the CX-5 is a divine gift of practical performance, you're going to be disappointed. But if you've got a family to lug around, don't have $100,000 to spend on an AMG station wagon and still want to feel like you're driving, not just steering, the CX-5 seems hard to beat.
---
Engine: 2.5-liter inline four-cylinder DOHC 16-valve "SKYACTIVE-G"

Power: 187 HP at 6,000 RPM / 185 lb-ft at 3,250 RPM (FWD), 4,000 RPM (AWD)

Transmissions: 6-speed automatic
Drivetrain: Front-wheel drive or all-wheel drive
Seating: Five
MPG: EPA claimed 24 city, 31 highway, 27 combined (FWD), 23, city, 30 highway, 26 combined (AWD)
MSRP: $24,045 base, $32,525 as tested (Grand Touring Premium Package)
2017 Mazda CX-5 Sport FWD Specs
Engine type
Regular Unleaded I-4
Transmission/Drive
Automatic w/OD