As far as daily drivers go, what you need is something cheap to run that should last forever. Being able to haul around a dishwasher across town the day you'll need it the most certainly helps, and if the damn thing can plow its way through a snowbank in winter, that's an added bonus.
The 2017 Honda HR-V is such a car. Yes, it's another crossover that was brought to this planet to generate profits. It's also slower than an old person operating an ATM.
But the HR-V is affordable, tiny, yet spacious inside. It's powered by a decade-old Civic engine so chances are it'll never let you down. And it resembles a mini Acura MDX which makes it look alright.
(Full disclosure: Honda Canada wanted me to drive the Civic Type-R so badly, it loaned me one for a week with a full tank of gas. I'm just kidding. They gave me this instead. Haaaa.)
G/O Media may get a commission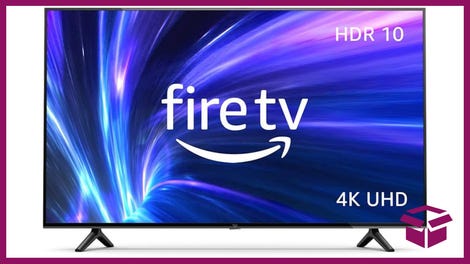 42% Off
Amazon Fire TV 50" 4K Smart TV
What Is It?
Introduced at the end of 2015 for the 2016 model year, the HR-V is Honda's latest participation in the booming subcompact crossover segment. While the Jeep Renegade, Mazda CX-3, Fiat 500X and Chevrolet Trax are overrunning suburban streets and shopping mall parking lots, Honda needed something a little smaller and cheaper than its CR-V to properly compete.
But the HR-V isn't entirely new. A sweet little sub-Civic sized space shuttle-looking version existed in Japan and Europe from 1999 to 2006 that we never got. This second-generation car is the first HR-V to be sold in North America.
This iteration of the HR-V is still smaller than the the CR-V, and is designed to satisfy crossover-addicted consumers on a leaner budget.
If what those consumers want is a spiritual successor to the original CR-V from the late 1990s, the HR-V kind of delivers.
Power is claimed at 141 horsepower and 127 lb-ft of torque from a naturally aspirated 1.8-liter four. Front-wheel-drive is standard; all-wheel-drive is optional.

You can get your HR-V with a six-speed manual, but only in front-wheel-drive. Go figure. All-wheel-drive can only be coupled to a boring CVT.
Why Does It Matter?
These tiny raised hatchbacks with all-wheel-drive systems are the big thing these days. And Honda did well to hop on the bandwagon, because the HR-V is selling by the truckloads. This thing has only been on sale for two years, and Honda has already sold over 200,000 of them.
Presumably, what people like about the HR-V, or any of these types of vehicles, is their attractive pricing, decent cargo space, good fuel economy and all-wheel drive capability encapsulated in a small footprint. The HR-V offers all of that, but only that. It was built in a conservative way to generate as much cash as possible.
Cynical? Somewhat. But consumers don't seem to care.
"Throw It In The Honda"
I made a pun about a dishwasher up there because that's precisely what I hauled around with the HR-V while I had it. That's what this vehicle does better than its rivals: cargo space.
Since the HR-V is built on the Fit's platform, its fuel tank was placed underneath the front seats, meaning you get loads of clearance out the back in the form of a low flat floor.
That's ingenious, the way Honda used to make things.
I was helping out a recently divorced bro reassemble his life, and we used the HR-V as a secondary hauling vehicle to carry the rest of his depressing "I still owe my ex-wife money for this bookshelf" furniture from one tip of the island of Montréal to the next.
Turns out the tiny HR-V did quite well. Not only did the entire dishwasher fit conveniently inside the Lilliputian trucklet's rear hatch and with minimal cursing, I was also able to fit a few lamps, a synthesizer (those still exist?) and an air conditioning unit in there as well.
Disappointments
Honda's infotainment system still sucks. I won't talk about how it's confusing and slow, or that it still doesn't come with a volume knob. I'm done talking about that.
Instead, I'll talk about how when you turn on the car, and you've accidentally left the radio on too loud beforehand, the touch-screen operated volume slider doesn't appear until the annoying "warning, keep your eye on the road at all costs" message has disappeared from the screen. Which means your eardrums will have most likely shattered by the time you can lower the volume.
Sure, you could use the steering wheel-mounted controls, but unlike the Civic which gets an evidently marked volume slider, there are no such indications on the HR-V's steering wheel. Just random arrows pointing up, down, left, and right.
The HR-V is also painstakingly slow. But I'll get back to that later.
Casual Driving
The HR-V is comfortable, especially out back where you get massive headroom and plenty of leg clearance. It seats four without a sweat, five adults is kind of stretch though, but the HR-V will handle it for short trips.
There's a clever storage area up front, located underneath the gear lever to stow your smart phone or other electronic toys, with USB and HDMI connections. That's useful, and smart.
That rear bench gets Honda's Magic Seats setup like in the Fit, which allows you to squeeze a fully assembled bicycle or a small tree directly through the rear doors without having to lower that rear bench.
Basically both seat bottoms can be lifted independently, like so:
The benefits of this is that a passenger can still sit back there, but you can also have some sort of furniture or large pet sitting where the other seat was, and still have access to a full trunk. There's virtually a whole range of storage possibilities in the HR-V thanks to this feature. Again, that's clever Honda engineering happening here.
Fuel economy is also not bad, I hung around 30 real-world mpg with this thing. For an all-wheel-drive vehicle, that's thrifty.
Finally, at roughly 60 cubic feet of cargo space with all seats folded flat, the HR-V walks all over its most direct competitors, the Jeep Renegade, Mazda CX-3 and Chevrolet Trax. Even with all seats folded up, this bad boy ranks neck to neck with the class-leading, and much boxier Kia Soul at 24 cubic feet.
Hard Driving
Yeah, you can forget about that. The HR-V doesn't go anywhere fast, especially with all-wheel-drive and a CVT like the one I had. That engine has VTEC, but don't expect to "feel it."
Merging onto a freeway requires clever use of the throttle, or in other words, flooring it all the time, which will cause a tremendous amount of buzzing through the engine compartment and no actual feeling of acceleration. Why is this engine so loud?
It handles alright though, as in, it will react quickly if you need to dodge a deer or something. It does ride on the Fit's platform, making it turn quickly and feel adequately balanced enough to change lanes and directions with confidence.
Honda claims a 0-60 mph acceleration time of 9.5 seconds. Nine point five. So a Chrysler Pacifica minivan will pulverize it in a drag race. That, or a thirty year old, beaten down BMW 3 Series. Just don't try anything stupid in the HR-V, drive it slowly, or you'll suddenly hate your miserable life.
The CVT is good, though. At least it operates like it should, meaning it does a good job of keeping revs in the meat of the engine's nonexistent torque curve, and doesn't drone about too much compared to other similar gearboxes out there.
Value
Honda will sell you a base, front-wheel-drive HR-V with a stick shift for $19,465 ($23,031 CAN). My tester, the top-of-the line EX-L with Navi, which came with all-wheel-drive, leather seats, and safety toys like forward collision warnings and lane departure warnings. It sells for $24,940 ($31,331 CAN).
I say if you want to best value for your HR-V, which is the entire purpose of this thing, get the base LX and add the all-wheel-drive with CVT option which costs $2,100 over the base sticker price. (In Canada, that model will set you back $26,631.)
So a base HR-V with all-wheel-drive is still about two grand more than a similarly spec'd Jeep Renegade, but about the same price as an AWD Mazda CX-3. But the HR-V offers much more cargo space, has Magic Seats and will probably outlast the other two since its engine has proven to be indestructible in the past.
For what its target customers are demanding, I say the HR-V gets the basics right at a decent price.
Verdict
The 2017 Honda HR-V is slow, and its infotainment system is a mess, but if you're not in too much of a hurry, it's an affordable companion that shouldn't let you down.
This thing's stellar practicality will come in handy when you'll need it the most, its low running costs won't ruin your budget when your life crumbles down, and it won't do you shame when you'll be attempting to re-couple with a new life partner on a first date.
As much as I despise crossovers, the 2017 Honda HR-V makes a hell of a lot of sense as a cheap, reliable and straight to the point daily driver.
---
William Clavey is an automotive journalist from Montréal, Québec, Canada. He runs claveyscorner.com.

2017 Honda HR-V LX 2WD Manual Specs
Engine type
Regular Unleaded I-4
Transmission/Drive
Manual w/OD