It's August in New York City. The streets smell like trash and pee, condensation drips from window-mounted air-conditioning units and hoards of children in fluorescent summer camp t-shirts press uncomfortably close. These are all things driving a 2017 Abarth 124 Spider makes you painfully aware of because—as long as you have the top down—this is your stage.
(Full disclosure: Fiat wanted us to drive the Abarth 124 Spider so badly that it dropped one off at our office with a full tank of gas.)
The differences between the regular Fiat 124 Spider and the Abarthed version are slim. I'm talking a mild power boost—maybe five horsepower, if that, to 164 horses—and a stiffened suspension. From the quad-tip tailpipes comes the familiar braap-braap spitting of the 1.4-liter MultiAir turbocharged four-cylinder.
G/O Media may get a commission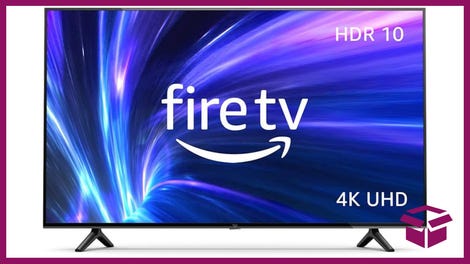 42% Off
Amazon Fire TV 50" 4K Smart TV
But instead of Fiat badges, Abarth's scorpion decorates the car's nose and tail and adds a crimson finishing touch to 17-inch gunmetal gray wheels. Was the car loud enough to wear such badges? The child in me says no, never—but that's why she's a child.
The Abarth's interior, an exact copy of its Miata sibling, isn't a place for fanciness. There's climate control, a radio and a navigation system. The seats are manually adjusted and the speed at which the cloth top is raised or lowered depends on how much time you spend lifting weights at the gym.
But zipping along while changing the gears with a well-weighted clutch, where 40 mph felt more like 70, what was in the car mattered very little. We clattered down a cobbled Manhattan street, the tightened suspension doing nearly nothing to hide what was beneath the tires. This was a go-kart. A humming, thrumming, energetic go-kart. With airbags.
Happily, the Abarth kicked its tail out exiting a gravel corner. Happily, it leaned in tight turns, the familiar body-roll of a Miata not even a thought in its mind. Happily, it spun its tail out in a series of donuts, smoke from the rear tires billowing in the humid summer air.
These abilities, however, were not a revelation to me. We've driven the hell out of the Fiat/Miata. We know what it can do. It was the relationship between me and the setting around me when I was in a convertible that was new. Especially this convertible.
Maybe it was the contrasting silver-gray and black trim on the front bumper. Maybe it was the unfamiliar scorpion badge. Maybe it was the fact that you just don't see that many 124 Spiders driving around, making it an unfamiliar face. Whatever the case, the Abarth pulled people off the sidewalks and away from their families. They buzzed in closer for a look at the car.
There's something about sitting at a stoplight with the roof down that tacitly gives people permission to speak to you. I've not experienced anything similar in a regular car, even when I've had all the windows down.
The Abarth attracted enough attention over the week that I had it that I had countless people come right up to the car or shout from their cars, asking what the hell I was driving.
People who didn't directly address me eyed the car (and me with it) and chatted amongst themselves about us. And because they were only about 15 feet away, of course I could hear them. They were sitting in the front row of the Kristen Drives An Abarth Show, basically.
Traffic was also refreshing. I suppose in a convertible, you're not just another faceless asshole in a car. You're a person. A fellow human with thoughts and feelings. So, either all the New York City drivers suddenly became friendly that week or having an apologetic face and a grateful wave visible from the driver's seat did wonders for people letting you in during heavy traffic.
Usually, when I drive, I don't like anyone looking at me at all. I like being invisible. Being invisible means you're spared from scrutiny and, most importantly, road rage. Weirdly, though, I didn't mind the Abarth putting me on display. Unlike the video I posted a few days ago, showing jealous people throwing things at fancy convertibles, nobody was nasty about the Abarth. It was met with genuine curiosity and excitement.
Sometimes people mistakenly think their cars are little cells of privacy. I've seen enough nose-picking on the freeway to know that's largely not the case. But it's even less so when you're in a tiny convertible with a striking face like the Abarth. You're kind of forced to sit upright and look presentable if you want to feel the sun on the top of your head.
Nevertheless, if you get tired of it, just put the top up. It takes three seconds. Exit stage left.