Let me paint the scene for you at the press launch of the refreshed 2016 Volkswagen Passat. Journalists went to dinner with the Volkswagen folks and stood around with wine glasses while well-dressed people offered us hors d'oeuvres. I was talking to a product planner when it happened: time slowed down, the room went quiet, everyone turned toward me as I mumbled the word "diesel."
I gulped. You could cut the tension with a knife.
Then, a few moments later, another journalist used the acronym "TDI" while talking to a VW rep. The room went quiet. You could hear a pin drop. Crickets chirped. People dropped their wine glasses. It was, as the youths call it these days, "totes awk."
[Full disclosure: Volkswagen desperately wanted some press coverage that wasn't Dieselgate, so they shipped me and a bunch of other writers out to Stowe, Vermont to drive their new-but-not-really-new 2016 Passat. They lodged and nourished us.]

I almost feel bad for the newly updated Passat. Not only has it not been an especially compelling member of its segment since people listened to Moby, the launch of its latest updated version coincides with one of the biggest scandals in the history of cars. This made its launch every bit as awkward as you'd expect.
G/O Media may get a commission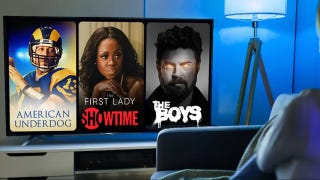 UNDER $1
99¢ Prime Video Channels
It also goes into battle in the mid-size sedan segment without its killer app: the 2.0-liter TDI diesel turbo four-cylinder engine, the one rated at as much as 44 MPG on the highway and the motor with the torque and fuel economy that made the Passat stand out in the market. It can't be sold until the diesel cheating thing gets sorted out. Bummer.
Aside from the lack (at present) of a TDI engine, the new Passat doesn't have a tremendous number of updates as it heads into the new year. It's still a model unique to North America and a few other markets, not the super fancy Passat the Europeans get. Still, it gets new safety features, more equipment, and a hugely improved infotainment system with Android Auto and Apple CarPlay.
Despite this, Dieselgate loomed over everything at the car's launch.
I wasn't alone in my faux pas. There were plenty of diesel jokes. Volkswagen announced their engine lineup for the new Passat. It gets a 1.8-liter turbo four and a 3.6-liter V6. One writer asked "Hey, isn't there one missing?" while trying to hold back the chuckles. The VW rep tried his best not to look annoyed.
Then it started snowing heavily as we sat down for dinner with some VW big-wigs. One of the writers leaned toward VW's brass and joked: "We should be fine because you've got a winter defeat device installed, right?" I ordered more wine, as did everyone within earshot.
Needless to say, journalists wanted juicy diesel info, and Volkswagen really didn't have much to tell us. They told us about their updated website, which allows customers to check if their car is affected by the scandal. VW also said that there will likely be three different remedies: one for each different engine generation. But that's about all we got.
Enough about awkward journalists and oil-burners, let's talk about the new 2016 Passat.
Styling
Did you know that the new Passat has a "striking new front and rear design?" Striking, folks. We're not talking about labor unions, or bowling, or baseball, here. We're talking about an all-new front design from the A-pillar forward. That's lots of newness! Kind of.
The car still looks very much the same as the 2015 model, but is that really a bad thing? I don't think so. The lights are slimmer, the grille looks wider and more pronounced, and the hood looks sharper. It's a very subtle change to an already handsome car, albeit a very plain one.
No complaints, here.
Fuel Economy
Miss the diesel's fuel economy? Fear not! The EA888 1.8-liter turbo four, mated to a 6-speed auto, is an absolute camel, going 38 miles on the freeway on only a gallon of gas. City mileage is 25 mpg.
Those numbers are 2 mpg higher than last year's 1.8T thanks to a reduction in the drag coefficient by eight counts (.008), a new, more efficient AC compressor, and a rectifier in the alternator that reduces losses by a claimed 85 percent. Not bad, VW.
The 3.6-liter VR6 engine gets a six-speed DSG dual-clutch transmission, and with its 280 horses, doesn't quite sip as little as the four-pot. Fuel economy numbers are 28 highway and 20 in traffic.
Driving Experience
The Passat hasn't changed much under the skin. It's still got its strut-type front suspension, four-link design in the back and electric power steering. Curb weight did increase by about 30 and 80 pounds on the inline four and V6, respectively. The additional weight likely comes due to new sheet metal in the sills, crash rail and footwell to help meet IIHS's small overlap crash test (though the current model did receive an "acceptable" rating). The four-pot weighs in at 3263 pounds, while the six weighs 3,571 pounds.
About 98 percent of Passat buyers will opt for the four-banger, and I don't blame them. At 170 horsepower at 6,200 rpm and 184 lb-ft of torque at 1,500 rpm, the direct-injected turbo four felt well-suited in the Chattanooga-built mid-sizer . We noticed virtually no turbo lag, more than adequate acceleration, and noise that was kept at bay thanks to plenty of sound deadening.
But the Passat is not a Mazda 6; it's not going to make you giggle in the corners, it no longer gets a manual transmission and you're not going to want to take it autocrossing. But like the current model, ride quality is very good, seats are comfortable, and fuel economy is good, making this Passat a road-tripping beast.
Interior & Infotainment
The interior hasn't changed much from last year. There's a new dashboard and center console, new gauges and some new steering wheels and chrome trim, but it's a very familiar look. And that's fine, because it's a comfortable place to spend time. Some plastics are hard, but the touch points are squishy, and we auto journos like squishy.
But the big news for 2016 isn't the interior materials, the lack of the stick or the tweaked styling, it's the infotainment system which, up until now, has sucked.
Okay, "sucked" may be a bit harsh, but the 2015 Passat's infotainment system is definitely outdated, so it's good that for 2016, VW's mid-sizer gets MIB II, their new generation infotainment system. The new system comes with either a five or 6.3-inch display and three different head units called Composition Color, Composition Media and Discovery Media.
Many of the trims get capacitive touchscreens, meaning you can use gestures like pinching and swiping. None of this pressure-sensing stuff. Standard for 2016 is USB and Bluetooth connectivity on all Passat trims.
And then there's Car-Net, which is a "suite of connected vehicle services," meaning it's a system that integrates a bunch of infotainment services including Apple CarPlay, Android Auto and Mirrorlink.
None of us brought Android phones, so we were only able to test Apple CarPlay. We found it to work beautifully. It was smooth, easy to navigate and made the drive through the twisty mountains of Vermont that much more pleasant.
So there, VW fixed their Passat's biggest flaw. Good job guys!
Safety And Driver Assist Technology
Let's talk about Safety, because Volkswagen is gunning for a Top Safety Pick + from the Insurance Institute for Highway Safety. We already mentioned their additional sheet metal to combat the small-overlap test, but they've also got some other cool safety tech up their sleeve.
For one, a rearview camera and Automatic Post-Collision Braking are both standard on all Passats. Automatic Post-Collision Braking makes sure that if you crash and wind up unable to hit the brakes, the car will come to a stop on its own. It makes good sense.
Other safety options include Adaptive Cruise Control, Forward Collision Warning with Autonomous Emergency Braking, Blind Spot Monitor, Rear Traffic Alert, Lane Departure Warning, Park Distance Control, and Parking Steering Assistant.
That's a lot of nannies to keep you from hurting yourself.
Trim Levels & Pricing
The 2016 Passat comes in seven trim levels: S, R-Line, SE, SE w/tech, SEL, SEL Premium and V6 SEL Premium.
The base model S trim starts at $22,440 and comes with a 1.8-liter turbo four, a six-speed auto, 16-inch alloy wheels, dual-zone climate control, MIB II Composition Color with 5-inch display, CD player, Bluetooth, auto headlights, a rearview camera and Automatic Post-Collision Braking. That's a pretty impressive list of standard features. No more steelies!
Then there's the R-Line, which is the "sporty" version of the S trim and starts at $23,975. It gets unique rocker panels, exhaust tips and front bumper styling, as well as a unique rear diffuser and 19-inch wheels.
If you want to spend $26,280, you can drive our test car, the SE. It has 17-inch alloys, a sunroof, satellite radio, a second USB port, MIB II Composition Media with 6.3-inch display, voice control, Adaptive Cruise Control, Forward Collision Warning and Autonomous Emergency Braking, leatherette seats and a power driver's seat.
Opting for the $28,410 SE w/tech trim gets you fog lights, Blind Spot Monitoring, Rear Traffic Alert with braking, keyless entry with push-button start, rain sensing wipers, eight-speaker sound system and more.
The SEL adds to the SE with 18-inch wheels, a premium audio system, and leather power memory seats all for $30,495.
At about 34 grand, the SEL Premium adds LED headlights, power folding mirrors, remote start, Lane Departure warning with active steering, Active Blind Spot Monitor, Park Distance Control and Parking Assist.
The cream of the crop V6 SEL Premium is expensive. At $36,835, the V6 SEL Premium is basically an SEL with a 3.6-liter V6 and a 6-speed DSG.
The Verdict
Without the diesel engine, the new Passat, like the old one, doesn't stand out from its competition in any way except that it's German. And for some people, that German badge is all that matters.
Many Americans associate German cars with luxury, and when they see they can get a German sedan for the same price as a Japanese or American one, many start to foam at the mouth.
But badge notwithstanding, the Passat is actually a decent, efficient mid-size sedan with a good powertrain, nice ride quality and comfortable interior. And now that it's got a nice new infotainment system, it's right back in there with the big-boys in the segment.
It's be nice if the TDI was still do-able. I'm sure Volkswagen feels the same way.
2016 Volkswagen Passat 4dr Sdn 2.0L TDI Manual R-Line Specs
Engine type
Intercooled Turbo Diesel I-4
Transmission/Drive
Manual w/OD