The phrase "throwing spaghetti at a wall" refers to someone not knowing what path to take and frantically exhausting every option in an attempt to solve a particular issue, hoping something sticks. When applied to automakers, this action can either save or destroy a company that already may be on the edge of disaster. However, in rare cases, a vehicle is produced that makes so much sense that you were left wondering why the hell they bothered making anything else. Welcome to the 2016 Ram Rebel, the pickup truck you never knew you needed.

(Full disclosure: Ram wanted me to drive their Rebel so badly that they gave me a brand new one for a week, with a full tank of gas that I used up in the first day to drag a rusty hunk of garbage across state lines. I also may have done a burnout or six.)
There's a running theme with modern-day trucks, and that's that they need to be easy to drive. The more car-like they are in execution and feel, the better they sell to the general public.
For example, a mid-range Ford F-150, a version of the best selling pickup in the country, basically shares its turbocharged six cylinder engine with a Ford Fusion, has aluminum panels for lightness, an electric power steering system for light and effortless steering feel, and capable of MPGs in the mid-20s. Not to mention enough luxury options that, when fully loaded, could make a Lexus feel inadequate.
G/O Media may get a commission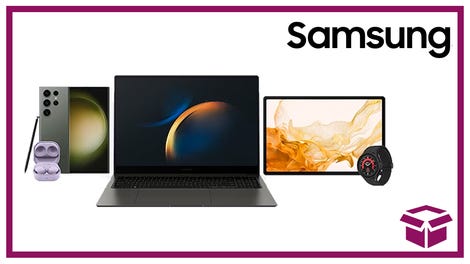 24 hour deals
Discover Samsung - Daily Deal
Granted, a pickup isn't rivaling a Honda Civic for driving dynamics, but at this point, the average pickup is more in line with a crossover with an abnormally large trunk than it is with the rough-and-tumble, old-school pickups of yesteryear.
Having said that, as consumers move towards making the experience of driving a pickup less daunting and car-like, it's refreshing to know that some automakers are still in the business of just making a really, really good pickup truck.
When the Ram Rebel launched at the Detroit Auto Show in 2015 as the light-duty truck dentists with something to prove could flaunt to strangers at their local Cars and Coffee, the car-buying public immediately saw a parallel between Ram's murdered-out and tougher-looking Rebel and the dune-slaying Ford SVT Raptor.
Both trucks had suspensions unlike their base model doppelgängers, featured ludicrously huge badging, were available with large displacement V8 gasoline engines, and showed off appearance packages that advertised to the world that one should never let a mid-life crisis go to waste.
However, Fiat Chrysler, parent company of Ram, promptly said that the Rebel would not be a Raptor competitor, despite having an equally ridiculous name, and appealing to the inner 12-year old in all of us, yearning to break free of his balding final form.
So, you ask, what the hell is the Ram Rebel?
In short, the Ram Rebel takes the idea that people who buy these trucks will likely never do the kinds of things you see on the brochures, and runs with it. Let me explain.
The Look
As you walk up to the $53,000 truck, the first thing you notice is its not-insignificant bulk. It's not so much that it's lengthy, but it looks freaking huge, in the same way that an Airbus Beluga looks huge, despite it actually being based on one of Airbus' smallest planes. If you didn't understand that reference, Google is your friend. I'll wait.

The front and rear fascias of the Rebel are standard Ram styling, with a more subdued color scheme that, in my opinion, should replace whatever chrome monstrosities adorn the higher-end Laramie models. Despite its ironic name, the Rebel is an extremely understated truck, the only exceptions being the 17-inch blacked-out alloy wheels and 33-inch tall Toyo All-terrain tires, which give the truck a bit more curb appeal and allows you a believable excuse to look back and ogle it after you park.
The Rebel sits extremely high, resulting in an egress process that can become a strained exercise for those with a history of calling out of work because their hip is "acting up again."
However, as the last thing Ram would want is their customers struggling to waddle into their cars, the Ram Rebel loses the traditional leaf-sprung rear end and comes equipped with four wheel air suspension with Bilstein dampers that can raise and lower remotely, using the keyfob.
What this means is that with two rapid presses of the "lower" button, the quite audible air compressor fires up and the truck will put its suspension essentially on its bump stops, allowing you to get you and your newly-acquired Applebee's food baby back home from a hard night of shoveling down half-off appetizers and watered-down sangria.
It also means that if you should use the short 5'7" bed and matching bed-side lockable "Rambox" toolboxes for anything actually constructive, whatever materials you put in the Rebel's Rhino-lined confines will be that much easier to access when loading and unloading. It's a little feature that goes a long way for regular folk that want a pickup truck but don't necessarily require a hardhat to punch in.
As an added bonus, the truck's base 1,530 pound payload rating isn't affected by the addition of hoity-toity air bags lifting and lowering the car, while a Raptor, with its trophy-truck inspired malarkey has to make do with a paltry 1,000-1,300 pounds. Granted, you won't be able to get sweet air at 60 mph like the Raptor can, but let's be frank—no one, other than perhaps our own Andrew Collins, will ever get to do that.
What you can do, however, is haul 200 more pounds of crap from Home Depot to finally finish that kitchen remodel you've been promising your better half for the last six months, while looking just as good as your frenemy neighbor with his neon green SVT.
The Inside
The interior of the truck's spacious four-seater crew cab is adorned with embossed patterns of tire treads on the seats in a material that isn't leather, but more plush and a hell of a lot more durable. Creature comforts include auto climate control, power everything, and all the things you usually skip over when reading a Craigslist ad to see if the car you're buying does indeed have a blown head gasket. It's extremely well appointed and not a bad place to be in the event that a wild, super-effective traffic jam appears.
The sound system is comprised of a touchscreen system that's attentive, snappy, and absolutely pointless, for two reasons. First, all proprietary infotainment setups are obsolete the second they hit the market. It's a moot point to add features when an app or update to phone software could net a more efficient upgrade. Second, the Bluetooth connection in the car I had would cut out randomly when trying to connect to my Samsung Galaxy Note 4. This meant that on long journeys, you'd have to ask the passenger to navigate the menus to restart the system and get your Limp Bizkit marathon back in full swing.
The Drive
Having said all that, no one, but no one buys a pickup to stare at it in a parking lot. This truck was meant to drive to, over, and sometimes through things, and on that front, it's on the business end of damn good. Turning on the 395 horsepower, 5.7-liter Hemi V8 results in a subdued bellow from the engine bay and a lazy snarl from the dual chrome exhaust pipes out the back, an experience that resembles meatloaf Thursdays as a kid: lumpy and unrefined, yet satisfying and familiar.

Placing the weird circular electronic shifter in D required a bit more thought, as your right hand automatically drifts to the column, then the center console for your shifting needs, the results of which would net you a whole lot of unsatisfying nothing.
The eight-speed ZF automatic transmission shifted like any normal auto, although an issue does arise at higher speeds, when any prod of the torquey engine prompts the transmission to hunt for the correct gear, never being as efficient and quick as perhaps it should be.
Over my week of using the truck, it returned a not bad fuel mileage figure of about 14 miles per gallon, which included my trip to get a busted Mitsubishi 3000GT VR4 from Pennsylvania and towing it back on a rusty U-Haul car carrier.

While I'm sure this fuel economy would constitute a class action law suit if these were the figures of a Hyundai Sonata, a nearly 6,000 lb truck that towed about half of its 10,000 lb maximum rating behind it for hours on end, returning any mileage that wasn't single digits was a clear win.
In that respect, it is very much a modern truck in line with the F-150 I lambasted earlier, with the exception that it makes no apologies for being rough around its many edges. When turning at speed, you can feel the mass of the truck rotating, the air suspension trying and failing to do its job of keeping the car level, a Mercedes-AMG it ain't. Slowing down well in advance of oncoming turns isn't just good etiquette with a truck this hefty, it's an absolute necessity to avoid catastrophic understeer and eventual rollover.
The electric steering does its job well enough, however it struggles with the large all-terrain 285/70/17 tires and returns a feel that is heavier than a comparable F-150 or larger Nissan Titan. This is no mark against it, however, because it feels right at home in a truck this size. The act of turning the wheel isn't cumbersome, but it does announce its presence in that extra amount of effort required.
It's the bit that reminds you that manhandling the car in various ways will result in more reward than risk, a fact clearly outlined by the fact that unlike other trucks, the Rebel's 410 lb-ft won't hesitate to light the rear tires up like it's going to win a prize, via a sonorous growl that will piss off but secretly impress your crotchety neighbors.
The Verdict
The Rebel doesn't pull punches, but it also doesn't swing at things it can't knock out. It's the truck that makes itself useful by providing an experience just unique enough to count as an event, but familiar enough that you wouldn't feel overwhelmed by the effort required.

Now, do you go with the truck that looks bad enough to run with a Raptor but can't, or the actual Raptor? If you don't see any dune-jumping in your near future, go with this. No one will know the difference.