The 2016 Mini Clubman is almost fourteen feet of CompactPremiumFamilyCar, and I know what you're thinking. It's huge for a Mini. But hell, it's also a proper wagon with enough space for five people. And it happens to be pretty good.
[Full disclosure: BMW Hungary wanted me to drive the new Clubman so much that they flew me to Stockholm and put me up in a nice hotel for one night, beers and G&Ts included.]
Let's look at the numbers first, because those will tell you a lot about this car. The new-for-2016 Clubman is 3.54 inches (90mm) wider and a whole 10.62 inches (270mm) longer than the five-door Mini. Since the overhangs remained small at both ends, 3.93 inches of that growth went into the wheelbase, translating into more rear legroom and cargo space. As a result, you get 360 liters as standard, which can be increased to 1.250 liters by folding down the rear seats with its 40:20:40 split.
More importantly, I'm 6'2" tall, and I fit just fine at the back with an equally tall guy sitting in front of me. There's plenty of headroom as well, so at least Mini grew this one bigger for all the right reasons.
G/O Media may get a commission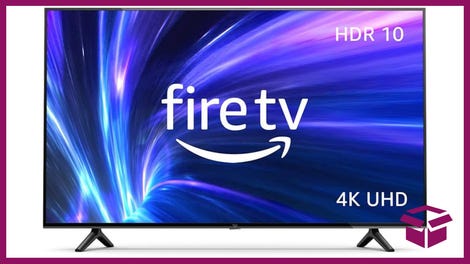 42% Off
Amazon Fire TV 50" 4K Smart TV
Remember those who bought BMW's first Mini Hatch some fifteen years ago? (Yes, it was that long ago.) Well, those hipsters have kids and dogs now, so a little hatchback just won't cut it anymore. Enter the Clubman.
The designers really tried their best to keep the Clubman's shape as harmonious as the hatchback's that introduced the third-gen Mini looks, but with the added bulk, they never really had a chance. Still, it is instantly recognizable, and I actually really like its backside.
The split rear doors are only there because the previous Clubman was asymmetrical, and BMW had to keep something funky to leave Mini buyers with a conversation starter. Without them, this would be just too German for a car made in Oxford.
Now, there are three ways you can open those doors. The first is by pulling the handles, obviously. But in case your hands are full of grocery bags, you can also use your feet if you have the keys in your pocket.
Alternatively, you can push the button on the key itself:
Plus, there's a huge piece of rubber on the lock making sure you don't damage the doors by messing up the correct shutting order.
Neat! And how about that red LED integrated into the roof antenna that's flashing when the alarm is activated? A Clubman will be found in a dark parking lot.
Climbing inside, the interior is pretty much the same as what you get in the other variants. Toggle switches here and there to keep you happy, a nav screen in the middle and the regular dials moved behind the steering wheel like in most cars. The iDrive joystick is on your right, the handbrake is gone but at least Mini's e-brake can be used as an emergency brake by pulling the button for an extended period.
If you're willing to spend all the money in the world, you can also get a head-up display that uses its own screen instead of projecting the info onto the windshield like a more advanced system, an electric panoramic roof, Harman Kardon audio and a leather interior with seats featuring diagonal stitching inspired by the Chaster pattern, which might be familiar to you if you're sitting on an old British sofa right now.
Oh, plus there's this thing. It's not a million LEDs, but some foil that plays with the light wavelength to turn the cabin into a disco at night:
Indeed, what you just saw above is an automatic gearbox.
The Clubman is the first Mini to feature this eight-speed Steptronic — other Minis make do with a six-speed auto option. The new one turned out to be a very smooth gearbox during our short drive. Since it even improves fuel economy, it seems like the perfect choice for those choosing the diesel over the gas variant.
That won't be an issue for you anyway since the diesel isn't sold in America, and since the manual is just as good, it's time to talk about how the Cooper S behaves on the road with its 192 horsepower 2.0-liter that puts out 206 foot pounds of torque, or 221 when you push it into overboost. (There's also the 136 HP turbo gasoline three-cylinder if you din't mind a tad less pep.)
The first thing you should know about Sweden is that I won't speed there. Not even for you. The speeding fines are so high there you'll have to sell one of your organs to pay the ticket if you get nailed. And I like my organs just fine where they are, thanks.
Cruising at 50 mph, the Clubman rides nicely, and although Swedish roads are close to perfection, we didn't suffer on Stockholm's cobblestones either. They altered the suspension for the extra weight, as the Clubman is 3,000 pounds without the driver.
Still, the Cooper S Clubman feels powerful enough with this 2.0, which even sounds good above 3,500rpm. Yet when you don't go for it, there's a bit more tire noise than desired. You can have it with wheels up to 19 inches, but our standard 16 inch set seemed to be reasonable choice for a family hauler.
Thrown into corners at bit of a pace, those Dunlops definitely had to deal with more than on a hatchback, but the Clubman remains fun to drive nevertheless. Of course those who want more action can always opt for the big wheels and the John Cooper Works body kit, or just wait for the proper JCW Clubman to come out. Because that's happening. But for now, this is extreme as you can get:
The project leader for this car told us quite a few times how much they spent focusing on fit and finish as well as those little touches here and there that should make you feel special enough to spend at least $28,500 on your Mini Clubman Cooper S. (Europeans will have all the usual engine options with the Clubman starting right where the BMW 1 Series hatchback does).
Overall, I think Mini did a fine job stepping into the compact family segment. The Clubman feels like a quality item and turns out to be a much more useable daily driver than I expected. Those extra inches were put right where they count, yet the Clubman projects the same image as any other Mini would, showing the world that you're still cool despite those kids slowing you down.
I don't have any, but would rock this wagon anyway, which they call a shooting brake. Of course.
Photo credit: Mini and Máté Petrány/Jalopnik
---
Contact the author at mate@jalopnik.com.