I didn't expect to like the 2016 Fiat 500X as much as I did after seeing it in person at the LA Auto Show. Believe it or not, it's kind of a great design, and far better looking than the various attempts Mini has made at a crossover.
The little Fiat 500 is a ton of fun, especially in Abarth guise, but you can only sell so many of those to Americans. We like big cars we can use to haul around our kids and our lumber. In America, we have a lot of kids, and lumber.
This is why the small crossover segment is one of the fastest-growing ones in all of auto-dom; it's why we have a Mazda CX-3, a Mercedes GLA, a Honda HR-V, and countless others. Even in cities, people go for those bigger, SUV-ish cars.
G/O Media may get a commission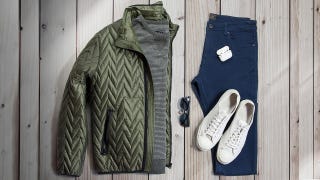 60% off
Jachs NY Fall Sale 60% Off
The Fiat 500L couldn't do that. It's awkward, oddly proportioned, overly vannish for our tastes, and worst of all, kind of miserable to drive. Sales numbers have reflected this; sometimes, Fiat only sells a couple hundred a month, if that.

So the 500X is here to try and take the brand to new heights. And I think it really has potential. The car does what Mini was never able to do with the Countryman and Paceman — turn a small car into a larger one without it losing the plot, trying too hard or just coming off as kind of ugly.
It maintains the overall shape of the 500, and its front end, while adding an extra set of doors and a big, practical hatch area. It's just a very simple, clean design, and very clearly a Fiat. What's not to like here?
Considering that it's based on the 2015 Jeep Renegade, which has received a lot of positive pre-release buzz, there's probably actually a lot to like. In the U.S. it comes with the familiar 1.4-liter MultiAir turbo engine with 160 horsepower and 184 pound-feet of torque and a six-speed manual, or 2.4-liter Tigershark MultiAir2 engine with 180 horsepower and 175 pound-feet of torque. That last one comes with a nine-speed automatic transmission and optional all-wheel drive.
Like the smaller 500, this one comes in trims like Pop, Easy, Lounge, but it also adds the more "rugged" Trekking and Trekking Plus.

The latter is the yellow one in these pics. It's not nearly as ridiculous as it could have looked, when you think about it — it's entirely possible Fiat could have tacked on way more plastic body cladding and gigantic wheels in an attempt to make it look like some kind of badass rock climber. (Actually, that sounds kind of cool now that I think about it? But I have a lot of lumber I need to haul, too.) The Trekking Plus did come with some chocolate brown leather seats that I really liked.
I dig this thing. I hope it does well. How about an Abarth version though?