Infiniti adds new lights, an upgraded interior and a 5.9-inch wheelbase increase to its Q70 executive saloon for those who 'desire more choice and prestige.' If you were curious, this was the M37 before Infinti changed their names to reflect the internal codes for electric toothbrushes.
For the 2015 model year, the Q70's front gets a new grill and LED headlamps while at the rear, different taillights, the flattened trunk lid, a slimmed bumper and some added chrome should make you feel special.
Both the standard and the long-wheelbase versions will be available with the 3.7-liter V6 or the 5.6-liter V8 engines, linked to a seven-speed automatic with optional all-wheel drive and solid magnesium pedal shifters. The V6 gives the Q70 330 hp at 7,000 rpm and 270 lb/ft of torque at 5,200 rpm, while the top of the line engine is rated at 420 horsepower and 417 lb/ft (or 416/414 in case of the long-wheelbase car).
Europe's V6 diesel still won't make it to America, but those looking for better fuel economy still have the hybrid option. The powertrain in the greenest Q70 combines Nissan's 3.5 V6 with a one-motor/two clutch system. While the petrol engine produces 302 horsepower at 6,800 rpm, its peak torque of 258 lb/ft is only available at 5,000 rpm, so the 67 hp electric motor comes handy at low revs with its 214 lb/ft, bringing the total power to 360 hp.
G/O Media may get a commission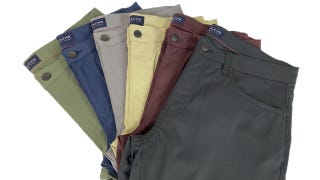 JACHS NY Fall Stretch Tech Pants
To improve handling and ride, double-piston shock absorbers are on the options list as well as the well known ABS-based torque vectoring.
New safety systems include collision warning, 360-degree view moving object detection, backup collision intervention and forward emergency braking. As with all cars in this class, you also get lane departure warning and prevention, blind spot intervention and active cruise control.
The cabin in centered around a 7-inch display with lots of wood, leather and 10-way adjustable power seats. The long-wheelbase car offers 32.4 inches of knee room at the back with heated seats, reading lights, a 12V power outlet and automatic door closure.
While the Q70 is known to have a roomy interior, the additional 5.9 inches in the long wheelbase version takes the extended sedan's rear roominess beyond what competitors offer. Infinti says knee room is at a best-in-class 32.4 inches, so rear seat passengers can comfortably cross their legs. The rear ingress and egress are also top in segment, which makes traveling in the back of a premium sedan a more enjoyable experience for taller passengers.
On top of offering rear door auto closure, the long wheelbase version of the new Q70 also provides additional features for rear passengers such as heated seats, reading lights, and a 12V power outlet.
To make the Q70 as quiet on the inside as possible, Infiniti added more noise insulation materials and stiffened the wheels. There's also active noise cancelation via a total of 16 speakers.
So the 2015 Infiniti Q70 is indeed as premium as it gets, but will this be enough to beat Jaguar or Maserati?
At the very least the Chinese will love it.