Though information has been slowly trickling out of Ford since December of last year, there's still a lot we don't know about the 2015 Ford Mustang, like exactly how much power it has or the official price at various trim levels. But the talk of the day has been the car's weight, and now we hear it will, in fact, be heavier than its predecessor.
But not by that much. Jalopnik has learned that the 2015 Mustang V6 — expected to have somewhere in the area of 300 horsepower — will weigh as much as the outgoing V8-powered Mustang GT. That's about 3,600 to 3,675 pounds, depending on the transmission choice. (The 2014 Mustang V6 weighs about 3,500 pounds, by comparison.) One can assume then that the V8-powered 2015 Mustang will be even heavier.
In other words, it will gain weight, but it won't be as drastic as Mustang tuner Steeda claimed this weekend. They said it could gain as much as 300 pounds.
Citing an unnamed insider, Road & Track this evening reported the same thing. Not surprisingly, they cite safety standards — specifically harsher roof-crush standards — as the reason for the weight gain. The new indepenent rear suspension also figures into the weight increase.
The Mustang GT Premium, the heaviest possible trim package, will top out at roughly 250 lbs heavier than the 2014 car. Volume models equipped with a V6 or the EcoBoost turbocharged four-cylinder engine are likely to be around 50 to 70 lbs heavier than this year's model, while a base GT will gain around 170 lbs.
G/O Media may get a commission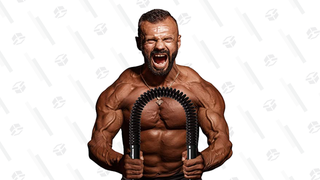 10% off
Zenooze Boa Power Twister
R&T also says that the upcoming Shelby GT may be a bit lighter, thanks to a downsized naturally-aspirated engine and some use of carbon fiber. That makes sense if it's going to be a more track-oriented performer.
So yeah, the 2015 Mustang will probably get heavier. Hopefully it will get across-the-board power boosts to overcome that weight. Too bad we don't know the power specs yet...