I'm not saying you should trust anyone who kills people for a living, but the time might come when you have to put your life in the hands of a hired gun. Are you telling me you're going to trust your life to someone who drives a Hyundai Azera? I didn't think so.
(Full Disclosure: Chrysler wanted me to drive the new Chrysler 300 and Fiat Promaster City so badly they flew me to Austin, put me up at the W Hotel, and gave me many opportunities to eat tacos. I had to go to Texas already so this timed out nicely. I am still full of tacos.)
That's no knock against the Azera or the Toyota Avalon or the Ford Taurus or any other car supposedly in this class. They're fine cars. In many ways, a vehicle like the Chevy Impala is a better car. All of the Chrysler 300's competitors are eminently sensible vehicles, which is exactly the problem. Sensible is just so damn boring. So predictable. What they offer in comfort and luxury and 4G WiFi streaming and modernity they lack in anything resembling sex appeal. It's the future captured so well in Woody Allen's Sleepers where intercourse occurs by touching metallic orbs and not fleshy ones.
The 300 S is alluring and it's alluring because it shouldn't exist. Its a quirk of history, with a Mercedes lineage and a RWD/AWD platform that's big and boastful and too expensive to replace at the moment, so it's enduring yet another refresh. You shouldn't be able to buy a full-size V8 sedan at a non-premium price in the U.S. and it's only this steep discount (about $38,000 with the V8 in S-trim) that keeps it from directly competing with the CTS or Hyundai Genesis.
G/O Media may get a commission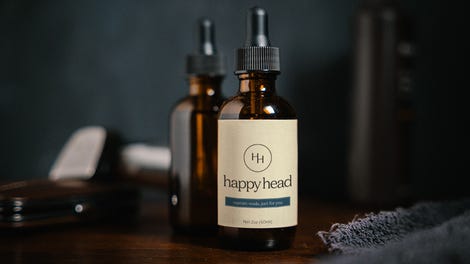 Just look at it. So many people bought fake Bentley grilles for their big 300s that Chrysler decided to just say screw it and widen the grille 33% so that they've effectively killed the aftermarket. They've made little tweaks on the exterior to give it a cleaner look more in line with the Chrysler 200 and less like the gangster's fantasy Gilles originally penned when the car first debuted, but it's still there.
The interior is a bit softer and now resplendent with LED screens. There's the big 8.4-inch color display with Uconnect in the center of the dash and the "7-inch" driver information display in the gauge cluster. I put quotation marks around "7-inch" because what they're measuring is the diagonal distance where the screen uselessly wraps around the speedometer and tachometer.
I wish men could measure their dicks this way, because it's the equivalent of starting at the tip and going all the way down to somewhere midway around your taint. In reality, it's about four inches across and it gets the job done so don't complain.
Fit-and-finish wasn't perfect and the materials aren't as good as what you'd expect, but it's not a premium car it just mostly looks like one. If you're into tenderly stroking dashes you should pay the extra money for a luxury car.
When Chrysler offered the journalists they'd assembled a choice of cars my driving partner Jeff Jablansky and I went straight for the red V8S model with the big 5.7-liter HEMI V8. Sure, the V6 model is more practical and offers a claimed "unsurpassed" V6 combined fuel economy of 23 MPG ("unsurpassed" is a clever marketing term that means "we tied with someone else but don't want to admit it"), but if you're buying the V6 model you're doing it wrong. The V8 S is the one to have.
Why? Because you can. Because your right foot still works and your heart still pumps real warm human blood.
Then we got smart and switched to a slightly subtler dark blue version because we didn't want to be the journos on the press trip to get a ticket. In fact, to assure we'd stay clean, we decided to stop off at Rudy's for some BBQ breakfast tacos right out of the gate and let someone else flush the Dr. Pepper Squad out of their perches.
If you've driven a big Chrysler lately you're probably familiar with the 363 horsepower/ 394 lb-ft of torque 5.7-liter V8 which, while not as wild as the 470 horsepower SRT model it ostensibly replaces, is perfectly capable of propelling you to 60 mph in under six seconds and leaving burnouts in your wake with the softest touch of the throttle.
Like all 300s, the S is equipped with the extremely capable and smart 8-speed transmission, with the difference being that in the Sport mode offered you can get slightly quicker shift times with better engine and throttle response. It's not a huge difference, but it's nice if you want to back up the V8's bark with a modicum of bite.
The improved throttle response is definitely noticeable peeling away from stoplights which, for a car like this, is half the point. You won't beat a WRX but you'll spank Impalas and you'll get a nice, baritone Father John Misty roar.
The 300 SRT was always the odd member of the SRT family and the 300S does a reasonable job of filling the gap, offering you just as much performance as you'd want but not more than you need in a car this big. Sure, Chrysler's engineers have proven with the Hellcat that they're smart enough to make something that can haul ass and kids with relative ease, but there's still a compromise in price and efficiency when you do that. The 300S returns a good 25 MPG on the highway, cruises like the Queen Mary, and makes you feel like a mobster king.
To further differentiate the 300S from its stablemates it gets body color trim, a trick grille with tiny Chrysler emblems, a slightly louder exhaust, and increased damping with a more sport-oriented tune. There are two sport modes which, confusingly, don't do the same thing. At the rotary gearshifter, you'll get the sport-tuned engine/trans calibration and if you select paddles they're going to stay manual until you interact and ask it to go back to an automatic mode. If you select Sport on the button near the wheel you'll get all of that, but you'll also get sport steering (effort) and paddles will remain temporary.
The paddles are a nice touch and, while you probably won't end up using them often, they will hold a gear if you ask them to without suddenly overriding. Gearheads, it seems, still work at Chrysler.
Driving the 300S around some of Austin's more California-like backroads is an effort in trust, as in: Do you trust this massive bank vault of a car to handle like a Miata? I didn't, for the most part, although I found that in S trim it didn't comically pitch and dive as much as I'd expected it to under heavy braking and high-G cornering. The 300S is like one of those inflatable clowns with ballast in the bottom, leaning far more than you're comfortable when you push it hard but somehow always managing to right itself.
If you're buying this car and you're smart it's not like you're launching it around twisties, anyway. You're accelerating out of parking lots and leaving a trail of molecuralized rubber in your wake and, for that kind of driving, it's easily controllable and actually fun. Or running for assassins. I'd run from assassins in this car.
The best place to drive it, whether in V6 or V8 trim (Jeff wanted to try the V6 against my far superior judgement), is in the left lane passing people.
Jeff is a New Yorker and thus was shocked that we had 65 MPH undivided highways next to residential neighborhoods. The 85 MPH toll road blew his mind and at a brisk 90 MPH the V6-powered 300 we were in stayed as planted as Ann Veal. It also tracks extremely well for a RWD car.
Chrysler is working hard to prove that they can build a modern car, as boring as some modern cars can be. Even with all the tweaks I'm not sure I'd call the 300S modern. There's still too much old school there in its DNA. That's not a bad thing. You don't need to nicknamed "The Enforcer" to appreciate that are some formulas that always work well. We all lamented the loss the old Crown Vic and Town Car because they were simple, affordable, comfortable V8 sedans.
We shouldn't lament, yet. The 300S is everything we liked about those old cars with everything that modern technology can provide and all the style that Chrysler could fit on one car. It's a bit much but, c'mon, this is America. A bit much is kind of what we do best.
Photos: moving Jeff Jablansky, interior Chrysler, picture of Jeff and other pics author
2015 Chrysler 300 4dr Sdn Limited RWD Specs
Engine type
Regular Unleaded V-6
Transmission/Drive
Automatic w/OD