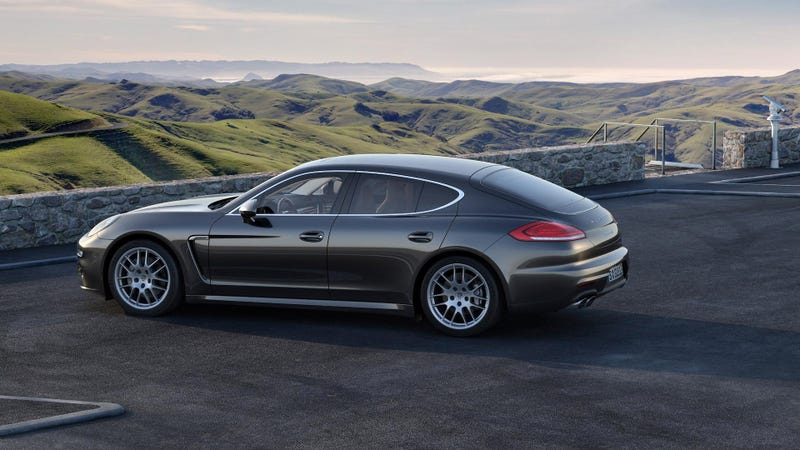 The 2014 Panamera GT's facelift comes with cleaner lines, plug-in hybrid technology and a brand new twin-turbocharged 3.0-litre V6 engine for the S and the 4S models replacing the 4.8-liter naturally aspirated V8. As you would expect, downsizing actually means more power.
It's 20 horsepower more to be exact, while torque is up by 17.5 ft-lb to 383. Porsche claims "up to" 18% better fuel economy, which probably means zero when you use the Panamera for what a Porsche is supposed to be doing.
The 4.8 liter V8 is thankfully sticking around in the GTS, which was one of the best cars I drove last year, making 440 horsepower. The Turbo model also gains 20 horsepower to have a total of 520. The Turbo S is gone for 2014.
A new trim level is also available for the Panamera 4S and Panamera Turbo. Dubbed "Executive," it's a long-wheelbase version (about six inches more) of the cars to provide more room in the back. It's fitting that they were unveiled at the Shanghai Auto Show, as Chinese customers place a premium on space in the back.
Everyone wants to be chauffeured in a Porsche and not drive it, naturally.
On the greener end of the spectrum, the Panamera S E-Hybrid offers 416 hp of combined power thanks to a now 95 horsepower electric motor, while the batteries (lithium-ion replacing nickel metal hydride technology) can be charged in four hours with a usual domestic socket, or in two using a bigger one.
The pure electric range is 22 miles, but since the test is done with the air-conditioning or heating switched off, even Porsche agrees that in real life, that number is somewhere between 11-22 miles. The boost function is also available for overtaking, while the 0-62 figure is cut by half a second to 5.5. The top speed is 168 mph, great news for anybody living close to an unrestricted Autobahn.
While most Panameras use the 7-speed double clutch gearbox, the diesel and the hybrid comes with an 8-speed Tiptronic S for maximized efficiency. As of right now, the Panamera Diesel does not appear to be on the list of models heading to the USA.
Visually, you'd be hard pressed to notice the difference between this and the previous Panamera other than, yes, you can now ask for LED headlamps!
As you'd expect, pricing hasn't really gone down, but it hasn't gone up either. The Panamera V6 starts at $78,100, the Panamera 4 at $82,800, the turbocharged S at $93,200, 4S at $98,300, the plug-in at $99,000, the GTS (the best one and only one you should buy) at $113,400, the long-wheelbase 4S at $125,600, the Turbo at $141,300, and the long-wheelbase Turbo at $161,100.