The A45 AMG is what Mercedes-Benz thinks a good hot hatch should look like, and no, they still don't think the US should get any of its 360 horsepower.
That figure and its 331 lb-ft of torque makes the 2.0-litre turbo the most powerful production four-cylinder in the world, but it still promises 40.9 mpg with a light right foot. Mercedes is using all kinds of modern engine technologies in order to achieve 181 horses per liter, including spray-guided direct fuel injection, multi spark ignition, a gravity-die sandcast all-aluminium crankcase, forged steel crankshaft and pistons with friction-optimized piston rings, NANOSLIDE cylinder wall technology and air-water charge air cooling.
The twin-scroll turbocharger has a maximum pressure of 1.8 bar, while the sports exhaust system features large pipe cross-sections and an automatically controlled exhaust flap, similar to what's in the SLK 55 AMG. It wasn't just the engine's cooling that was improved, as the seven-speed dual clutch automatic's transmission oil was also integrated in the water cooling circuit.
As usual from modern AMGs, all-wheel drive helps with grip, so that the A 45 can take you to 62 mph in 4.9 4.6 seconds. The suspension is a three-link setup in the front, while the rear got a brand new four-link axle. Brakes are ventilated 350mm at the front and 330 mm at the rear, while the ESP has three settings as well as the option of being completely switched off. We're just not sure if it's the Mercedes version of "completely switched off" which, in the past, has meant it was still kind of on.
If you really want to make it look evil, the "night package" can take you to the dark side, while the interior got the same AMG treatment we've all seen before. The A 45 can have as much carbon fiber inside as the customers wallet can take, while the seats are covered with black leather held together by some red stitching.
G/O Media may get a commission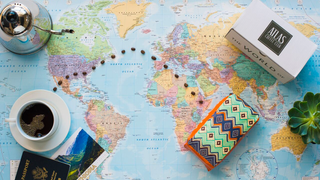 First Bag Free
Atlas Coffee Club - Free Coffee
Explore global coffee
With each bag, Atlas includes details on the coffee's tasting notes and a postcard about the region and its coffee history. And when you subscribe, you have options to tailor frequency, grind size, and roast preference of your beans, so you'll always be brewing the perfect cup.
To keep this premium speedball attractive for the younger generation, the main menu comes with "Racetimer" as standard. That makes it totally worth it.
Photo credit: Mercedes-Benz