The Morning Shift
All your daily car news in one convenient place. Isn't your time more important?
---
1st Gear: Japan's Best Car magazine reports that a power bump for the Nissan GT-R is in the works for 2013 and it'll amount to an extra 30 horses atop the already powerful engine. A Nissan insider with direct knowledge of the program and who may or may not be related to someone at Edmunds' Inside Line — or who may or may not have helped someone related to someone at Edmunds' Inside Line get a job — told them that the GT-R's output will increase, but says Best Car's number is wrong. The good news is that the unspecified under-hood jump will not just be confined to Japan, but will go global. What is for sure, according to them, is that production of the hardcore JDM-exclusive Spec V model will end this year. Sad Godzilla is sad.
---
2nd Gear: Fiat Chief Executive Officer Sergio Marchionne said the Italian carmaker won't risk a credit-rating downgrade to gain full ownership of Chrysler Group LLC. "We can't jeopardize the rating of Fiat," Marchionne told reporters late yesterday in Gavi, Italy, at a presentation of the Freemont sport-utility vehicle. "The easiest route" is an initial public offering at Chrysler instead of an outright purchase of the stake Fiat doesn't currently own.
---
G/O Media may get a commission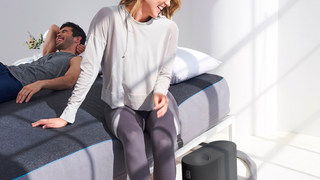 Eight Sleep Pod Cover
3rd Gear: According to Bloomberg, the average price for China's locally made passenger cars dropped 3.1% in May from a year earlier, Cheng Xiaodong, an official with the National Development and Reform Commission, said in an e-mailed statement today. This on top of news that during the same month sales went down. These are two signs that point to one very bad month in the world's most populous nation.
---
4th Gear: Hyundai Motor Co., South Korea's largest automaker, said increased production capacity will allow it to sell a record 600,000 cars and light trucks in the U.S. this year as demand for its Sonata and Elantra models grows. "We've now been able to secure production capacity to safely say that we will surpass 600,000 units," Mike O'Brien, Hyundai's vice president for U.S. corporate and product planning, told reporters yesterday in Las Vegas.
---
5th Gear: At the introduction of Volkswagen's new new Beetle in April, a number of VW employees confirmed to anyone that'll listen that the company eventually would offer a Beetle R featuring a more-powerful version of the Beetle's optional turbocharged 2.0-liter four-banger. That engine is used here in the U.S. in the Volkswagen GTI as well, and in both it and the Beetle Turbo, it's good for 200 hp and 207 lb-ft. In the Golf R, which we expect to arrive in the States in the next 12 months, VW's 2.0-liter is cranked up to 270 hp and 258 lb-ft in Europe. Car and Driver is therefore guessing that the Beetle R, which will do without the Golf R's all-wheel drive, will see a horsepower rating somewhere in the middle of that range: maybe 240 hp or so. In addition to the likely much-needed power boost, you can bet on the suspension being stiffened substantially from that of the Beetle Turbo. Expect the price point to be on the closer-to-base-Beetle than the Golf R's expected north-of-$30,000 price tag — and for the "R" to drop later this year in Frankfurt.
---
6th Gear: Despite only just unveiling the hardcore R-S badge earlier this year on the XKR-S coupé, Auto Express has learned it will extend to other models, too. Hot on the heels of the 542bhp 5.0-liter supercharged V8-engined coupé — the fastest Jaguar since the XJ220 supercar — the firm is plotting fastest-ever versions of the XKR convertible and XFR saloon, as well. Nice work, pussycat!
---
Reverse:
⏎ Scott Burgess reviews the last Mercury Grand Marquis. This is why we love Scott Burgess. [Detroit News]
⏎ Yeah, we don't know why Saab's trying to get money from Henny Youngman either. Didn't he die over a decade ago? [Bloomberg]
⏎ Fuel rules to hike car costs. [Detroit News]
⏎ Ford realigns European production. [Automotive News]
⏎ Volkswagen may more than triple size of Chattanooga plant. [The Detroit Bureau]
⏎ 2011 Hyundai Sonata hybrid tested, abhorred. [Car and Driver]
⏎ Young wrenches take a turn at Ford/AAA event. [Detroit News]
⏎ Mercedes demo driver Mauro Calo to try smashing world record for longest drift. [AutoCar]
---
Today in Automotive History:
On this day in 1986, driving legend Richard Petty makes the 1,000th start of his National Association for Stock Car Racing (NASCAR) career, in the Miller American 400 in Brooklyn, Michigan. He became the first driver in NASCAR history to log 1,000 career starts. [History]
Show us your tips!
Got tips for our editors? Want to anonymously dish some dirt on a competitor? Know something about a secret car? Email us at tips@jalopnik.com.
Lost in our new layout?
Click here for the Opposite Lock or Tips forums. Want a more "blog-like" look? Click the button up top next to "Top Stories."
Get more Jalopnik!
Want even more Jalopnik? Want to know which of your friends read us? "Like" us on Facebook and follow us on Twitter.