The third non-championship race of the season, on a track where it's impossible to overtake and where nobody has won a race except the current world champion? It was meant to be a yawnfest—but it was pretty exciting for the first two corners. Warning: spoilers.
I sometimes wonder how Formula One racers refrain from beating Sebastian Vettel to a bloody pulp with a baseball bat the shape of Ayrton Senna. It's about the way he goes about setting his pole laps. For two days, everyone is lulled into believing that he just might be beaten. Two days and two qualifying sessions. And nine minutes and fifty-nine seconds. Then, inevitably, in the waning seconds of the last part of qualifying, he produces a lap faster than everyone. For the 14th time this season, Vettel was on pole, tying Nigel Mansell's Williams-powered record from 1992.
So he was on pole, and this is how the exciting part of the race went:
After the first corner, he was leading by what looked like the better part of a second.
After the second corner, he was out of the race with a puncture.
Lewis Hamilton inherinted the lead and he drove a very Vettel-ish race, maintaining a maddening, perfect gap between himself and Fernando Alonso, who performed one of his usual startline stunts and quietly launched his subpar Ferrari from fifth to second. Third place went to Jenson Button. This was repeated for 55 laps and celebrated with carbonated water.
Vettel, however, was awesome even in retirement, his first since his dramatic exit from the 2010 Korean Grand Prix. Sitting on his right rear puncture, he let the field pass, then did a proper Gilles Villeneuve and drove all the way around the 3.5-mile circuit on three wheels for a new tire. A new tire which, of course, could not be put on his car because driving a Formula One car around a circuit on three wheels subjects the suspension and chassis to severe damage. It was wonderful to watch.
G/O Media may get a commission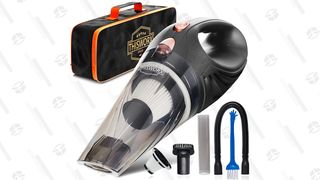 Save 50%
ThisWorx Car Vacuum Cleaner
Yas Marina circuit is still a terrible waste. I do not recall a single interesting pass. It must be a fun way to pass an evening after a day out falconing in the desert, though.
Oh and clear visors are officially awesome. Did you know that Sebastian Vettel does not blink?
---
Australia | Malaysia | China | Turkey | Spain | Monaco | Canada | Europe | Britain | Germany | Hungary | Belgium | Italy | Singapore | Japan | South Korea | India | Abu Dhabi | Brazil
Illustration by Peter Orosz. Gallery curated by Natalie Polgar. Photography by Peter Fox/Getty Images, Mark Thompson/Getty Images, Clive Mason/Getty Images and Paul Gilham/Getty Images.