The first thing you learn is that the nerves before getting back into a race car for the first time in a while are nearly enough to make you taste your breakfast twice. The second taste will be far less delicious.
(Full Disclosure: American Endurance Racing invited me to participate in their first ever race at New Jersey Motorsports Park, they comped my entry and provided an E30 to drive. Think of AER as a serious version of LeMons, where you replace themes with speed. It's a great idea. Racing is what I love, so I immediately jumped at the chance to be a codriver in an E30 325 for two endurance races. I'm proud to say it went well. Very well.)
The second thing you learn is that as soon as that engine starts, the nerves immediately disappear. And that's because a car immediately feels like home. There's also no room for nerves on track, you have 20 competitors counting on you to not run into them. A slip could be a disaster.
The third thing you learn is that, even at the club level, this is competitive stuff. Even early in practice and qualifying, there's dicing, people following to learn the line, point bys, traffic, and more. It's busy out there.
G/O Media may get a commission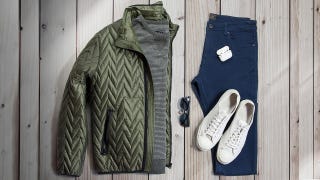 60% off
Jachs NY Fall Sale 60% Off
The fourth thing you learn is no matter how fast you think you are, there is almost always someone faster. For AER's first race, Randy Pobst showed up to run as a codriver in our car. And we still qualified fourth. There are some seriously talented drivers out there if they can beat a two time Daytona winner. In fact, we were the slowest in our class.
The fifth thing you learn is that if you keep thinking about how much you don't want to drive the first stint of the race, you're going to drive the first stint of the race. That's what happened to me. And to make it even better, the race starts on a damp track. I'm beside myself. I get what can only be described as a "crap" start and drive very conservatively so I don't ruin the car. After just a few laps of racing, I fall from fourth to ninth. That's when I realize something: In practice and qualifying, I passed every single one of these cars. I am faster than them. What the hell am I doing?
The sixth thing you realize is that you need to relax. Getting tense behind the wheel leads to slower times and mistakes. So I calm down and start upping the pace. Then a full course yellow brings us all back together. If I'm going to take advantage now is the time. That's what I do. I get back in my groove, pick off cars, get by some early pitters, and work my way to third place. I was still two laps down, but was now in a podium position. It was looking good.
The seventh thing you learn is that an hour and a half in the car is a long time. After putting a nice gap on fourth place, fatigue started to get the best of me. I was making mistakes, dropping wheels off, and missing braking points. I told myself that if I went off again, I'd call in to pit. I let my times drop a little, fell two spots, but I didn't go off again. I finished my stint and handed off the car. I was wiped.
The eighth thing you learn is that anything can happen. We had fallen back to fifth, but a combination of fast stints from Jack Baruth and Randy Pobst along with pit stops and attrition moved us right back to the front. And while Randy's stint was very fast, it wasn't easy on the car. The exhaust broke off, earning us a black flag and reducing our lead greatly. And with 45 minutes to go, the car came in for one more stop to put in another driver: Me.
The ninth thing you learn is that you will lose sometimes. When I hit the track for the final stint of the race, I had a 42 second lead over second place. But the second place car, an E36 3-series, was now being piloted by Randy Pobst. Yes, my own teammate who had driven so hard the exhaust fell off and got a black flag that nearly lost us the lead was now chasing me down in the second place car. A car that, in his hands, was at least two seconds a lap faster than our E30. I pushed like mad, the radio calls from the pits told me to pick up another second, I responded, but it wasn't enough. I kept an eye on my mirrors, as soon as I saw Randy behind, I knew that was it. He powered by on the straight a few laps later, and I stopped pushing. I was gutted, but we had a five lap lead over third, there was no reason to risk our car. We had another seven hour race the next day. A race we wanted to win.
The tenth thing you learn is that racing isn't just winning. It's about fun. And the post-race barbecue and beers were great. And I can't say enough about how great the people are. The AER organizers, the folks running the media cars I drove, the massive Rally Baby team, and literally everyone at the track were all friendly, helpful, funny, and downright fun class acts. The people around racing are really the best part.
The eleventh thing you learn is that a new race day is a fresh start. We were still starting fourth for Sunday's race, but the track was soaking wet for the start and we had two less hours to run. Our driver order changed, with car owner Josh starting off in the rain, Randy Pobst taking second stint, Jack Baruth in third, me in fourth, pro Andrew Aquilante in fifth, and Josh bringing it back home. Over the course of the first three stints, we stuck in the top three, eventually gaining a pretty huge lead thanks to mechanical failures, the other media car spinning a number of times and finally just crashing out (Really was unfortunate since the first driver, the famous/infamous Speedycop, drove like mad to get to the front of the pack), fast pit stops, and some downright brilliant driving. Because this race was shorter than day one, we were each running shorter, one hour stints. And now it was my turn.
The twelfth thing you learn is that things aren't always what they seem. I got the car with a few lap lead over second and I was determined to make this stint count. I immediately started pushing, setting fast time for our car in the race with the help of a drying track. About three quarters of the way through the session, I radioed in, asking how much time I had left in the car. That's when I got an interesting communiqué. "You have another 45 minutes. We decided to double your stint. We're going for the overall win. Can you do it?" I thought about it, realized I wanted to win badly too, and just said "Yes, I'll let you know if I have to come in." I stayed on pace, radioed in to find out if my laptimes were solid enough to hold the lead, which they told me were perfect. I dipped back close to the fastest lap, managed traffic, and kept my cool. In the last bit of the stint, it started raining. The track got slick, but my laptimes were just as fast as the second place E36. Nothing lost, nothing gained. The fatigue was much less this time, and I turned in the car in with a lead roughly the same as when I got in, maybe a few seconds less. I was satisfied.
The thirteenth thing you learn is that rain is the great equalizer. Car owner Josh got back in and, during conditions that were consistently getting worse, he maintained the gap to second. The rain was appallingly bad, but in the end, Josh brought the car home in the lead. And the best part was seeing him with his kids after the race. He's the one who really deserved the win.
Winning really is great.
The fourteenth thing you learn is that while LeMons might be fun, getting a little more serious opens a whole ton of doors. That's what AER wants to accomplish. Think of it as a gateway to the endurance racing ladder. If you're fast in LeMons but are tired of tracks covered in cars off the pace or want to become a bit more serious, give AER a look. It's serious without being soul killing. I think of it as the best of both worlds.
The next race is October 17 to 19 at Watkins Glen. I'll be there. Will you?
Photo Credits: Charley Michelle Willis