It is time. We knew the luxo-truck onslaught that's been wreaking havoc across this great nation was going to bring us to this moment. But now, it's finally here: Ford has thrown down the gauntlet with its new "Super Duty Limited" line, whose crown jewel is an F-450 that can cost over $100,000.
With the Texas State Fair coming up tomorrow, Ford's new Super Duty Limited line offers Texans three new ways to waste spend their hard-earned cash on Super Duty trucks. They can buy an $80,835 F-250 Super Duty Limited, an $82,010 F-350 Super Duty Limited, or the crème de la crème model, the F-450 Super Duty Limited (all of which are 4x4s).
The big boy in the lineup starts at $87,100, but with all the boxes ticked, that price can reach $94,445. Throw on your state's 6 or 7 percent sales tax, and you're hovering right around 100 large.
In its press release, Ford says over half of its Super Duty sales are of Lariat, King Ranch or Platinum trims, so it only makes sense to keep cranking that luxo-truck dial, with Ford Truck Group marketing Manager Todd Eckert saying:

There are heavy-duty truck customers who need Super Duty-level capability and want true luxury...We created this new truck to answer the call for even more premium choices in the Super Duty range as we see more and more truck customers trending to more premium models.

G/O Media may get a commission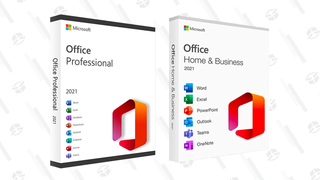 89% off
Microsoft Office Professional 2021 Lifetime License
Among the features these premium Limited models offer, are: two-tone heated and vented front leather seats, heated rear seats, premium leather-wrapped steering wheel, suede headliner, hand-finished ash wood trim, a unique grille and tailgate, 360-degree camera, adaptive cruise control, adaptive steering, lane-keep alert, forward collision warning, LED headlamps, and a panoramic moonroof.
As we've learned from the Lariats, King Ranches, LTZs and Rubicon Recons of the world, people are totally willing to drop heavy coin on vehicles built on platforms that could have been built in the 1940s. That's great news for truck companies (these body-on-frame rigs have to be cash cows), and if the buyers are happy, then it's a win-win, right?

I know it's tempting for us to laugh at a solid-axled, body-on-frame pickup that pushes six-figures, but there are rich folks out there who make a living by doing honest, hard work. And if they want to treat themselves with a bit of supple leather rubbing against their butt-cheeks, who are we to judge?
I guess you could call me a luxo-truck sympathizer.