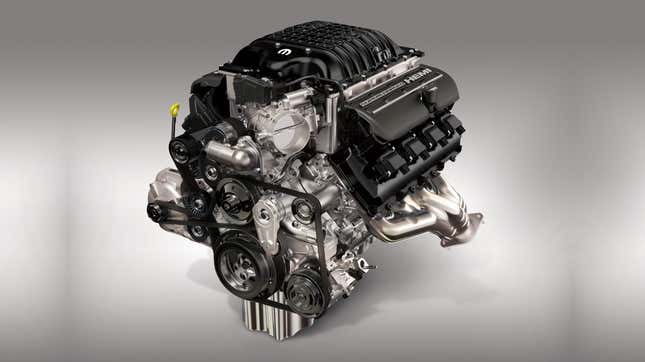 Just over a week ago, Mopar announced preorders for the "Hellephant" crate engine—a 1,000-horsepower, nearly $30,000 powerhouse to be plugged into any eligible vehicle. But if it took you more than 48 hours to determine whether it was a joke because of the name, you missed out on the chance to order one.
Chase Elliott Explains the Challenge of Adapting to NASCAR's Next Gen Car
There's always hope, though. Due to the demand, FCA may just bring another run of the Hellephant back sometime in the future.
That's because, as Autoblog reports via Allpar, the engine sold out in two days—lack of a warranty and all. (But really, who would want to offer a warranty on a supercharged crate motor with 1,000 HP and 950 lb-ft of torque, meant to be swapped into whatever off-roader or decades-old car someone with the cash for it wants to make into an absolute monster? Thought so.)
It's hard to tell how big of a deal the sellout is since Fiat Chrysler didn't say how many orders it accepted, but here's what FCA did say, from Autoblog:
When Allpar asked Fiat Chrysler for clarification, a spokesperson e-mailed, "Given the high demand and the hand-built, time-intensive build process, we have closed preordering for the 426 Hellephant Supercharged HEMI crate engine. Based on preorders, the engine sold out in just two days. Customers can visit www.cratehemi.com to receive future information and updates on the 'Hellephant' engine."
In a phone call with Jalopnik, an FCA representative confirmed the Hellephant sold out in two days after FCA opened preorders on April 26. The representative wouldn't say how many crate engines are in the "limited" Hellephant run, but speculation from Allpar is that about 100 will be in this batch. (In announcing preorders, FCA said it had interest from about 1,000 potential buyers.)
The FCA representative also said there is no warranty on the engine itself, which has an MSRP of $29,995—about $10,000 more than the 707-HP Hellcat crate engine. Mopar will, however, give a two-year, 24,000-mile limited warranty for its $2,265 Hellephant engine kit, which comes with all of the extras to help plug it into whatever vehicle the person making the swap is working with.
For the folks who missed out on all of that this time around, though, there is hope. Motor1 reported that rumors are another limited run of the Hellephant is planned for next year "due to overwhelming demand," and, in response, the FCA rep said that's being considered. What they couldn't comment on was a potential timetable, since, they said, company's focusing on this run first.
The good thing is, if the opportunity comes back around and the (abnormally large) piggybank allows it, you won't have to spend the entire two-day sellout period trying to find out if something called the "Hellephant" is an April Fools' joke. If you need any more proof before then, well, just listen to the thing.