Last summer, I drove 500 miles to pick up a Jeep that a reader had offered to give me for free. But instead of coming home with the extra iron, I fixed the college student's Jeep and returned home happy to help. Lots of people read that article—heck, even Adam Savage from Mythbusters tweeted about it. But as pleasant as it was at the time, the story has a dark ending.
All the Jeep needed was its flex plate bolts threaded back in, and it fired up like a charm. The engine sounded great, and the Jeep drove perfectly. I was happy, Matt—the college student who lost hope and thought he'd have to give up his first car—was happy, and so were readers!
Everything seemed great until September, when I received an email from Matt. "I got the Jeep registered and it reclaimed daily driver status in mid-August. I put close to 1,000 miles on it with no trouble whatsoever," the email started, "that is until this Thursday."
"I started it up and the 4.0 was running like unadulterated ass, missing, shaking and stumbling after running perfectly the day before, albeit with usual low oil pressure when warm (30 psi at 2000-2200 rpm)," Matt continued.
G/O Media may get a commission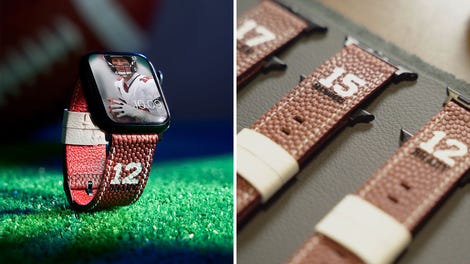 Official NFL PRODUCTS
Official NFL Apple Watch Bands
Then he made what many would consider a questionable move, and decided to drive the Jeep anyway so he could get to work on time. After driving only a single mile, Matt parked the XJ and later returned to a "dinner plate sized puddle of oil on the ground," significantly bigger than "Gamecube game" size puddle he was used to seeing.
"Because I'm a reckless idiot," Matt told me, "I then drove about 30 miles on the highway that evening while the oil pressure gauge showed 12-15 psi. The Jeep smoked so badly I couldn't see out the rearview mirror and it had to stay in 3rd gear to maintain 65 mph."
Apparently the engine wasn't knocking, and the oil level looked okay after the drive, but the next morning when he took the Jeep out, the engine quickly "coughed and popped and shut off as the oil pressure dropped to 5 psi." He had to have the Jeep towed back to his apartment.

The engine cranked, the fuel pressure was fine, and the crankshaft position sensor checked out, so the culprit was a mystery. That is, until Matt removed the cylinder head to find what you see in the image above. Here's a closer look at cylinder one, which is missing a big chunk of its piston:
God that looks terrible. It makes my AMC inline-six-loving heart sink.
But there is a bit of good news to this sad tale, namely the fact that the aforementioned highway drive he took prior to the carnage had a purpose: he was checking out a used 1996 4.0-liter inline-six engine with only 142,000 miles on the clock. Well, that's what the seller claimed.
But the seller also said the Jeep from which the engine came had to be parted out due to transmission problems. As the AW4 automatic tends to be invincible, Matt found that claim "dubious." But the engine—which the seller had bought for his own Wrangler project, but rejected in favor of a 4.2-liter—only cost $175, so after rotating the crankshaft damper by hand and checking out the valvetrain, Matt went for it anyway.
The replacement engine now sits on Matt's porch; he plans to take it apart, do a light rebuild, and—after he finds time to yank the mangled four-liter from the engine bay—chuck it into his 1992 Jeep Cherokee Briarwood.
Matt graduates college in May, after which he wants to take the Jeep on an epic journey on the Dalton Highway in Alaska. I think it's safe to say that, for that to work out, Matt's luck is going to have to do a complete 180.
Either that, or he could just carry another spare motor in the back.