Tesla just released their financial statement from the fourth quarter of 2012, and the news is mostly good, a little bad, and all open to interpretation. Isn't everything with Tesla, though?
Among the highlights from the documents made public today:
Revenue in the fourth quarter jumped 500 percent $306 million.
They have total liabilities of $989.5 million, including $452.3 million in debt.
But in the good news department, they delivered about 2,400 Model S sedans in the fourth quarter and made a $12.7 million principal payment on their (modified) Department of Energy loan schedule.
The company is now producing 400 vehicles per week. "We produced over 2,750 vehicles during the quarter and more than 3,100 vehicles during the full year, while maintaining our stringent quality standards." Tesla says they're now at a point where they can "reliably" produce 20,000 cars a year.
Still no solid sales numbers, just approximate delivery figures. They delivered some 2,400 Model S sedans in the fourth quarter, about 2,650 for the entire year.
Tesla opened eight stores in the U.S. and Canada in the last quarter. That comes out to a total of 32 around the globe by the end of last year. They plan to open 15 to 20 more this year, half of which will be in Europe and Asia. They also want to double the number of service locations by the end of 2013. 
All of the remaining Roadsters have been sold. 
Plans for 2013 are highly ambitious. They want to deliver 20,000 Model S-es this year, starting with 4,500 in the first quarter of this year.
They expect to have fewer capital expenditures this year than in 2012. They expect to have non-GAAP positive net income in the first quarter, if even slightly. This probably means a quarter of low expenditures, raking in money on Model S delivieries, and enough belt-tightening to squeeze out something they can call a profit even while still hundreds of millions of dollars in the hole.
"We expect to start the year with about 4,500 deliveries in Q1, as we gave the manufacturing team the first week of the year off to celebrate their accomplishments during 2012." That must be nice. 
"To conclude, 2012 was indeed the Year of Model S. This year, we are on a journey to expand the presence of Model S and turn profitable."
Tesla's 4Q Financial result for Jalopnik.com by
G/O Media may get a commission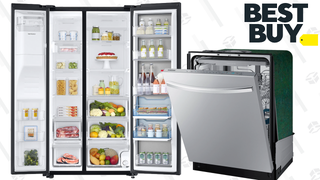 Up to 50% off
Best Buy - Samsung Major Appliance Sale
Photo credit AP