Tesla has done a surprisingly good job of stealing sales from its high-end German competition in the U.S. Now the upstart company aims to do the same in China, the world's largest automotive market, with both cars and charging stations.
As Tesla delivered its first Model S sedans to eight customers in Beijing this week, CEO Elon Musk announced that the company plans to start local manufacturing in China within the next three to four years, Bloomberg reports.
Doing so would allow them to sell the Model S without the stiff 25 percent import tariff; the car costs about $115,000 in China. The company hopes to sell as many cars in China as they do in the U.S. by next year.
And with this plan comes something even more ambitious: getting the Chinese to buy electric cars. So far buyers there haven't been terribly interested in electrics even though the government is trying to address its notorious pollution problem. From Bloomberg:
Competing carmakers are watching Tesla's entry into the country closely. China lags behind its target of 5 million alternative energy-powered vehicles by 2020 as a lack of charging stations and high costs deter buyers, even as air pollution worsens and chokes its inhabitants.
Beijing's license-plate lotteries underscore the extent of the challenges automakers have had luring electric-car buyers in China. While the city received more than 90 bids for each available permit for conventional gasoline autos in a February drawing, there were only 1,428 applicants for 1,666 new-energy vehicle plates offered, the municipal government said.
G/O Media may get a commission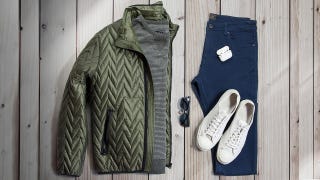 60% off
Jachs NY Fall Sale 60% Off
A big reason for this lack of interest in electric cars is that old chicken and egg problem — China doesn't have much in the way of electric charging infrastructure.
The AP says Musk plans to address the problem, mainly because he kind of has to. He said Tesla plans to several hundred million dollars in charging infrastructure in China by partnering with state-owned power companies, though no serious talks have happened yet.
Who here thinks Elon Musk can keep up his company's winning streak in China? They've been off to a somewhat rocky start so far, with buyers expressing frustration over delayed deliveries as they work to get service centers and charging stations in place. But hey, if they can get that stuff squared away, perhaps wealthy Chinese customers will be lured in by Tesla's brand, and they'll see the benefits of owning an electric car in a big city.