Elon Musk apologizes, Mercedes struggles to deliver cars, VW is lacking powertrain engineers and more await you in The Morning Shift for Thursday, Aug. 2, 2018.

1st Gear: Being Civil in Public Pays Off For Musk and Tesla
Correction: Thursday, August 2, 1:20 p.m. ET A previous version of this story incorrectly identified the individuals Musk apologized to as journalists. Copy has been corrected below.
Tesla shares rose as much as 12 percent after the company held its second quarter earnings call last night, Bloomberg reports. Among contributing factors to the jump was Elon Musk's apology to analysts (which you can read here), whom he had scolded in a previous conference call for asking "dry" and "boring, bonehead" questions.
G/O Media may get a commission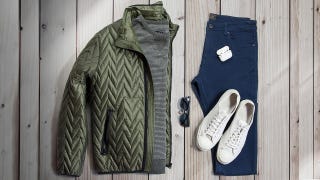 60% off
Jachs NY Fall Sale 60% Off
From Bloomberg:
The Tesla Inc. chief executive officer began the question-and-answer portion of the carmaker's second-quarter earnings call by atoning for what he called his "bad manners" three months earlier. Musk then took the first two questions from two analysts he was harshest with last quarter — Sanford C. Bernstein's Toni Sacconaghi and RBC Capital Markets' Joseph Spak — and offered personal apologies.

It was a step in the right direction from a CEO who, especially recently, has been dishing out some rather childish remarks that have spooked investors, and which have been followed by drops in Tesla stocks.
Also contributing to the jump in Tesla shares was the announcement that Tesla had only burned through $740 million over three months ending in June, instead of $900 million that analysts were apparently anticipating.
Steps in the right direction for Tesla and for Musk, who clearly needs to sleep more.
2nd Gear: Volkswagen Badly Needs Engineers to Meet Tougher Emissions Standards
For the longest time, for a vehicle to be certified in Europe, it has had to undergo the New European Drive Cycle, or NEDC, fuel economy and emissions test procedure.
But now, after over 25 years, the NEDC will bow out for the new "Worldwide Harmonized Light Duty Vehicles Test Procedure," or WLTP, which promises to more accurately represent driving conditions, and thus provide more representative fuel economy and emissions test results.
Starting Sept. 1, new vehicles must come with WLTP certifications, and for Volkswagen, this is a big problem. Mostly because, according to Reuters, VW lost many of its engine calibration experts after Dieselgate. And apparently this is such a big problem, that it's significantly clouded VW's financial outlook according to CEO Herbert Diess, with Reuters writing:
"That impacts capacity utilization at our plants, so there will be closure days at our sites during this period," Diess said. Although VW is sticking to its delivery targets, meeting them will be hard.

"One thing is clear, though: this will be a titanic task for the second half of the year, particularly on the margin side," said Diess, who was promoted to the top job in April after running the VW brand.

In a press conference on Wednesday to discuss second-quarterresults, Diess said the changeover to the WLTP testprocedure poses, "The biggest volume and earnings risk forVolkswagen."

With Diess saying "Engine development expertise has been lost," and with the automaker recently snagging BMW powertrain expert Markus Duesmann, Reuters says VW's got a significant skills shortage to overcome.
3rd Gear: "Technical Glitch" and Low Inventory Sends Mercedes Sales Plummeting
Light vehicle sales dropped an estimated 3.7 percent in July, Automotive News reports, with Fiat Chrysler, VW, and Subaru appearing to be the only winners, while pretty much every other major automaker posted losses.
Among brands that didn't fair so well was Mercedes, which apparently suffered some sort of technical glitch as well as trouble filling inventory. From Bloomberg:
Mercedes-Benz deliveries tumbled 23 percent last month to 20,034 — the steepest drop and lowest monthly total so far this year for the Daimler AG brand — shrinking its lead over BMW AG to 3,514 vehicles. The German automaker said a "temporary dealer inventory shortfall" related to a changeover in 2019 models, and an unrelated "mainframe outage" gummed up dealer operations in the busiest week of the month. Resolution of the technical glitch is "nearing completion," the company said in a statement.
CEO of Mercedes' U.S., Dietmar Exler said in a statement that the company is working to figure out how to recover from the 2019 model year delays, but that sales figures will likely suffer as a result.
"While we expect to replenish our inventory levels in the fall, these developments will likely have a negative impact on sales in the coming months."
Yikes. Looks like a major blunder.
4th Gear: Ford Planning Big Changes With Its South American Business Unit

When Ford appointed Jim Hackett as its new CEO in May of last year, one of the company's main concerns was ensuring that underperforming parts of the company get whipped back into shape. So it's no real surprise, now, to hear of rumors that Ford's long-ailing South American operations may be on the auction block. Bloomberg claims Ford is shopping the business to rivals, writing:
Ford Motor Co. is pondering an exit from the South American market and has started shopping its money-losing business there to rivals Fiat Chrysler Automobiles NV and Volkswagen AG, according to people familiar with the matter.

The automaker made overtures to several competitors while considering its options for the unit, said the people, who asked not to be named because the conversations were private. Dearborn-based Ford hasn't shown a pretax profit in South America since 2012 and has lost $4.2 billion in the market since then.
For its part, Ford apparently denied that it's leaving the continent, with a spokesperson saying according to Bloomberg: "Ford is not considering an exit from South America."
The news site goes on to say that South America was a topic in a recent earnings call, where Ford's CFO apparently said:
"Our business in South America lacks a strong competitive position or profit pillars...We have not earned an appropriate return on investment over the most recent economic cycle that spans from 2004 to the present. For those reasons, we are moving on a significant redesign of our business model focused on where to play and how to win."

Sounds like big changes are in store. Whether that means a sale or a partnership, we'll have to wait and see.
5th Gear: Fiat Chrysler to Hold Memorial Services for Sergio Marchionne at FCA U.S. Headquarters in Michigan and in Italy
Fiat Chrysler will hold memorial services for the CEO who saved the company, Sergio Marchionne, whose death was announced last week after complications arose from a shoulder surgery.
According to the Detroit News, one service will take place at FCA's U.S. headquarters in Auburn Hills on Sept. 27, while another will be held Sept. 14 at Turin Cathedral not far from FCA's headquarters in Italy.
The latter service, the news site states, will be open to the public, though apparently details on the one in the U.S. still need to be ironed out.
Reverse: San Francisco's Cable Car Is Born
Via Cable Car Museum:
Andrew Smith Hallidie tested the first cable car at 4 o'clock in the morning, August 2nd, 1873, on Clay Street, in San Francisco. His idea for a steam engine powered - cable driven - rail system was conceived in 1869, after witnessing horses being whipped while they struggled on the wet cobblestones to pull a horsecar up Jackson Street. As the story goes, the horses slipped and were dragged to their death.
Neutral: How Do You Feel About Musk's Apology? 
How does his behavior influence you as a potential customer, and how do you think it influences shareholders?