1st Gear: Oops!
Part of the reason Tesla's been able to keep going, despite its long (and not unexpected) unprofitability has been CEO Elon Musk's uncanny ability to convince shareholders to keep pumping money into the company. A lot of that strategy relies on Musk being able to pitch the notion to money people that what he's doing is in the best interest of Tesla first and foremost, and he's always got their best interests at heart.
But with Tesla's announcement that it was buying SolarCity, it sounds like shareholders aren't so gung-ho anymore, according to two stories from Bloomberg:
There was a time when Morgan Stanley Analyst Adam Jonas thought shares of Tesla Motors Inc. would nearly double. But after Chief Executive Officer Elon Musk presented a $2.86 billion plan to combine Tesla and SolarCity Corp., the analyst is drastically cutting his price target and downgrading the stock.
And:
Elon Musk is accustomed to shareholders snapping up whatever his Tesla Motors Inc. has to sell. Now his plan to merge the electric-car maker with struggling SolarCity Corp. has him confronting a rare case of investor unrest. "This is a high-risk proposition with my money," said Ross Gerber, a self-described fan of Musk's and chief executive officer of Gerber Kawasaki, a money-management firm with more than 25,000 Tesla shares. "I don't need Elon picking stocks for me. That's my job."
G/O Media may get a commission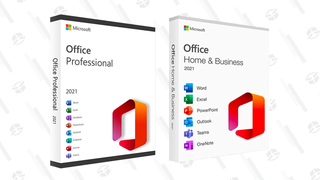 89% off
Microsoft Office Professional 2021 Lifetime License
Investors are annoyed for two main reasons. The first is that it doesn't seem like they're buying the whole "oh yeah, a company that installs solar panels and a company that makes electric cars make total sense together" argument, mostly because there's a pretty huge leap between installing solar panels and providing an entire electric grid.
But another big reason they're opposed to the deal is that there appears to be a massive conflict of interest going on. Tesla's CEO is a guy named Elon Musk, and SolarCity's chairman is a guy by the name of... Elon Musk. Which means if this deal goes through, Elon Musk will get a huge personal payout out of Tesla's corporate coffers. Which, while completely legal, doesn't exactly smell right to some shareholders.
On the other hand, Tesla's done pretty well with infrastructure projects in the past, like its network of fast-charging stations. And Tesla's argument is that Tesla drivers will install solar panels on their homes to charge their cars, and they will use SolarCity to get those solar panels. Probably. Maybe.
As of this writing, Tesla shares are down 1.67 percent.
2nd Gear: Jaguar Land Rover Could Lose Big On Brexit
The United Kingdom votes today on whether it should leave the European Union. A lot of car companies, like Toyota and Nissan, have already registered their opposition to a British exit (or "Brexit" as annoying Europeans say) from the E.U. But the latest car company to express reservations might hit closer to home – Tata-owned Jaguar Land Rover, Reuters reports:
In the latest warning of potential economic damage, two sources familiar with the company's thinking told Reuters that Britain's biggest carmaker, Jaguar Land Rover, estimates its annual profit could be cut by 1 billion pounds ($1.47 billion) by the end of the decade if Britain leaves the EU.

$1.47 billion ain't nothing to sneeze at.
3rd Gear: The Highest Quality Cars In The World Are Made By... Kia?
If you're an Old like me (let's say, over the age of 15) you may remember a time when Korean cars like Kia were the butt of jokes about quality and reliability. That time has been over for some time now, but it's still a bit weird to see news that Kia's on top of the world right now (via Automotive News):
Kia overtook Porsche to lead the industry in J.D. Power's annual report card on vehicle quality, marking the first time in 27 years that a nonpremium brand has topped the list.

Kia, with 83 problems reported per 100 vehicles, joins Toyota as the only nonpremium brands to have finished first in the 30-year history of the Initial Quality Study, J.D. Power and Associates said today in releasing the results at the Automotive Press Association here. Toyota came in at No. 1 overall in 1989.

And while Kias really aren't terrible these days, I'm always a bit wary of these J.D. Power studies. They might be rigorous and all, but I'm not sure there's a precise measurement of "plastic cheapness" or "leather suppleness" or "this feels like it's made out of flimsy crap-yness."
I'm just saying, buy a brand new Rolls-Royce if you want quality, peasants.
4th Gear: Carmakers, Please Make Your Cars Symmetrical
Over the past few years, I'm sure you've all seen examples of the small overlap crash test done by the Insurance Institute for Highway Safety. The Mazda CX-9, in particular, did absolutely terribly back in 2014. Cars have gotten safer since then, with more and more examples earning a "Good" overall rating from the IIHS in the small overlap test. Sort of.
But if you were paying very close attention, you may have noticed that every instance of the test was exactly the same. The car would roll on down in the lab, and then smash into a little barrier. On the driver's side. Every time, on the driver's side.
Automakers got wise to this, and realized that if they only strengthened the driver's side, they could pass the test. At the same time, they could leave the passenger side weak and save a whole bunch of money for themselves, because automakers are really only interested in your life so long as they can make money off of it. The IIHS is now wise to this scheme, according to the Detroit Free Press:
Because of the angle of impact, the small overlap crash avoids most vehicles' main front crash protection structure. Over the last four years 13 automakers have upgraded the driver's corner crashworthiness to 97 models, partially in response to the small overlap test.

But few of those engineering changes to bolster the impact were also made to the right front corner.

"Right now we are discussing with the manufacturers when they plan to introduce passenger-side improvements," Mueller said. "If they plan to do that in a short time frame we may not need to add it to our Top Safety Pick criteria. If it takes longer we will."

In the meantime, please avoid crashing your car on the passenger's side. For the next few years.
5th Gear: It Sounds Like Volkswagen's Shareholder Meeting Went Well
Reverse: Mercedes Registered As A Brand Name
On this day in 1902, German automaker Daimler-Motoren-Gesellschaft (DMG) first registers "Mercedes" as a brand name; the name will gain full legal protection the next September.

Neutral: Are You Buying What Musk's Selling?
Tesla and Solar City, good idea or bad idea?