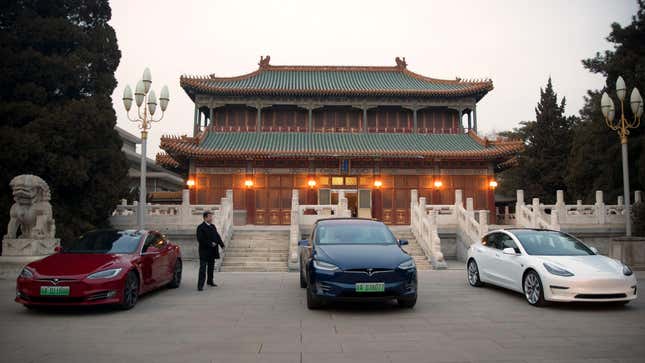 It's been a rough few months for Tesla, but now it's starting to look like its drastic price cuts in China are starting to pay off in terms of demand. Reuters reports that the automaker plans to boost output at its Shanghai plant over the next couple of months because demand has had such a big jump.
Tesla reportedly plans to produce about 20,000 vehicles per week in February and March according to a memo obtained by the news outlet. That level would bring Tesla's Model 3 and Model Y output back in line with where it was in September of 2022 at about 82,000 vehicles. That's back before demand was really a big issue for the Texas-based automaker.
In December of 2022, the Shanghai plant cut output by nearly a third from the prior month. It also extended its Lunar New Year holiday period for workers in January as a way to deplete the rising inventory it had built up. Then, it cut prices between six and nearly 14 percent in China, according to Reuters.
Tesla's Chinese cuts have reportedly started a price war in the country with Chinese automakers like Xpeng and Seres' Aito following suit.
In the first 29 days of January, the outlet reports that Tesla's average daily retail sales were up 36 percent over the same time last year in China — selling 25,686 vehicles in the country.
That increase in Tesla demand has created some real issues for home-grown EV makers in China. The South China Morning Post reports that the country's top three high-end EV makers — Nio, Xpeng and Li Auto — have all had slow starts to 2023. They all recorded monthly and year-on-year sales declines in January. Xpeng was especially hit hard. Deliveries dropped 53.8 percent in January.
"Apparently, Tesla's huge discounts [on its Model 3 and Model Y vehicles] siphoned off drivers' buying interest in the Chinese-developed smart EVs," Gao Shen, an independent analyst in Shanghai, told the outlet. "Overall, demand for expensive EVs appears to be weak, which could lead to price wars in the premium EV segment this year."