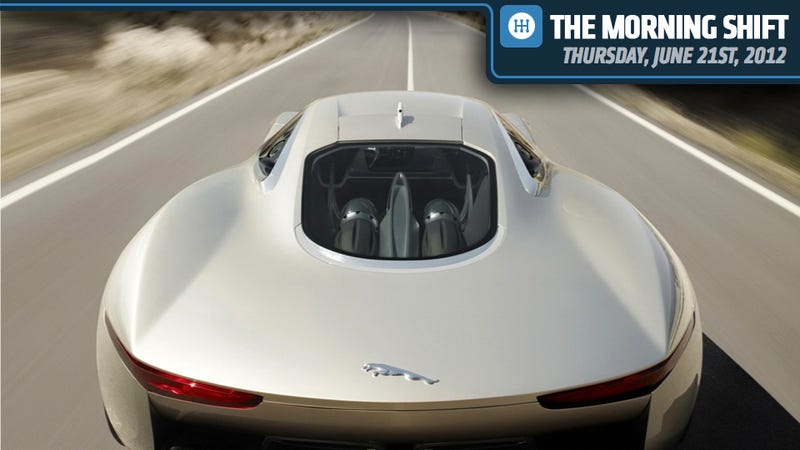 The Morning Shift
All your daily car news in one convenient place. Isn't your time more important?
This is the Morning Shift, our one-stop daily roundup of all the auto news that's actually important — all in one place at 9:00 AM. Or, you could spend all day waiting for other sites to parcel it out to you one story at a time. Isn't your time more important?
---
1st Gear: Ain't That Confusing, Car Buyers Say To J.D. Power
Forbes reports that confused consumers are giving car companies lower marks on J.D. Power surveys because they don't understand vehicle technology. This year's Initial Quality Survey, which measures a vehicle in the first year of ownership, found that the overall quality of cars and trucks is going up. But there's also been a 45 percent increase in complaints about audio, entertainment and navigation systems.
In other words, it's like the opera glasses that Julia Roberts used in Pretty Woman. She thought they were broken, until Richard Gere showed her how to use them. One of the reasons the complaints are rising, according to Edmund, is that car owners are keeping their vehicles longer than ever. They're coming out of relatively low-tech vehicles into sophisticated new models and trying out some features for the first time, like those little TVs that our parents think we have on our dashboards.
---
2nd Gear: Now You'll Have The Human League In Your Ear All Day
The Wall Street Journal (sub. required) reports Akio Toyoda went way off script at the Toyota annual meeting last week to level some complaints about the press in an unusually blunt way for a car industry executive, let alone one at a Japanese company. Toyoda apparently was upset by a critical story in Bungei Shunju, a respected Japanese magazine that's something of a business bible there.
According to the Journal's Chester Dawson, Toyoda said, "I am a flesh-and-blood person. Some of the things written about the company and myself are without sufficient understanding and are speculative. Others are tantamount to character assassination, and these have been quite honestly heart-breaking," Toyoda said.
He went on, "But more than me, it's tough to see our employees and their families hurting from this. Those articles don't bring joy to anyone. So if there are any media people in attendance, that's what I want to convey to them." At that point, Dawson says, many in the 3,860-member audience burst into applause. It's not the first time that Toyoda has surprised people by going rogue. Back in 2009, Toyoda choked up in front of a group of dealers and journalists, talking about how he appreciated the support Toyota had gotten during its recall crisis.
---
3rd Gear: Nigh Time Tesla Model S Gets Its Ratings
GreenCarReports says the Tesla Model S has gotten its fuel efficiency ratings, mere hours before owners are set to begin picking up their cars. The EPA has judged the Model S to get the equivalent of 89 mpg in combined driving, 88 in the city, 90 on the highway. The agency measured the car's range is 265 miles, which puts it at the top of electric cars in distance. (Don't get Matt started on that.) Tesla will begin doling out Model S cars at its factory in Fremont, Calif., on Friday.
---
4th Gear: Fuel Cell Fanatics Hope To Sway Obama
Bloomberg says proponents of hydrogen fuel cell powered cars are hoping that President Obama is warming up to the technology. They're basing that hope on favorable comments about fuel cells from two administration staff members. Fresh federal support for fuel cells would be a reversal for Obama and company. Energy Secretary Stephen Chu has questioned the merits of fuel cell vehicles, and has put much of the administration's focus on electric vehicles. It would take a lot of effort to pump up fuel cells' feasibility. There are only 56 hydrogen refueling stations in the country, according to the Energy Department, with half in California.
---
5th Gear: PSA Board Backs CEO; Does Family Want to Bid Adieu?
Reuters reports the supervisory board of the PSA Group, which oversees Peugeot, expressed its "complete support" of CEO Philippe Varin and his management team. The move came just hours after La Tribune reported the Peugeot family, which is PSA's biggest stakeholder, was looking to oust Varin, because they're unhappy with a strategy that includes a recent tie-up with General Motors. Peugeot derided the report as "rumors." But, it's been our experience that when a board of directors issues a "complete support" statement, you can start collecting dollars (or Euros in this case) in the departure pool.
---
6th Gear: Get Ready: Honda Plans To Recycle Rare Earth (Metals)
The Associated Press says Honda is going to begin recovering rare earth metals from its hybrid batteries. The company says that would be a first for the auto industry. The recovery efforts are part of Honda's efforts to be greener, says its CEO, Takanobo Ito. But there's also a spat brewing between Japan and China over access to rare earth metals. China, which produces 90 percent of the rare earth metals used around the world, is putting limits on exports. That's causing all kinds of worries for technology heavy companies that need the material for everything from fuel cells to fiber optics.
---
Reverse:
People Are Actually Willing To Buy Detroit's Sewer Bonds [(Wall Street Journal, sub. req.)]
100 GM Sites Are Trash Free [Detroit Free Press]
How Ford Became A Tech Company [CNet]
Hyundai and Kia Want A New Euro Look [Bloomberg]
A Bunch Of Big Thinkers Talking About Competitiveness [Harvard Business School]
Big Life Moves Change Our Commuting Habits [The Atlantic Cities]
---
Today in Automotive History
Ciao, tesoro! On this day in 1947, the Mille Miglia race came back to life in Italy after World War II. That was 20 years after the running of the first Mille Miglia, but race was suspended for seven years starting in 1940. Although the war officially ended in 1945, Italy had been torn apart by the conflict. Rubber and fuel were still being rationed, and the country's roads and bridges had to be rebuilt. By 1947, organizers had mapped out a new 1,800 kilometer route, and 155 drivers set off for the race, eventually won by an Alfa Romeo. [History]
Show us your tips!
Got tips for our editors? Want to anonymously dish some dirt on a competitor? Know something about a secret car? Email us at tips@jalopnik.com.
Lost in our new layout?
Click here for the Opposite Lock or Tips forums. Want a more "blog-like" look? Click the button up top next to "Top Stories."
Get more Jalopnik!
Want even more Jalopnik? Want to know which of your friends read us? "Like" us on Facebook and follow us on Twitter.