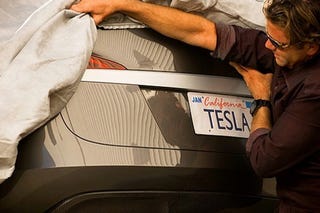 Tesla Motors CEO Elon Musk sent an announcement-filled email to customers today, including a March 26th date for the Tesla Model S reveal, a profitability promise, new stores and a curious statement about government funding.
This latest announcement brings news of the Tesla Model S, the company's long-planned affordable electric sedan, which will get a prototype rollout on March 26th. Helping keep the development, and therefore final, cost of the Model S down, Musk announced some funds from the company's $350 million loan request to the Department of Energy to be released in the next six months.
What he didn't say is that their application was approved. He didn't specifically say how much, if any, money is coming to Tesla. We've contacted Tesla for a comment so we'll know for sure whether this vague statement of some funds going somewhere was merely a rhetorical miscue or an actual attempt to mislead people as to the future financial state of the company.
UPDATE: We've gotten an update from a Tesla spokesperson confirming they have not received funding, though they're in the later stages of applying. No one has yet to receive an approval, so it isn't as if they have been left out. According to Tesla's Rachel Konrad: "It's important to note that we have NOT received final confirmation from the DOE that we will receive funds. None of the 75 applications have received final approval. However, we are in the later stages of the loan application process, where the DOE is evaluating Tesla's financial viability and technical merits. The DOE is doing its due diligence, and we are very optimistic about a relatively expedient timeline for disbursal of funds."
For future customers, Musk further announced the opening of shops in Chicago and London's Knightsbridge district, with more stores coming in Manhattan, Miami, Seattle and Munich. The news from Tesla has been mixed lately, as the company has had to deal with the Carpocalypse, layoffs, lost court cases and other assorted bad news. On the other hand, the company has also announced strategic partnerships and new models.
Musk once again reiterated his belief the company will be profitable by mid-year, which seems like a more reasonable statement when you raise the price on already ordered Roadsters. Full news in the press release below the jump.

Tesla to be Profitable by Mid Year

The $40M financing round completed in December was twice the amount Tesla needed to reach profitability. Moving forward two months later, we remain on track with our cost reductions and production ramp, so it appears highly likely that Tesla will meet the goal promised to those investors of becoming profitable by mid year.

The main reason for this confidence is that Tesla is already in the fortunate position of being sold out until early November, something few automakers can claim, and will soon be sold out of all 2009 production. While we have had some cancellations due to buyers experiencing personal financial difficulties, new orders continue to flow in every week from the United States and Europe. We have now produced more than 200 Roadsters for customers and there are more than 1,000 customers still awaiting delivery.

Due to our order backlog, it seems that owning a Roadster can be a good investment. Last September, as the financial and real estate markets began crashing, a Roadster was sold at the Sonoma Paradiso in California wine country for $160,000, well above the current list price of $109,000. Many Roadster owners who have taken delivery of their cars have already decided to purchase a second Roadster or Roadster Sport because they like the first one so much.

The continued strong demand is driven by the fact that the Tesla Roadster has no direct competitors. It is faster than almost any sports car on the market (our Roadster beat a Porsche GT3 on the Top Gear test track) and yet uses less energy and has a smaller carbon footprint than a Toyota Prius, even if you assume the worst possible case where all electricity comes from coal.

I expect sales demand to strengthen further as this awareness grows. After all, what's the point of driving another exotic sports car when it is slower than a Tesla and damages the environment? Already, the Tesla Roadster is the car of choice among the technology, business and Hollywood A lists – this year's Academy Awards will be a lineup of Teslas – and we have never had to give a discount to anyone.

Many customers also appreciate the fact that profit from their purchase goes towards helping Tesla develop more affordable, mass market electric cars. The same cannot be said for those who buy gas-guzzling sports cars from other automakers.

And owners aren't the only ones impressed with the Roadster. Road & Track was the first auto enthusiast magazine to perform third-party, instrumented testing on the Roadster; they were "pleased to see its extravagant claims confirmed." The Washington Post's Warren Brown gushed, "Wheeeeeee! If this is the future of the automobile, I want it." Dan Neil of the Los Angeles Times had perhaps the most colorful description we've seen to describe the Roadster's scorching acceleration: "God has grabbed me by the jockstrap and fired me off his thumb, rubber band-style. Wow." And we've also had a torrent of reviews in Europe, where deliveries begin this summer – including a Le Monde story with our favorite headline: "Le chic électrique."

Unveiling the Model S and DOE funding

On March 26th, at the Tesla design studio located within the SpaceX rocket factory, we will unveil a street-drivable prototype of the Model S four door sedan. Our objective with the Model S was to create one of the most functional, intuitive and beautiful vehicles on the road. Tesla Roadster customers and select VIPs invited to the event will have an opportunity to judge for themselves firsthand whether we have succeeded.

Regarding funding, I am excited to report that the Department of Energy informed Tesla last week that they expect to disburse funds from our $350M Model S loan application within four to five months. The Obama administration has thankfully made it a top priority to move quickly on the Advanced Technology Vehicles Manufacturing loan program, as this will both generate high quality jobs in the near term and lay the groundwork for a better environment in the future.

This will keep us on track for production to start in 2011. As a gesture of gratitude for their early support, Roadster owners will receive a $10,000 discount off the price of the Model S Signature series and automatically be first in line for the sedan.

Daimler Partnership

We announced last month at the Detroit auto show that we have been working with Daimler (maker of Mercedes) for over a year to create an electric version of the Smart car. Daimler has contracted with Tesla to build the battery packs and chargers for an initial run of 1,000 cars. Pending the results of that test fleet, the relationship could expand to tens of thousands of cars per year.

This is a very significant endorsement of both Tesla's technology and our financial strength by one of the world's most respected automotive companies. Daimler would not feel comfortable depending on us for this program if they felt that either our technology was easily replicated or that we were in financial danger.

Daimler was the first company to commercialize the internal combustion engine and has become a benchmark for automotive quality and reliability. It is an honor that they chose to work with Tesla after a thorough investigation of other options. The deal is likely to be the first in a series of strategic partnerships between Tesla and other auto manufacturers to engineer and produce electric cars.

My goal for Tesla from the beginning was to do whatever we can to help end the world's addiction to oil. We'll do that by making cars directly, helping other automakers develop cars, and serving as an example to the rest of the industry. Although the Roadster is still the only highway capable production electric car for sale in the United States, it was very encouraging to see that the central theme of the Detroit auto show this year was electric transportation. J

New Tesla Sales & Service Centers to Open

We have reached agreement on Tesla store leases in Chicago and London's Knightsbridge district, and we are close to finalizing locations in Manhattan, Miami, Seattle and Munich. All six facilities will open this year, and in the following months we'll provide details about individual store opening parties. These new stores will offer prospective customers the chance to see and drive the Roadster in person – and they underscore Tesla's commitment to looking at the auto industry with fresh eyes. Unlike traditional franchise dealerships, Tesla owns its stores and controls the customer experience. We think you'll agree that our stores are a refreshing change from the way most people have bought cars for the last 50 years.

Roadster Sport

Tesla is now taking orders for the Roadster Sport, an even higher performance car that does 0 to 60 mph in 3.7 seconds. It comes with a hand-wound stator and increased winding density for lower resistance and higher peak torque.

The tires are upgraded to Yokohama Ultra High Performance and the suspension features adjustable dampers and anti-roll bars tuned to the driver's preference – allowing for both softer and firmer rides than the standard Roadster. Deliveries are expected to begin in late June.

Upgraded Roadster Interior and Other Options

Tesla will soon offer an Executive Leather Interior that raises the level of luxury in the Roadster's cabin. We are also offering a Clear Carbon Fiber Exterior Package to add an additional level of sportiness and highlight the lightweight material that makes up the Roadster's body. Currently, the only exterior clear carbon fiber touch on the base model is the roll bar cover – but many customers and fans have asked if we could reveal more of this exotic, braided material. These packages will be available starting in June.

Battery Replacement Program

One of the top questions customers ask about the Roadster is, "How long will the battery last and what will it cost to replace?" Tesla engineers have determined that a Tesla battery pack should last approximately seven years or over 100,000 miles under normal use.

Customers may pay $12,000, €10,000 or £9,000 up front and in return receive a replacement battery pack after seven years. Customers will also have the option of replacing the pack earlier at a premium or later for a partial refund. With the low production volume of the Tesla Roadster, the current replacement price of the pack is almost three times that number. The main reason for the relatively low cost up front — and why this is a smart purchase — is that we are arbitraging the relative cost of capital between Tesla and our typical customer.

Extended Warranty to Double Standard Period

Many customers have also asked to purchase an extended warranty. We now offer a doubling of the standard warranty, which means an additional 3 years and 36,000 miles or 60,000 kilometers, for $5,000, €4,000 or £3,800.

This covers everything on the car except the battery pack. Should the motor, power electronics, HVAC or any other major system need to be replaced, this will be money well spent, and it provides peace of mind to many customers.

Thanks for your support!

— Elon —