Tesla has heard the concerns over its plans to produce 500,000 cars annually by 2020, so in today's quarterly earnings call, the automaker revealed that it's moving its production forecasts two years earlier to 2018. If we were sitting at the proverbial poker table, Tesla just went all in.

Tesla once had a dream of being net-profitable by 2016. Well throw that nonsense out the window, because they now have over 400,000 Model 3 reservations to make good on by the end of the decade.
The new forecast not only calls for worldwide production of 500,000 cars per year by 2018, but Tesla is aiming at getting started on those Model 3 reservations by manufacturing up to 200,000 of the new compact "affordable" $35,000 EVs by the end of 2017. The goal is for the Model 3 to be production ready by July 1st next year. So how does Tesla plan to do this?
That's the multi-billion dollar question, my friend. The deposit collection off of the warm welcome from depositors to the new Model 3 back in April isn't going to be enough to finance Tesla's new future, so they need money. According to a report by Liam Denning over on Bloomberg, which you need to read if for the pretty graphs alone, Tesla's net debt has skyrocketed to almost $1.6 billion. From Denning:
Before Wednesday's announcement, analysts were already forecasting full-year cash burn of about $820 million, according to figures compiled by Bloomberg. Factor in new capital expenditure guidance — which Tesla is still "re-evaluating" — and that widens to almost $1.6 billion.

Tesla's cash balance at the end of the first quarter was $1.4 billion. Throw in, say, $400 million from Model 3 deposits, and that leaves $200 million — far short of the $1 billion Tesla's CFO in February called "a nice comfort level" for running the business. Tesla does have additional liquidity via its asset-backed credit line.
G/O Media may get a commission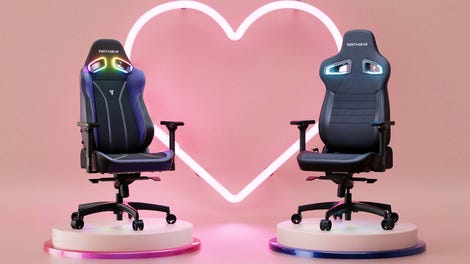 Up to $150 off
Vertagear Gaming Chairs
Adding to that "discomfort" is the loss of two manufacturing executives this week and the fact that Tesla didn't quite reach first quarter estimates with the Model X this year, which is also suffering from quality issues. Yet the company still plans to reach its previously announced target of 80,000 to 90,000 deliveries by year's end, with a production goal of 2,000 cars per week by the end of this quarter.
But, and it's a big "but," this is just Tesla moving its stated goals earlier. The company has never met a delivery deadline for a model, and 100,000 to 200,000 Model 3s by the end of 2017 sounds like a joke with the recent launch of the troublesome Model X. As always, Tesla left out how it plans to actually manage a 500,000 annual production capacity (which it claims its Fremont factory is capable of) in two years time, and frankly, it sounds impossible right now.
Where Tesla will get the resources and money to complete its already lofty goals in literally half the time is yet to be seen. But according to Elon Musk on call today, the team is "super focused" and there will be penalties for anyone who doesn't meet the new timeframe.
Apparently Elon also claimed to have a sleeping bag in his office, a fact which you just know he's going to hang over everybody's head when they start to complain about how hard it is to revolutionize the automotive industry.
You can check out the full earning's report here.