Welcome to 2023, everybody. As the rest of us are taking down our streamers and disposing of our novelty New Year's eyeglasses, automakers are carrying out a much less mirthful task: Compiling and releasing their year-end sales numbers for 2022. These are the figures that stock traders love, metrics by which investors justify all those dollars spent betting on their corporation of choice. But for Tesla, those numbers seem to be dragging the company even further down.
This NYC Garage Takes Vanlife To The Next Level | Jalopnik Visits
See, last year, Tesla made some big promises about its sales numbers. It swore deliveries would increase by 50% over 2021, maintaining the perpetual growth that business folks care so deeply about. Yet, by the time the ball dropped, the company was still desperately scrambling to meet those lofty goals.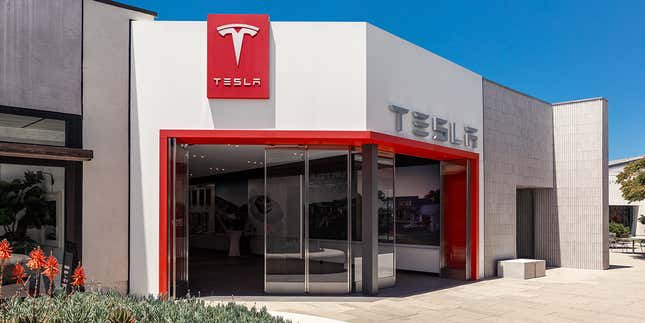 According to the Wall Street Journal, Tesla's global sales target for 2022 was just over 1.4 million cars — just a bit below the number of cars that Honda sells every five months. Yet, according to figures released yesterday, Tesla only managed to move 1.31 million units by the stroke of midnight on December 31.
That's not for lack of trying on Tesla's part. The company even offered steep discounts on Model 3 and Model Y cars at the end of the year, hoping to give its numbers a year-end jolt. Sales did spike, but they weren't enough to get Tesla across the line it drew.
Investors, of course, generally seem to love it when companies can't reach their own goals. As of this writing, Tesla is down nine percent in early-morning trading and still falling. The company's stock has been collapsing for months, losing over 65% of its value in 2022, and these delivery numbers certainly aren't assuaging any fears that Elon Musk may be too focused on Twitter to run his car company. Whether this drop forces his attention back to Tesla, and its ever-shrinking valuation, is anyone's guess.