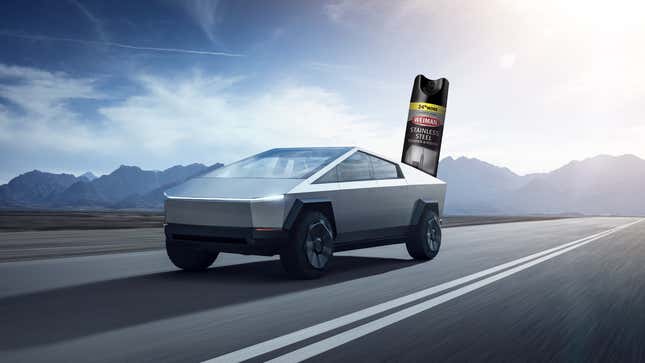 If you weren't aware, the extremely real Tesla Cybertruck was designed with inspiration from the DeLorean DMC-12. That means hard edges, angles, and —most importantly — that smooth, unpainted stainless steel finish.
But as anyone who's ever owned a stainless steel fridge knows, that stuff is fragile. It scratches, it scuffs, and it leaves you panicking when your lease is up, with the realization that there's no way you're getting your security deposit back. But Tesla, it seems, has a solution: An included DIY method of removing scratches, as reported by Inside EVs.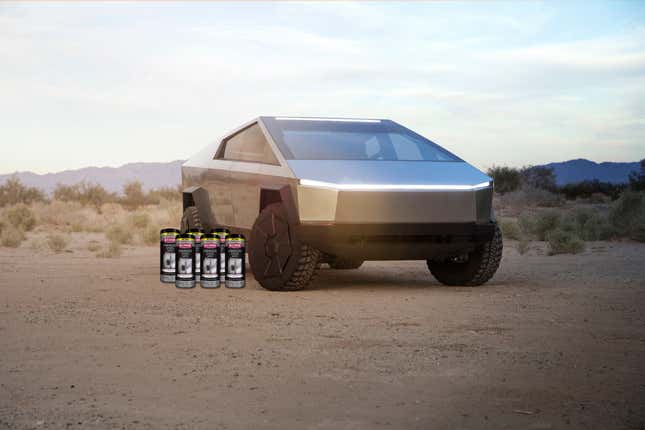 Tesla design chief Franz von Holzhausen, shared with the podcast "Ride the Lightning" that the company wants owners to repair their own cosmetic damage. "... in the event that there is a scratch, we do have a process that you could yourself basically buff it and remove the scratch as well and return to the basic finish that's on the stainless," Von Holzhausen shared. He touts that this created "intentional finish" over the stainless steel could be "cured or fixed," and differs from the stainless steel cleaners for refrigerators. But I still like to imagine the company has a different solution up its sleeve: store-bought stainless steel cleaners.
Imagine that. After years — possibly centuries — of waiting, your shiny new Cybertruck finally enters production. It shows up on your doorstep as soon as it rolls off the assembly line, thanks to advanced Teslaportation technology, and the glovebox is just stuffed with stainless steel cleaning wipes from Target. As soon as you open it, they're falling everywhere and you just know there's no way they're all going back in.
The bed is full of aerosol bottles of stainless steel cleaner. The rear seat is buried under mounds of microfiber. This is the future I want, my dream for the Cybertruck's final exit from what may well be millennia of production hell. Elon, please, I know you've got your fancy-pants coating. Strip it off, and just give your buyers some Target-brand cleaners. It would be a good bit, and what do you love more than a bit?