Tesla CEO Elon Musk has made it no secret that he'd like to "anti-sell" the Model 3, as a way to tamper high demand and perhaps avoid siphoning off interest for the company's more expensive and more profitable vehicles, the Model S and X. Well, it seems some of the automaker's sales staff took that to heart, as Model 3 reservation holders have reported being pressured to buy a Model S instead.
Stories about this have filtered on the r/TeslaMotors subreddit, with this one in particular as recent as yesterday.
Auto news site Electrek got a hold of an email from a Tesla owner advisor that was sent to a Model 3 reservation holder in Texas. In the email, Electrek says, the reservation holder is pushed by the advisor to buy a Model S 75 instead, which the advisor described as being "the same cost" as a Model 3. (This isn't true, even when compared to a fully-optioned Model 3.)
Tesla told Electrek they didn't approve of the email that was sent to the owner, a point echoed when Jalopnik reached out to the company on Tuesday.
G/O Media may get a commission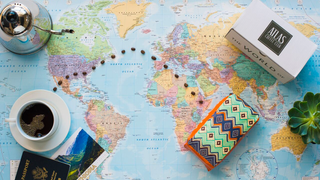 First Bag Free
Atlas Coffee Club - Free Coffee
Explore global coffee
With each bag, Atlas includes details on the coffee's tasting notes and a postcard about the region and its coffee history. And when you subscribe, you have options to tailor frequency, grind size, and roast preference of your beans, so you'll always be brewing the perfect cup.
Tesla said it's aware of the reports and that it addressed the issue last week with the company's sales team.

The reported sales pitches have tied in the $7,500 federal tax credit for electric vehicles, which is a crucial point for Tesla. That figure will be cut in half once the company delivers 200,000 vehicles in the U.S., which is why it's relevant at the moment. (Most estimates suggest the $7,500 credit won't expire until the middle of 2018.)

Anyway, here's one story from a redditor:
I'm a day 1 Model 3 res holder in CA. Delivery estimate for first production is Nov 2017-Jan. I have been interested into going for a new Model S after realizing the config of the Model 3 I wanted was $56.5k vs $79k for a Model S of my choice. The quicker 0-60, storage space, auto liftgate, air suspension, quicker delivery and better looks (subjective) is what is drawing me in. I went in wanting to see the interior difference between textile and vegan and called ahead to let them know my interest. I get there and they said there is no textile in inventory as they had reported when I called. The store reps were trying to sell an inventory model and said if I didn't act quick I would miss out on the full tax incentives, which I knew was complete BS. They even said if I custom built a Model S with delivery of late September it also might be cutting it close and not guaranteed to get all credits. The inventory model was more expensive then the new 75 build I wanted and didn't have the air suspension and new faster drive unit. I'm probably going to wait till the first reviews and unbiased comparisons come out before making a decision now. Also the 3s longer range, newer computing power (less ui lag), and similar interior storage makes it tough to spend on the S. Just disappointed that I got the grimey salesperson feeling that traditional dealers are known for.
Another user wrote:
This happened to me as well (day 1 reservation CA). They implied that there was only a $3k difference in price between the models (comparing fully loaded 3 vs. base S w/ tax credit). I told them this was very misleading and corrected their understanding of how the tax credit works.

Thought this was a one-off case (San Francisco location), but sad to hear this is more widespread.
For what it's worth, Tesla sales staff doesn't earn commission per car, and a user claiming to be a worker said the company's actively seeking to address these kinds of issues as they've come up. Tesla told Jalopnik the reported behavior isn't condoned by the company.
Know anything about how the Model 3 is being sold to customers, or have anything else you want to share? Drop a line at ryan.felton@jalopnk.com.