Belgium has been on high alert for terror attacks since the November 13th attacks in Paris. Now those anxieties have become a reality with one attack hitting a check-in area at the Brussels airport and two others hitting Brussels subway stations, leaving dozens dead or wounded. The attacks come just four days after the suspected logistical mastermind of the Paris attacks was apprehended during a raid in the Brussels suburb of Molenbeek.
As it stands now, 15 have been killed and 55 injured in the attack on the Molenbeek and Schuman subway stations and 13 killed and 35 injured in the Brussels airport attack, according to news reports. The death toll is likely to rise as many of the injured are in critical condition and these statistics are always reevaluated once the situation is brought under control.
Here is video from the airport attack:
Here is video following the subway attack:
The attacks happened about an hour apart, with the airport bombing occurring first at 8AM. The method of the airport attack is said to have been at least one, but possibly two suicide bombers, according to reports; the subway attack method remains unknown.
G/O Media may get a commission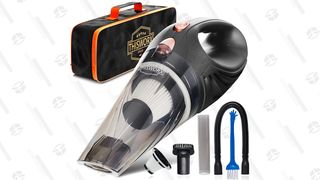 Save 50%
ThisWorx Car Vacuum Cleaner
During a series of raids in Brussels over the last two weeks, a trove of terror-related items were discovered. Seized items included AK-47s, ammo, and detonators as well as ISIS-related paraphernalia. The raids culminated in the arrest of Salah Abdeslam, who is thought to be one of the key organizers of the Paris attacks. Not only was his arrest publicized but so were reports that he was cooperating with authorities. It is possible that his arrest accelerated a terror cell's plans.
Today's attacks also come just days after another ISIS suicide bombing, killing four and wounding 36 in a popular Istanbul shopping district.
Many European countries have elevated their terror alerts, and Belgium has ordered a massive stand-up of its armed forces. Security upgrades at the country's nuclear installations are also underway.
More as it comes available.
Update: 5:42AM PST- Here is video shot shortly after the airport attack.
Update: 6:27AM PST- Here are updated causality numbers from the attacks.
Update: 7:37AM PST- An unexploded suicide belt was found at the Brussels airport. This may mean that one of the terror team is still on the run. Also, one of the airport attackers fired an weapon and was yelling in Arabic before detonating an explosive. An AK-47 style rifle has been found at the scene.
Update: 8:18PM PST- This video has been posted showing the horrific scene following the attack at Brussels Airport.
Update: 8:31PM PST- ISIS has claimed responsibility for the attacks.
Update: 9:31PM PST- This is likely a confirmation of the unexploded suicide belt found at the airport after the attack.