Rise and shine. It's time to make the donuts. Last week I asked my faithful, frugal, and fastidious readership to find the best rear wheel drive cars for less than ten large on eBay. What you found was nothing short of "Dude, sweet." Here are the best cars with the right bits, for the right price.
---
10. 2004 BMW 330ci
---
The BMW E46 3-series was, and still is one of the most versatile and desirable chassis models of all time. This one has an incredibly modern and sporty look, with the ZHP performance and styling package. It's in amazing shape, and with a few choice mods, it could be a real M3 killer without the expensive maintenance that goes along with the "M" badge. Get it to prove that the Ultimate Driving Machine can also be the ultimate bargain.
(Suggested by wisstig96)
---
9. 1966 Volvo Amazon
---
G/O Media may get a commission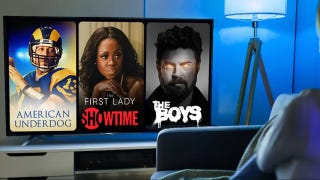 UNDER $1
99¢ Prime Video Channels
If you buy this car - an original, underpowered, four-door Swedish car from the '60s with an understated paintjob- you will be accosted by hipsters and automotive enthusiasts. If you're OK with the extra attention, this car is an absolute blast to drive. It's a true classic that you could realistically drive every day, and at this price, it may just appreciate, so you'd essentially get paid to drive it.
(Suggested by JayHova)
---
8. 1987 BMW 325is
---
Everyone knows that the E30 M3 is the unicorn of BMW's M lineup, but a little-known secret is that if you want a car that's more torquey and has nearly identical handling for 1/10th the price of an E30 M3, you get a 325i. This amazing red number has one owner, and save for a few cosmetic blemishes, runs perfectly and will continue to do so until time itself calls it quits. This is too nice for a Lemons car, but it' a great choice for a daily donut machine.
(Suggested by Audistein)
---
7. 1970 Volvo P1800E
---
I may be the only one saying this, but the Volvo P1800 will be the next uber-popular classic car. You can find good-looking examples like this beautiful fuel injected version for less than five figures, with six figure looks and dead-on reliability. It's not fast, but at this price, it certainly can be. Just imagine - a Volvo P1800 with a '80s Toyota inline-six engine with independent throttle bodies. I need a minute.
(Suggested by DodgeViperAddict)
---
6. 1982 Mercedes-Benz 300CD-T
---
Five cylinder engines are amazing, if only for the fact that a motor with an odd number of cylinders is a technological masterpiece if you've ever seen one in motion, with its weird firing order and balance shafts making sure that it doesn't shake itself apart. What's even more of a modern miracle is that this car is one of the most reliable coupes ever made. Its turbocharged diesel engine gets this car up to adequate highway speeds with ease, and a rust-free chassis means that you'll fall apart way before it does.
(Suggested by AJ Feldman (alecmets2011))
---
5. 2004 Mercury Marauder
---
This is the closest thing to a cop car that can actually outrun said cop car. I'll let evodad explain:
looks like a cop car on the outside (so everyone will get out of your way on the highway) but more comfy on the inside. Plus rwd and 300+hp v8. I've also always liked it's simple dual exhaust as well
(Suggested by evodad, Thunderface)
---
4. 2004 Pontiac GTO
---
This Pontiac, originally designed as an Australian Holden Monaro, wants to be American so badly that it dressed itself up like a slice of American cheese. It has a loud V8 at the front, rear wheel drive and the back, and a pedal that converts the tires into instant smoke and smiles. They don't usually come this cheap, so get one before burnouts are outlawed. Wait, they're illegal already? Thanks, Obama.
(Suggested by rickdeaconx)
---
3. 1970 Ford Torino Squire
---
Remember the "murdered-out" fad that was popular for about a week in 2006, yet every new exotic car owner thinks they're trendsetting by doing it via spray tanning their headlights and plastidipping their rims? This '70s super cruising family nightmare-mobile was the originator. I wonder what it would look like doing a wheelstand, with five screaming children in the back. Lucky kids.
(Suggested by Jonee)
---
2. 1966 Chevrolet Impala
---
Before cars became what your grandpa would call " cheap plastic shit", the automobile was made of steel, had a large engine that drove the rear wheels, and above all else, was freaking large. This Impala is nearly 18 feet long. A Smart Car could fit in its trunk with enough room for several more Smart Cars. Although parking the car could be a problem with today's #millennials, it's a flash back to a past that we may just need to revisit again.
(Suggested by High Road)
---
1. 1999 BMW 540i/6
---
Could it be anything else? It has an amazing sounding V8, the best handling this side of any modern BMW, less maintenance woes than the higher-spec M5, and the same six-speed GETRAG gearbox and interior trim. It's an unmistakably insane value for the price, and there's even room in the budget for some interesting and hoon-worthy mods. This may just be the perfect car for under $10,000.
(Suggested by AJ Feldman (alecmets2011))
For more great eBay challenges, check these out:
---
Tavarish is the founder of APiDA Online and writes about buying and selling cool cars on the internet. He owns the world's cheapest Mercedes S-Class, a graffiti-bombed Lexus, and he's the only Jalopnik author that has never driven a Miata. He also has a real name that he didn't feel was journalist-y enough so he used a pen name and this was the best he could do.
You can also follow him on Twitter and Facebook. He won't mind.