Over the weekend, I asked you forward-thinking bunch to pick out the best classic cars on eBay for less than $50,000 - right in the sweet spot of getting a good quality original or restored classic that's due to appreciate. Here are the ten best cars to start a future collection.
(Photo by Steve Glover on Flickr)
---
10. 1987 AMG Hammer
---
In the 1980s, speed and power dominated car culture. Supercar manufacturers were trying to outdo themselves at every turn, creating more sleek and aerodynamic shapes with larger and larger engines. Enter AMG, with their 6.0 liter V8 wrench in the plans of every other car manufacturer of the time. This AMG Hammer was faster than the Lamborghini Countach from 60-120 miles per hour, and it sat four people in relative luxury. It was a game changer and a dead ringer for a future appreciating classic.
(Suggested by mbz-amg)
---
9. 1980 Ferrari 308 GTB
---
G/O Media may get a commission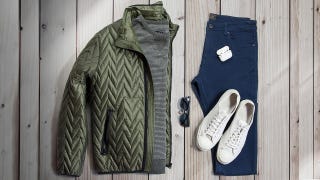 60% off
Jachs NY Fall Sale 60% Off
Magnum P.I.! The '80s! Cocaine! Zebra Stripes! $700 Oil Changes! This can be your life if you buy this awesome Italian icon. I'll let icemilkcoffee explain:
Yes I know your average V6 Accord will blow it out of the waters in every measurable performance yardstick. But hey- does your Honda Accord have a popular crime-fighting TV series? You simply cannot quarrel with those lines. The value can only go up from here no different than the earlier Dino's. I picked the much rarer GTB instead of the GTS because the latter is just a tad too pimptastic for me.

(Suggested by icemilkcoffee, BenLikesCars)
---
8. 1956 Ford Thunderbird
---
There's nothing more classic than a big American drop-top with a big American V8. This Ford Thunderbird looks absolutely pristine, with the added benefit of a fully working air conditioner retrofitted. If you want an awesome classic cruiser, it doesn't get much better than this.
(Suggested by PatBateman)
---
7. 1985 Volkswagen Vanagon Camper Van
---
Whether you like the utilitarian styling and no-nonsense features of this camper van or not, it's been a staple in the industry since its inception. Now, prices for clean 1-owner vans like this one have skyrocketed and it's a great time to get into the original or restored Vanagon/Westfalia market while you can still afford it.
(Suggested by hgrunt)
---
6. 1996 Porsche 911 C2
---
No classic car list would be complete without a mention to the originator of the phrase "What depreciation?" - the Porsche 911. Every single Porsche model is increasing in price so fast that it's nearly impossible to find a 30-year old model less than $30,000, when just a few short years back, you couldn't give them away for $10k. This Porsche 993 C2 Coupe is one of the last air cooled Porsche 911 models made, and this one looks to be in amazing condition, with a few choice modifications. With the market on such an extreme uptick with these cars, it's literally impossible to make a bad move buying a 911. If you overpay, just wait a little longer and you'll come out on top.
(Suggested by In a Mini; let them mock me as My Mini Countryman is higher than you)
---
5. 1968 Lancia Fulvia
---
Italian cars from the '60s are the coolest things on four wheels, that's just a fact. This Lancia Fulvia, with its minimalistic lines and likely temperamental mechanicals is one of the cheapest fully functional Italian classics you can buy today. With prices for early Lancias reaching well into the six figures, this cool little number seems like it's on its way to appreciate over the coming years without a doubt.
(Suggested by felixthegrumpycat)
---
4. 1967 Ford Mustang Fastback
---
The Ford Mustang was the catalyst for the muscle car craze in the '60s before the party was shut down in the '70s to make way for new emissions regulations. This Mustang fastback, with its 390 cubic inch big block V8 was the embodiment of the carefree attitude to miles per gallon and CO2 emissions. It was built to deliver thrills, and it certainly delivered. This one was nut-and-bolt restored on a rotisserie, as the seller states that he spared no expense. Maybe the seller is John Hammond.
(Suggested by americanmuscle)
---
3. 1976 Jaguar XJ12 Coupe
---
This car was the epitome of British luxury in the '70s, which means that it had 21st century concepts with 19th century technology. While this example looks absolutely amazing as it has been restored (and will likely appreciate), may your personal god have mercy on your eternal soul if the mechanical fuel injection has a fault. I'd buy one for my collection, if only to laugh in the face of uncertainty every time the car starts fault-free.
(Suggested by ShirtBloke)
---
2. 1969 Mercedes 280SL
---
This one may be a bit over budget, but it goes to show you how far this market has truly come. This immaculate example of the beautiful Mercedes SL is a sure bet to gain value in the coming years, as you will likely never see one as clean or as well taken care of ever again. Although this one may be just out of reach, other examples can be had for much more reasonable money and are also due to gain in value, just for being the durable German workhorses that they were designed to be.
(Suggested by Alex87f)
---
1. 1972 Alfa Romeo 1300 GT Junior
---
For less than half of the budget, you can have a near perfect example of a '70s Italian icon. Everything looks brand new, and all it would need is a swooping countryside or mountain pass to give you that one perspective-filled drive that you need every now and then. This car is the business, and as an appreciating asset, it'll be more reliable than any 401k. Get it. Now.
(Suggested by TipoStradaleFever)
For more awesome eBay challenges, check these out:
---
Tavarish is the founder of APiDA Online and writes about buying and selling cool cars on the internet. He owns the world's cheapest Mercedes S-Class, a graffiti-bombed Lexus, and he's the only Jalopnik author that has never driven a Miata. He also has a real name that he didn't feel was journalist-y enough so he used a pen name and this was the best he could do.