What's the maximum amount of cylinders you can have in a car without being some insane Bond villain or an aspiring Jay Leno? That's right, 12. Last week I asked you displacement-loving bunch to find the best cars on eBay under $25k with a 12-cylinder powerplant, and here they are. Get ready, it's gonna get good.
---
10. 2004 Volkswagen Phaeton
---
It's a Bentley. It's a Bentley. It's a Bentley. That's all anyone that owns this awesome VW Phaeton will tell you about it, and before you sharpen your makeshift shank to shut them up for good, please note that they're not wrong. The drivetrain and body electronics, minus the turbochargers and some bespoke woodgrain nonsense, is nearly identical to the one in the Bentley Continental GT and Flying Spur. It's a car that proclaims that all men are created equal, with some clearly more equal than others. It's a car that proves that Germany has a wonderfully elaborate sense of humor.
(Suggested by PilotMan, 72Riv)
---
9. 2007 Audi A8 W12
---
G/O Media may get a commission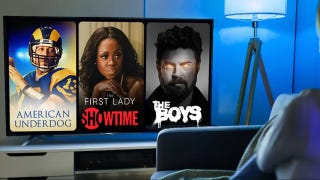 UNDER $1
99¢ Prime Video Channels
This remarkable Audi A8 shares a lot with the Phaeton above, except that no one expects a Volkswagen owner to have spent $100,000 on their car while it's practically a rite of passage for any real Audi owner. (I kid. Not really.) Make no bones about it, it's a high-maintenance German super luxury sports sedan. It will out-accelerate most things on the road, and will eat the lunch of nearly any car that dares to challenge it to a one-on-one luxury-off. Amateurs need not apply.
(Suggested by damnthisburnershitsux)
---
8. 1999 Rolls Royce Silver Seraph
---
This entire car was built by one man over the course of two painstaking years in a cottage near Crewe, England. Sound legit? It isn't, but it could be, and that's the appeal of an old Rolls, especially one so insanely complicated that it had four cylinders over the traditional 6.75 liter V8. Maintaining this car would be akin to having several small yachts, a spend-happy yet distant spouse, and an incorrigible kid who doesn't understand that there are some things you just don't do in boarding school. Actually, if you have a V12 Rolls Royce, that all sounds like par for the course. Carry on.
(Suggested by BenLikesCars)
---
7. 1993 Mercedes-Benz 600SEL
---
When was your rough draft your best draft? Never, that's when. But you're not Mercedes-Benz, unless you are, in which case, good for you, you forward-thinking bunch. MB had perfected the V12 in the W140 S-Class, and made it a luxo-liner that you were proud to drive. Jag V-12 reliability be damned, this one has a powerful and reliable lump that to this day, still propels its aging and iconic models on the road, at a considerable and effortless rate of speed.
(Suggested by Erik)
---
6. 1951 Seagrave Fire Truck
---
Did I mention it's a fire truck?
You want original? You want a true, one of a kind 12-cylinder behemoth and a proper 5-speed manual? And (maybe) diesel? Do you also want to transport 300 gallons of water? Check out this restomod 1951 Seagrave Fire Truck!!! It's $25,900, but I'm sure it can be yours for $25k even. Honestly, this is pretty much the only option that's not 15-25 year old German (or English) Luxobarge.
(Suggested by meanornice)
---
5. 1941 Lincoln Continental
---
This is a black, 12-cylinder coupe with a rakish rear with a spare tire mounted on the trunk. I'm pretty sure this car has hideaway compartments for contraband and also comes with a Tommy gun gift certificate. It's the quintessential mobster's car, complete with the Ford-Zephyr V12 that was made popular by some of the most stylish pre and post-war cars ever made. It's indicative of the thinking of the day - complicated and elegant solutions for simple problems. If it's good enough for grandpa, it's good enough for you, dagnabbit.
(Suggested by damnthisburnershitsux)
---
4. 1971 Jaguar XKE
---
Stop reading this and buy this V12 Jaguar right now. In ten years, sell it and enjoy the fact that all your credit card bills are paid and your kids don't have to worry about student loans ever again. That's how insanely valuable a Jaguar XKE is. Buy it at any price and be paid to wait. It's the most desirable car by a fair margin, and it wil only get rarer. This 20-year garaged example is as honest as they come. It's worth a look at the very least, and at this price, I'm not sure why you would get anything else.
(Suggested by damnthisburnershitsux)
---
3. 2005 Mercedes CL65 AMG
---
Consider this car to be the two-door S-Class, because that's exactly what it is. It also has a twin turbo V12 producing a monumental 604 horsepower and a pants-crappingly large 738 ft-lbs of torque. For reference, there are heavy duty diesel pick-ups that don't produce anywhere close to that, and keep in mind that this is a car that has double-glazed windows, radar-guided cruise control, and adaptive headlights. It's a technological masterpiece that has depreciated right into your lap.
(Suggested by AJ Feldman (alecmets2011))
---
2. 2002 Aston Martin DB7 Vantage
---
Jeremy Clarkson once said that this Aston Martin DB7 was the most beautiful car he had ever seen. I'm not sure I agree wholly, but it is a striking car from any angle, only surpassed by more contemporary Astons. Its V12 is nearly identical to the one used in the V12 Vantage of today, and it shares all the hand-built English quirk that's alive and well in every car that wears the winged badge. It's an epic grand tourer, and it deserves to be in anyone's V12 dream team, especially at a price that rivals a mildly-loaded Nissan Altima. This is a no-brainer.
(Suggested by AJ Feldman (alecmets2011))
---
1. 1993 BMW 850i
---
I can't get the overwhelming appeal of this car. Sure, it has a V12, an iconic and sporty shape, an amazingly styled interior and an intense cult following, but...what was I saying again? The car is one that they should've made until I said stop. Screw the public, they don't know anything. They're the ones driving around in used Versas thinking about car payments when they could be driving a V12 BMW to work and getting that big promotion after the boss looks into the parking lot and sees the Bimmer parked across two spots and realized he loves your moxy. You know who drives an 850i? A closer, that's who.
For more awesome eBay challenges, check these out:
---
Tavarish is the founder of APiDA Online and writes about buying and selling cool cars on the internet. He owns the world's cheapest Mercedes S-Class, a graffiti-bombed Lexus, and he's the only Jalopnik author that has never driven a Miata. He also has a real name that he didn't feel was journalist-y enough so he used a pen name and this was the best he could do.
You can also follow him on Twitter and Facebook. He won't mind.