Here at Jalopnik we're guilty of spreading the "four wheels good, two wheels bad" mantra, but it's time to reverse that. Every car enthusiast should know about these ten great bikes.
---
10.) Honda CB750
The modern superbike starts right here with this lovely transverse four cylinder, a bike that firmly established Honda as a leading manufacturer and put the rest of the world on notice.
Suggested By: Patrick Frawley, Photo Credit: Khaosaming
---
9.) Ducati 916
G/O Media may get a commission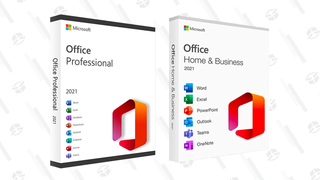 89% off
Microsoft Office Professional 2021 Lifetime License
This gorgeous bike is the reason why Ducati is what it is today. Dominant on track with four World Superbike titles, dominant on the road, and stunning to behold.
Suggested By: Uak42, Photo Credit: Klaus Nahr
---
8.) BMW Flat Twins
BMW has made many great motorcylces over the years, but none more icon than the flat-twin powered R series. These things will last forever and inspired a number of copies, most notably the Russian Ural.
Suggested By: manifold engines, Photo Credit: Morgan Davis
---
7.) Cagiva Elefant 900
This is one of the more obscure bikes on this list, but that doesn't make it worse. Reader Bob can tell you why you want one of these Italian masterpieces:
"What happens when you create a bike for the Paris-Dakar that's 400 lbs and uses a Ducati 900 cc motor? 3 things: You crush the competition (7 out of the top 12 places in the last P-D it was raced), You create the "Group B' of motorcycle rallying... after '94 big bikes were banned from P-D because they were just too insane! And third, you create the most classic livery this side of Martini."
Suggested By: Bob, Photo Credit: KlausNahr
---
6.) Vincent Black Shadow
The term "superbike" may have been invented to describe the CB750, but the Black Shadow was really the first superbike. This thing could easily hit 125 mph and held the fastest production motorbike record for years.
Suggested By: Brian, The Life of, Photo Credit: tomislav medak
---
5.) Honda RC166
This bike, which won the 250cc class in the World Motorcycle Championship Series in '66 and '67, is the genesis of Honda performance as we know it today. Somehow they managed to squeeze 65 hp and 20,000 rpm out of a delicate 250cc inline six!
Magic, I presume.
Read the excellent writeup on Petrolicious about this gorgeous bike, and it'll be easy to see where things like the NR750, NSX, and S2000 came from.
Suggested By: You had fordboy357 at "meat tornado", Photo Credit: Honda via Road & Track
---
4.) Britten V1000
The V1000 was easily one of the greatest motorcycles ever built, but surprisingly it wasn't made by Honda, Ducati, Suzuki, BMW, or any major manufacturer. Just ten were handmade by a couple of guys in New Zealand and it was a true world beater.
Suggested By: Raphael Orlove, Photo Credit: Craig Howell
---
3.) Suzuki Hayabusa
This is an easy bike to make fun of, but there's no denying that this is one of the fastest things on the road. The story behind its creation is fascinating, so you really owe it to yourself to check out Regular Cars' take on it.
Suggested By: GhostZ, Photo Credit: PekePON
---
2.) Harley Davidson 42WLA
This humble little bike, produced for the US Army, gave birth to motorcycle culture in the US. After WWII, many of the servicemen who rode these Harleys or had seen others ride them wanted to own one themselves. Thanks to a surplus many were bought very cheaply, thus establishing Harley Davidson the brand, and US motorcycle culture in general.
Suggested By: f86sabre, Photo Credit: Public Domain via Wikimedia Commons
---
1.) Honda Super Cub
If you had to pick one vehicle to testify the genius of Honda, it would have to be the Super Cub, the most produced vehicle in history. Its elegant simplicity and durability have stood the test of time and easily is one of the greatest motorcycles ever made.
Suggested By: Chris_K_F, Photo Credit: Mj-bird
Welcome back to Answers of the Day - our daily Jalopnik feature where we take the best ten responses from the previous day's Question of the Day and shine it up to show off. It's by you and for you, the Jalopnik readers. Enjoy!
Top Photo Credit: Hiroyuki Takeda