Everyone knows about Alfas and BMWs and Corvettes, of course. Then there's those machines that just never really took their rightful place in the collective enthusiast memory. These are Jalopnik readers' picks for the ten best cars that are undeservedly underrecognized.
Welcome back to Answers of the Day — our daily Jalopnik feature where we take the best ten responses from the previous day's Question of the Day and shine it up to show off. It's by you and for you, the Jalopnik readers. Enjoy!
Photo Credit: FurLined (Matt)
G/O Media may get a commission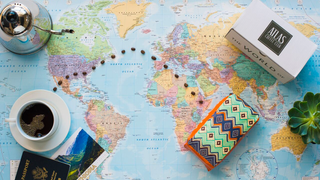 First Bag Free
Atlas Coffee Club - Free Coffee
Explore global coffee
With each bag, Atlas includes details on the coffee's tasting notes and a postcard about the region and its coffee history. And when you subscribe, you have options to tailor frequency, grind size, and roast preference of your beans, so you'll always be brewing the perfect cup.
10.) Datsun 1500/Sports 1600/2000
Suggested By: hexagonist
Why it's a forgotten classic: The small, exceptionally well-crafted Datsun roadsters live in two shadows: those of their English counterparts and of the Z-cars to follow. Which is unfair. These convertibles were some of the first truly world-class Japanese cars, giving up nothing to their competitors and clearly exceeding them on several fronts.
Note: some people claim that these are clones of the MGB. They were actually designed before the British car was drawn.
Photo Credit: Bill Abbott

9.) Jeep Comanche
Suggested By: BrtStlnd
Why it's a forgotten classic: Everyone wants a Jeep pickup. It's a no-brainer! they say. Why haven't they done this? News flash: They did. (More than once if you go back through a very interesting corporate history.) The Comanche — visually a Cherokee with a bed instead of a box — is still one of the most right-sized pickups ever built, although it never seems to come up in discussions of how much better life would be with smaller pickups like the Hilux. It could and should be done again.
Photo Credit: papurojugarpool

8.) Toyota Corolla FX16 GT-S
Suggested By: Orbiterdictum
Why it's a forgotten classic: The hachi-rokus get all the love, but there were other hot Corollas back in the good old days. The FX16 was a serious Japanese competitor to the VW GTI, all sharp attitude and autocross readiness. It's still a reminder that Toyota can pull out the stops and have serious fun when it wants to; it just needs to remember that as much as we should remember this.
Photo Credit: IFCAR/en.wikipedia.org

7.) Suzuki Kizashi
Suggested By: Kate's Dirty Sister
Why it's a forgotten classic: Our pick for the most criminally overlooked current production vehicle, the Kizashi has all the good stuff without the beige. It forgoes the bland plushness and V-6 laziness of most competitors in favor of reflexes, a four-cylinder that reminds you of Suzuki's two-wheeled products, and styling that's interesting without being self-consciously outre. Go drive one now. Seriously.
Photo Credit: American Suzuki Motor Corporation

6.) Suzuki Swift GTi
Suggested By: SennaMP4
Why it's a forgotten classic: The smaller-than-a Civic pocket-racer was the right car at the right time in the early Nineties: efficient, simple, knife-fighter nimble. Every once in a while Suzuki gives us just enough reason to really want them to hold on in America; we really hope they can put their massive capabilities into this market someday soon.
Photo Credit: Jonno Sea

5.) 1979-1986 Mercury Capri
Suggested By: Ghost of Rob
Why it's a forgotten classic: All Capris tend to be marginal presences in enthusiast thought patterns, but the bluff-nosed, fender-flared, Fox-platform sister to the Mustang is the most unfairly neglected among American drivers. What was a distinctly attractive take on the Fox (and a serious contender in IMSA racing in the '80s) has sadly faded from mind.
Photo Credit: Mudmonster37

4.) Borgward Isabella
Suggested By: Ralph Wiley
Why it's a forgotten classic: If you recall this creation at all, it's probably because of the charmingly Mitteleuropa name. Borgward itself has faded into history; the Bremen-based manufacturer is one of dozens of European companies that either faced acquisition by others or slipped from the scene. In its day, though, the Isabella was an advanced and very civilized means of transportation.
Photo Credit: Klaus Nahr

3.) DeTomaso Vallelunga
Suggested By: Jagvar
Why it's a forgotten classic: Say "DeTomaso" and most people thing "Pantera." Fair enough. Dig a little deeper and you might get "Mangusta." After that, only the well-informed really know about DeTomaso products, especially this tiny and delightful creation —which is one of the first real mid-engined sports cars ever sold. Unbelievably beautiful and sadly underrecognized.
Photo Credit: Jack Snell

2.) Ford Thunderbolt
Suggested By: JackTrade
Why it's a forgotten classic: One of the earliest muscle cars, and one of the fastest ever. The Thunderbolt is among the cult-est of cult Ford products, a Fairlane with aluminum body panels and a monstrous 427 V-8 underhood specifically produced for drag-racing homologation. If you spend way too much time in blue-oval circles you may have heard of it; otherwise, it's a minor footnote to GM's claim as the home of muscle cars.
Photo Credit: Jerry Edmundson

1.) Iso Grifo
Suggested By: Bonhomme7h
Why it's a forgotten classic: Take the powerful and reliable Corvette driveline, cloak it in a handmade body designed by a young Giugiaro at Bertone, and watch the crowds go wild, right? Sadly, not quite. These dazzlingly beautiful and fast Italian GTs may match their more pedigreed counterparts on looks and speed, but the reputation simply isn't there. Only four hundred were built. It remains at the margins of GT-car history, but for those in the know it is a thing of beauty.
Photo Credit: Steven Duckworth