Today, the Mini Paceman John Cooper Works that is supposed to be unveiled in Detroit leaked. For those of you that need explanation, the Paceman is the coupe version of the Countryman, Mini's largest car. The John Cooper Works is the fastest version of that car.
We're kind of finding it hard to care. Help us.
Don't get us wrong, we love the regular Mini and everything it stands for. It's a fun little car. We also understand the need to expand the brand. But over the last few years, the once svelte Mini lineup has become bloated. And instead of saving John Cooper Works branding for its purest cars, it just started throwing badges anywhere.
Even on the Countryman and now the Paceman. The Paceman JCW gets all-wheel drive and the same 208 horsepower and 207 pound-foot turbo four as every other JCW Cooper. Except in this one it has more weight to carry. It also isn't attractive.
Adorning a bloated duck with stripes and LOOK AT ME bits just makes the bloated duck more embarrassing to be around (the "bloated duck" in that metaphor is the Paceman JCW).
G/O Media may get a commission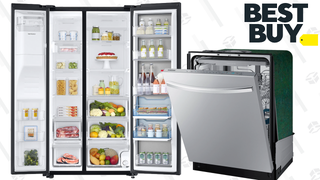 Up to 50% off
Best Buy - Samsung Major Appliance Sale
It's not that we don't see a need for this car. It's just that since we now know Mini will put a JCW badge on anything, we are beyond caring. Do any of you out there in Jalop-land care about the Paceman? Do you want one? Tell us why we should care below.